What is a Tri Axle Trailer?
The tri axle flatbed trailer is a kind of trailer whose design is suitably made to carry bulk cargo and containers between shipping facilities and terminals.
By simple definition, this is a long flat platform of either 20ft, 40ft, 48ft or 53ft length used for carrying shipping containers. The flatbed semi trailer has no roof or walls to the side.
The size of the container 40 foot trailer loading area is determined according to the standard container size. A twist-lock device for fixing the container is provided at positions corresponding to the four corners of the bottom of the container.
It is carefully designed to desired heights and weight capacity to safely load and transport cargoes from one location to another. Use tri axle trailers to transfer cargo at the shipper's warehouse. Unloaded to the consignee's warehouse, when changing trailer or boat on the way, there is no need to take the goods out of the box and change them.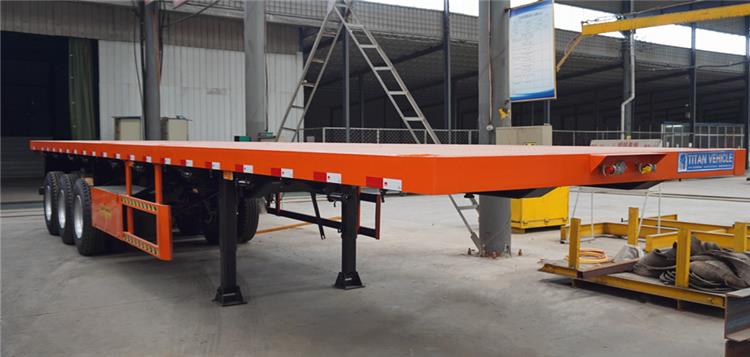 Below is the main specification of the best-selling tri axle 40 ft trailer:
Model: 3 Axle Flatbed Truck Trailer
Transport: 20ft, 40ft container
Overall dimension: 12500mm * 2500mm *1530mm
Capacity: 60 tons
Axles: 3 axles , 13t
Suspension: Heavy duty mechanical suspension
Tire: 12 units
King pin: 90#
Langing gear: JOST
Brake system: WABCO
Electical system: 24V, LED lights

Main Parts of Tri Axle Trailer
1. Tri axle trailer frame
High strength of high-strength steel: The biggest feature of high-strength steel is its high strength. The yield strength of high-strength steel is twice that of manganese steel and three times that of ordinary steel.
When flatbed trailer manufacturers frame, it bears the same strength. The frame made of high-strength steel uses less material. The upper wing plate, lower wing plate and vertical plate can be made thinner and lighter. Under the premise of charging by weight and standard loading, the advantages are more obvious.
45ft/48 ft flatbed trailer for sale using high-strength steel beams are best suited for the transportation of light-dumping goods with good road conditions and high-speed standard loads. They are not suitable for mountainous, overloaded, and poor road conditions. Overloading is strictly prohibited, especially concentrated loads, and do not privately weld the beams.
2. Flatbed Container Trailer support device
Commonly known as outrigger. Using the principle of "standing timber jacking", it is located at the front end of the 53 foot flatbed trailer for sale frame for use after the container semi trailer is separated from the tractor. Classification of outriggers: Single-acting outriggers are operated separately on both sides, there are two cranks, and each gear has a car gearbox.
Linked outriggers are made from both sides while operating. There is only one crank, which is composed of one gearbox and one without.
The main components of the outrigger are two-speed gearbox, support sleeve, support rod, drive screw, and the support plate. The structure is very simple and the function is very important.
3. Suspension of 40 ft flatbed trailer for sale
Steel plate suspension is our common leaf spring, its full name is series-connected leaf spring balance suspension. It is mainly composed of leaf springs, suspension bearings (commonly known as lifting lugs), connecting rods, U-bolts and other parts. The longitudinal force of the car body falls directly on an axle. The biggest advantage of this kind of suspension is low price, good reliability and easy maintenance. At present, more than 80% of ordinary flat deck trailer in China use leaf spring balanced suspension.
The most obvious feature of 40ft trailer for sale air suspension is its airbag-type air spring. The40ft trailer for sale air spring itself is relatively light in weight, the friction of the air medium in the airbag is small, there is almost no noise during operation, and its life is 2-3 times that of leaf springs. However, when an air spring is used, a rod system that can transmit various forces and moments other than the vertical force must be provided, so the suspension structure is complicated; in addition, the air spring has strict requirements for sealing, and its cost is also high.

4. Braking system
Brake air chambers are round metal containers, located at each wheel, where compressed air is converted into mechanical force to apply the brakes and stop the vehicle.
Brake valve is used to control the braking of trucks or tri axle flatbed trailer. It is suitable for flatbed tri axle trailer with dual-line brake system, and parking or emergency brakes are air-braking brakes. It has the function of automatically causing the 20 ft flatbed trailer brake when the control pipe connection of the trailer brake system is broken or leaking.
5. Tri Axle Trailer Kingpin
The 90 # traction pin represents the diameter of the traction pin is 90mm, and the material is mainly chromium alloy. The flatbed trailers for sale near me and the tractor are all connected by it. It is connected to the traction seat of the main vehicle and also bears all the traction. It is an important component.
At present, the traction pins on the market are mainly divided into 4 types, assembly 50, assembly 90, welding 50, welding 90, users should choose according to different models and actual use.

TITAN flatbed semi trailer package and shipping
As a professional manufacturer, TITAN have provided many kinds of semi truck flatbed trailer for sale for many countries, we have much more advantages in the tri axle trailer for sale near me cost and quality control. All semi truck flatbed trailer for sale will undergo rigorous testing before delivery to ensure the quality. We have professional technicians to operate. In addition, a layer of wax will be sprayed on the 40 ft flatbed trailer for sale near me to prevent seawater erosion, and then a layer of rain cloth will be wrapped to prevent moisture so that it is foolproof.