1: What is a lowboy trailer?
Lowboy trailer for sale has many different names in different countries around the world, such as RGN trailer, detachable gooseneck trailer, folding gooseneck lowboy trailers, hydraulic low bed trailer, removable gooseneck trailer, front loading rgn lowboy trailer, and military lowboy trailer for sale.
The hydraulic detachable gooseneck trailer uses a concave beam type. Detachable gooseneck trailer can separate the gooseneck from the trailer, and achieve contact between the front end of the vehicle and the ground. After the cargo or equipment is loaded, the RGN trailer is restored to the original transportation state in time for transportation.
Common low bed semi trailer, should use the ramp behind the trailer for cargo loading. Yet, some large machinery and equipment, such as pile drivers, large rotary drills, large excavators, and large bulldozers, have very high centers of gravity due to their very high height. There is a great risk of later loading.
Loading method for gooseneck trailer: cargo is loaded from the front. Detachable gooseneck cargo table is very low, so the stability and security are very good. As you can see, the heavy duty lowboy trailer can transport ultra-high and medium sized equipment and machine.
2. Two structural styles of detachable gooseneck trailer.
TITAN removable gooseneck lowboy trailer dimensions can be customized according to your requirements.
Common detachable gooseneck trailer. It is mainly designed to transport 30 tons, 60 tons, 80 tons, 100 tons, 120 tons of heavy equipment or machinery. And the main styles are 2 axles, 3 axles, and 4 axles.
Heavy duty rgn lowboy trailer. It is mainly designed to transport 100 tons, 120 tons, 150 tons of heavy equipment or machinery. The main use is the line axle structure. 2 lines 4 axles, 3 lines 6 axles, and 4 lines 8 axles.

3. Detachable gooseneck trailers transportation
After the production of all hydraulic detachable goosenecks, pressure tests will be performed.
To prevent the extendable gooseneck trailer paint from being corroded by seawater, we spray a layer of wax on the surface of the lowboy trailer before shipping, and then seal it with a waterproof rain cloth.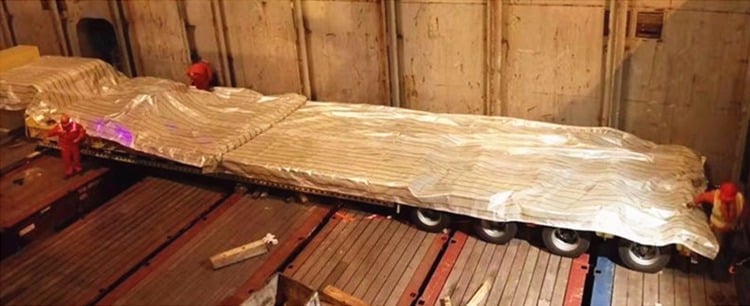 4. Points to consider when purchasing a detachable trailer
There are a variety of different transport semi trailers in the Chinese transport market, as many of them are locally transported and so common low bed trailers are more. Every city in China is under construction and is basically equipped with construction machinery and equipment, so long-distance transportation of large machines such as heavy excavators is not required.
But, the hydraulic gooseneck trailers produced by TITAN rgn lowboy trailer manufacturers are mainly exported to Central and West African countries such as Nigeria and Tanzania, and more than 200 units have been produced. Technology is mature.
1. What is the difference between the steel used for the detachable goose neck trailer?
Currently, the main steel type used for gooseneck lowboy trailers is HG60. HG60 is high-strength structural steel with high toughness, good fatigue resistance, welding performance and corrosion resistance.
HG60 high strength steel: C≤0.18 Si0.15 ~ 0.40 Mn1.00 ~ 1.70 P≤0.030 S≤0.025 Mo-Cr-Nb0.02 ~ 0.06 V0.03 ~ 0.08 Ni- HG60
Tensile test: Ret≥450MPa Rm570 ~ 720MPa A50≥19
Common lowbed trailers use Q345 manganese steel. Q345 steel cannot be used to transport heavy equipment.
2. Frame of gooseneck hydraulic low bed trailer
The effective load surface length of the frame is generally 5500mm to 9000mm, the width is 3000mm to 36000mm, and the widest can be 4 meters wide.
3. What is the load of the detach trailer for sale?
TITAN can be customized heavy duty lowboy trailer according to actual load requirements. Common design load tonnages are 60 tons, 80 tons, 100 tons, 120 tons, 150 tons, fixed rgn equipment trailer max weight reaches 200 tons.
4. How high off the ground is a lowboy trailer?
The height of the TITAN military lowboy trailer plate can be customized. The common design of the height of the working surface is 850mm, and 800mm and 900mm. The height of the working surface can be controlled by the hydraulic system during actual transportation.

5. Operation and characteristics of hydraulic lowboy trailer
Mechanically detachable gooseneck operation: In the process of removing the gooseneck, the front gooseneck of the trailer must be separated from the saddle of the truck. After the disassembly is completed, the equipment can be loaded.
Removable gooseneck trailer features: Because this trailer has a low center of gravity and a long cargo table, it can transport a lot of goods. The maintenance cost is also very low, the structure is easy to assemble, and the weight is light. Thus, the rgn trailer for sale near me is the preferred type that many transportation companies sell.
Welcome to leave your inquiry!
We will meet the acme of perfection to serve and provide more details, price, catalog, drawing, videos for you!