Low loader trailer manufacturer - TITAN has successfully entered more than 50 countries, very popular in Africa. Such as Tanzania, Mozambique, Malawi, Zimbabwe, Zambia, Algeria, Sudan, Mali, Ghana, Nigeria, Jamaica, Liberia, Guinea, Senegal, Argentina , Kenya, etc.
As a professional manufacturer, TITAN VEHICLE has provided many low loader trailers for many countries. We have many more advantages on the low loader trailer cost and quality control.TITAN low loader trailers have different capacities, the most popular models are 60/80/100/120/150 tons low loader trailers. Most customers will choose 3/4 tri axle low loader.
This low loader trailer normally is used to transport large construction machineries, such as excavators, rollers and cranes.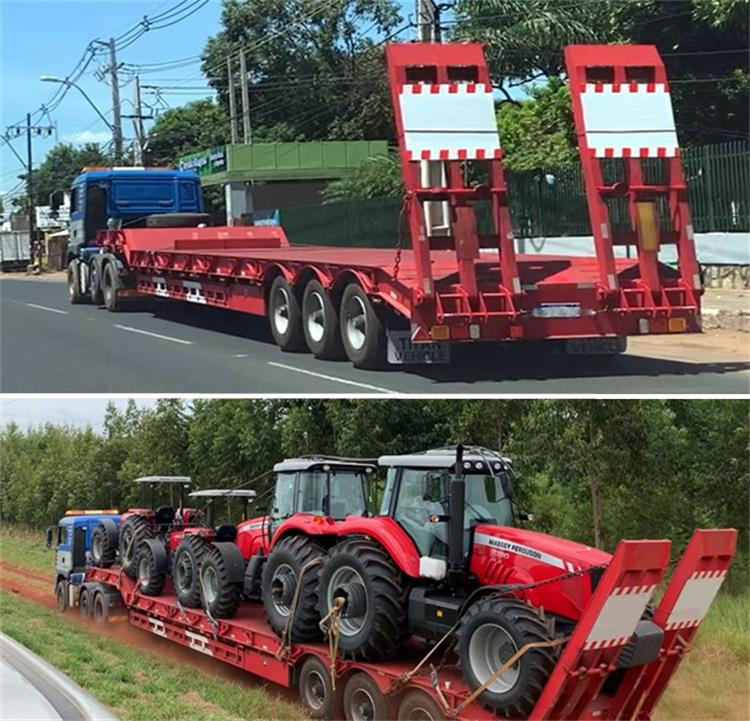 Customer Feedback of Tri Axle Low Loader Trailer for Sale
Most Popular Tri Axle Low loader Dimension:
Dimension: 16800mm x 3000mm x 3400mm
Loading capacity(T): 60-100T(customizable)
Axle: 13T/16T, FUWA/BPW/TITAN Brand
Rim: 8.0-20 or 900*22.5
Tire: 8.25R20/10.00R20/11.00R20/12R22.5
Suspension: Mechanical suspension or air suspension
Spring leaf: 120(W)mmx16(Thickness)mmx10 layers
Kingpin: JOST brand 2.0 or 3.5inch(bolted or welded type)
Landing gear: JOST brand
Main beam: Height: 500mm-550mm, Upper plate: 16mm-25mm, Middle plate: 12mm-20mm, Lower plate: 18mm-25mm, Material: Q345B steel.
Bottom Platform: 4-6mm thick checkered plate
Ramp: Spring or hydraulic type
Gooseneck: Optional
ABS: Optional
Valve: WABCO valve
Painting: Sandblasted, anti-rust chassis surface is available with 1 layer of anticorrosive primer and 2 layers of top coats.
Shipping terms: Transported by the bulk carrier in an RORO or 40HQ container
Low loader trailer stock sale, send inquiry to get $500 discount!

Tri axle low loader trailer for sale - Why our low loader expensive?
Some customers said that looking at the low loader trailer is similar, why is your price expensive? Today I will use TITAN tri axle low loader trailer to illustrate the reasons.
The main reason is the cost of production:
1. Steel is not the same.
For trailers of the same type and weight, the price will vary greatly depending on the strength of the selected steel. TITAN 3/4 axle low loader trailer main beam adopts HG high strength steel, our main beam is thicker than other brands, and the price gap is around 700 US dollars. The side beam is designed in "H" shape and welded with HG 60 steel. We use this high cost beam for only one purpose, which is durable.
2. Different production equipment.
Also, some manufacturers are a welding machine with domestic or imported brand-name brands, such as Panasonic, Siemens and so on. Some low-cost selling cheap car manufacturers to use cheap or second hand welding machine, welding out of the trailer so that the quality of the same? Such products will gradually go wrong in the course of future use, especially overloading or poor road conditions will reduce the life of the low loader trailer.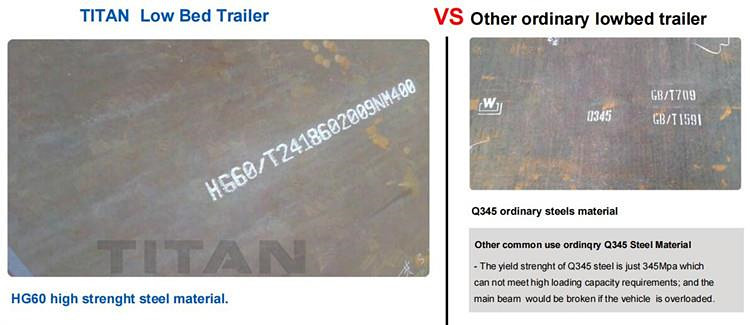 3. Process costs are different.
For example, if the same tri axle low loader is produced, the cheaper manufacturer needs 15 procedures, while the expensive one may require 25 procedures. Is such a process relatively free of equipment and labor costs? In order to save time and cost, some manufacturers deal with some details at will, and finally spraying is completed, and the customer cannot see the internal details of the trailer at all.
4. Worker costs are different.
Good engineer design is good, good workshop director management is good, and good workers produce products. The details of the manufactured product are accumulated bit by bit, which also has a great impact on quality.
5. Different accessories.
Accessories of different brand materials will directly lead to price differences. For example, the price of tires of different brands will be different, the price of axles of different brands is very large, and the difference between foreign brands and Chinese brands will be 1500 US dollars. Besides, the rim will also cause a large price gap for 3 axle low loader trailer for sale. The application of aluminum alloy rims has become more and more popular with customers. A record of over 12 pounds has confirmed that The steel ring is about 240 kilograms light, but the price gap will also be more than a thousand dollars.
TITAN tri axle low loader trailer for sale adopt world famous brand spare part, ensure high quality and save costs. Like WABCO braking valve, JOST landing gear, FUWA axle and other small parts. Every quality accessory increases costs.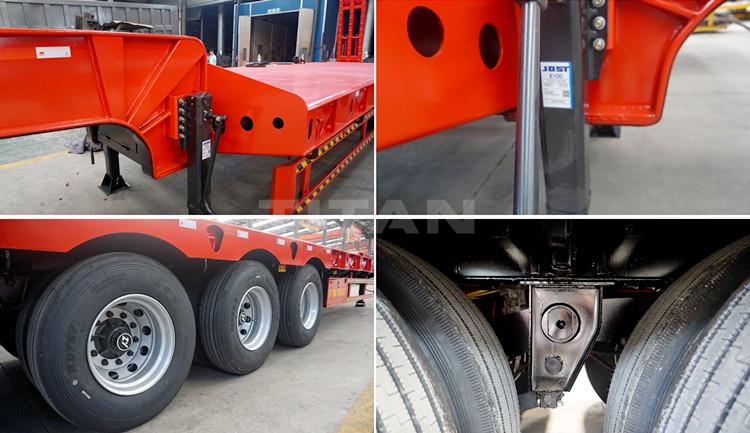 Details of TITAN tri axle low loader for sale
6. ABS choice
Fourth, the selection of ABS, easy installation will be about 150 US dollars lower than well-known domestic brands, and there will be a gap of about 400 US dollars with imported brands. In fact, considering driving safety, we still advise you to consider carefully.
There is also the vehicle light line. There are national and non-national standards on the market, waterproof and ordinary. The side rear lights also have LED and ordinary. Of course, there will be a gap of 100 dollars.
7. Circuits, lamps and other accessories.
Many friends said that the lights of his new 60 ton low loader trailer can not turn on after ten days of running, and the wires were broken. There were only a few copper wires in the wires. TITAN 3 axle low loader trailer use good cluster circuit and high-quality LED lamps.
8. The paint is different.
The paint is different. Some trailers are particularly bright when sprayed out, and it is not easy to remove paint and fade in future use. And some have no gloss just after spraying, and the adhesion is not strong, it will take off the paint for a short time, then the tri axle low loader trailer will be damaged.
If you buy cheap but poor quality semi trailer, you will make up for it in the future. The truck head will cost tens of thousands to buy, so you better spend a few thousand dollars on a better quality semi trailer.
All in all, under the premise of a reasonable pricing mechanism, the quality of the product determines the price. Trailers are the money-making tool for our customers to survive, so you must choose a good trailer. Prudence can't just look at the price, but also can't blindly pursue brand worship. Instead, we must tailor our vehicles to suit our own actual conditions. In fact, the right one is the best.

Frame of TITAN tri axle low loader
HG60 steel has high yield strength, more durable and stronger than ordinary steel, and its loading capacity is 5 times more than the low loader which is built by Q345 steel. Each ton of HG60 high strength steel costs double the price of ordinary Q345 steel material, ensuring that our TITAN low loader trailer price will have a long service life and to avoid unnecessary maintenance costs.
Other factories tri axle low loader trailer
The yield strength of Q345 steel is just 345Mpa, so it can not meet the high loading capacity requirements and the main beam of the heavy haul trailer would be broken when the excavator trailer is overloading.
Q345 steel is low-cost steel, with short service life, increase maintenance costs and also can not meet load requirements on different kinds of roads.
1. Main beam
500mm thickened Main Beam (HG60 high strenght steel)
TITAN 80 ton low loader trailer adopts 500mm main beam, effectively increase 10% loading capacity than the normal excavator trailer which uses 450mm main beam, and ensure the main beam resistance to twisting forces, shock and bump, meet load requirements on bad road, even no road.
TITAN tri axle low loader for sale adopts 300mm width main beam, increase 20% loading capacity than the normal low bed trailer price which uses 140mm width main beam, ensure driving smoothly.
Main beam of tri axle low loader trailer for sale
2. Side beam
The side beam of TITAN low loader trailer price adopts 300mm "I beam" design, and its loading capacity is 2 times more than the normal heavy haul trailer which uses 250mm side beam.
TITAN 3/4 axle low loader trailer is produced by 10mm thickness side beam, its loading capacity is much higher than the normal low bed trailer which uses 4.5mm thickness
3. Strong ramp
The loading ramps are made of T700 high strength steel, with high loading capacity, will not happen to the deformation when carry heavy equipment.