In this month, place an order will present quick-spare parts valued at 500 dollars for free!
Definitely! We can discuss the practicable plan and produce it at your request.

Oil Tanker Trailer Advantage:
1. With safety devices: the manhole is an explosion-proof large cover. The bottom outlet of the tank is equipped with an emergency shut-off valve.
2. The tank body is automatically welded by an advanced large-scale special welding machine. The TITAN tanker body is longitudinally welded. Ensure the safety of the tanker and increase the service life.
3.High quality tank material has options of carbon steel, stainless steel, aluminum alloy.JOST/FUWA landing gears. Axles are of top Chinese brand FUWA or German brand BPW
4. Water filled test equipment Water tank: To ensure the high sealed of tank body and avoid the leaks oil.
5. The waved board reduces the impact of the liquid on the tanker.
6. Advanced paint system and polyurethane paint. Appearance is beautiful, use time is above 5 years.
7. We adopt famous brand parts for our tank trailer, it saves costs & ensures long-time service.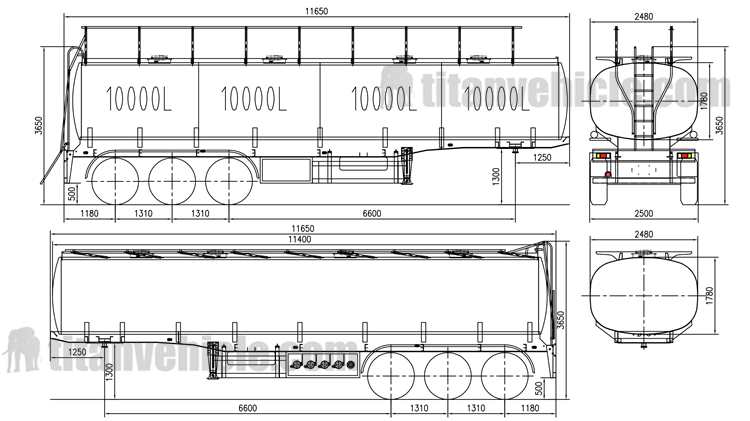 Drawing of 3 Axle Oil Tanker Trailer
Oil Tanker Trailers Specification:
Shape: Round or square
Dimension: 12000mmx2490mm x3990mm (the exact size depends on the final design.)
Tare Weight (semi trailer): About 8000-12800kg
Total volume(m³): 25-60m³
Tank Body Material: 5mm or 6mm/Q235 carbon steel
End plate: 5mm or 6mm/Q235 carbon steel
Manhole Cover: Carton steel or Aluminum alloy API manhole cover 500mm (diameter)
Bottom Valve: Aluminum API Pneumatic Bottom Valve
Compressor: BOHAI 10m³/12m³ or other brands
Discharging Valve: Diameter is 3 or 4 inch
Compartments: Optional
Discharging Pipe: 4 inch rubber hose,2pcs,6m/each
Cat Walk: With (common model or special design)
Main beams: Welded design or special design I beam, connected by bolts and nuts Q345 carbon steel material
Axle: 2 or 3 or 4 axles,12T/13T/16T,BPW/ FUWA/ TITAN brand
Landing Gear: JOST(D200T) or China brand 28T
Kingpin: JOST 2.0 or 3.5 inch bolt-in king pin
Suspension: Mechanical suspension /Germany or America type /Air Suspension
Leaf Spring: 90(w)mmx13(thickness)x10layers or 10mm x12mmx12 layers
Pneumatic Braking System: WABCO RE 6 relay valve; T30/30+T30 Spring brake chamber(TKL brand); 45L air tank
Rim: 9.00-22.5/8.00-20/8.5-20 Chinese brand
Tire: 12.00R22.5/315.80R22.5/11.00R20/12.00R20 brand can be optional
ABS: Optional
Painting: Sandblasted, anti-rust chassis surface is available with 1 layer of anticorrosive primer and 2 layer of top coats.
Accessories: One standard tool box
Shipping Terms: By bulk cargo, RORO or 40HQ containers

Factory Show of Tri Axle Oil Tanker Trailer
Oil tanker trailers can be divided into many compartments to load and transport different types of fuels, lubricants, crude oil, etc. TITAN oil tanker trailer can reach 90000 liters and 4 axle. The oil tanker trailer can provide 1-7 cabins of diesel fuel trailer for sale, which can be produced according to customer requirements.
TITAN pays attention to the quality of products, the liquid will produce great tension and impact in the course of transportation, so the TITAN oil tanker trailers for sale must be thick and solid, welded joints without defects, our tank trailer thickness is up to 6mm.