What is a detachable gooseneck trailer?
A detachable gooseneck trailer is a kind of semi trailer with two drops in deck height: one right after the gooseneck and one right before the wheels. This allows the deck to be extremely low compared with other trailers. Detachable gooseneck trailers are used to haul heavy equipment such as bulldozers, industrial equipment etc.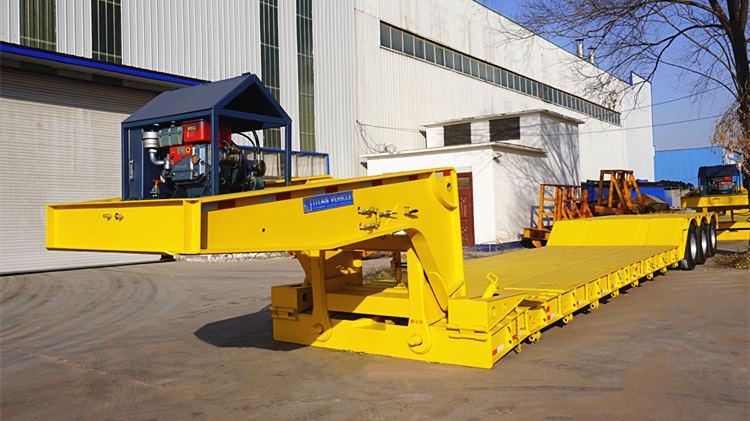 3 Axle Detachable Gooseneck Trailer for Sale in Nigeria
Specification of the 3 axle detachable gooseneck trailer:
Overall dimension:15800mm * 3000mm *2500mm
Loading capacity: 80 ton lowboy trailer for sale
Axles:3 axles
Tire:12 units
Suspension:Heavy duty mechanical suspension
King pin:50#, 90#
Landing gear:JOST
Goose neck: Hydraulic removable gooseneck
Brake system: WABCO valve
Hydraulic power station: 12KW Diesel engine
Electrical system: 24V, LED lights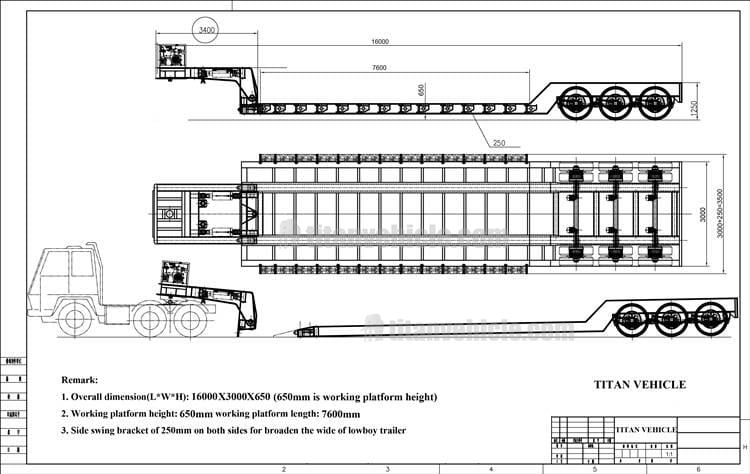 Every Type of Detachable Gooseneck Trailer Available "Near Me!"
We provide service every town and city in Nigeria. You can transport your load locally or long distance based on detachable gooseneck trailer. Whether you need a detachable gooseneck trailer in the rugged country or in the big city, we'll get one to you.
TITAN is a detachable gooseneck trailer transport manufacturer that provides machinery for our agricultural, excavating, mining, and contractor clients. A double drop gooseneck trailer is often referred to as a "detach," because it has a gooseneck that detaches and moves away from the trailer's lower deck. This allows the load to be driven onto the trailer. This makes it simple for the detachable gooseneck drivers to secure your equipment and safely get it to the next destination.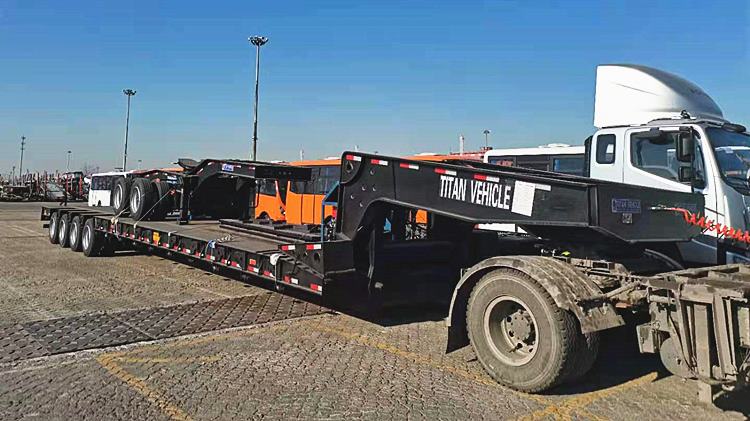 Detachable gooseneck trailer with dolly ready for shipment to Nigeria
The detachable gooseneck trailer is used for trailers that carry oversize and overweight cargo. The basic form of a heavy trailer is a monocoque trailer. It generally has the following structure. The frame and the wheel axles and axles are mostly collinear, that is, there are two left and right axles on one axis, which is also called a two axis row. Common monocoque trailers have 2 to 7 axes. One wheel axle is equipped with 4 tires, and one axis has 8 tires. Therefore, the width of the whole car can reach more than 3 meters. In order to reduce the center of gravity of the whole vehicle, a steel wire radial wide rim tire with a small diameter and a large load capacity (see car tires) is generally installed. Each tire can withstand a load of about 4 tons under low speed operating conditions. The frame adopts a high-strength alloy steel box section welded structure.
It adopts hydraulic automatic steering and comes with a hydraulic pump station power system. Now it is necessary to introduce technology.
The series of detachable gooseneck trailer have flat, concave beam and tire leakage structures. The frame is stepped and the longitudinal beam section is I-shaped, which has the characteristics of rigid height and strong height. The low plane of the truck rack and column ensures the stability of transportation and is suitable for carrying all kinds of construction machinery, large equipment and steel. The lowboy semi trailer is used for pulling mechanical equipment, large-scale equipment such as excavators, bulldozers, etc. The second and third bridges can be equipped with 30 tons, 50 tons, 60 tons, 80 tons, 100 tons, 120 tons, and 300 tons. Pulling and optional hydraulic ladder trucks have a low level of shelf and column to ensure the stability of transportation and are suitable for carrying all kinds of construction machinery, large equipment and steel.
It adopts three-axis balance type, two-axis balance type or rigid suspension. There is a mass balance block between the front and rear leaf springs, which can make the deflection of the front and rear leaf springs change by the same amount, so that the front and rear axles are balanced in force, and the welding is protected; The frame is shot blasted to make the vehicle more beautiful, strong and durable. The use of vehicle bridges to cross the girder effectively reduces the ground clearance of the cargo platform. The increased passing capacity of the vehicle can load objects with larger diameters. It is ideal for transporting wind turbine towers and large-diameter cargo. The car can be made into a pull-out type according to customer requirements, and the middle is made into an arc shape to adapt to large-diameter round objects.
3 Line 6 Axle means that one side beam of a semi trailer is paralleled with three axles and connected in series. The two beams are Six bridges. The girder is one-piece, and the upper arch is blanked. Front neck web reinforcement. There are 6 large brake air chambers, 2 spare tire racks, 1 box, 4mm bottom plate, 24 8.25 steel wire tires, the beam is arched, and the plate material is high-strength board. This first line double axle heavy duty lowboy semi trailer is designed for heavy equipment and large cargo with high concentrated force. The manufacturer recommends a load of about 120 tons.

3 Line 6 Axle Detachable Gooseneck Trailer