Container chassis trailer is specially designed to carry various cargo containers. container chassis for sale includes 20 foot container chassis, 40ft container chassis trailer, 45 foot and other types. Most industries transport finished products in large containers and hence the need for container chassis trailers. Containers remain one of the safest ways of transporting fragile and sensitive goods. The packaging requirements in terms of height and weight vary across countries. Hence, container trailers have different designs and specs to accommodate different capacities of containers.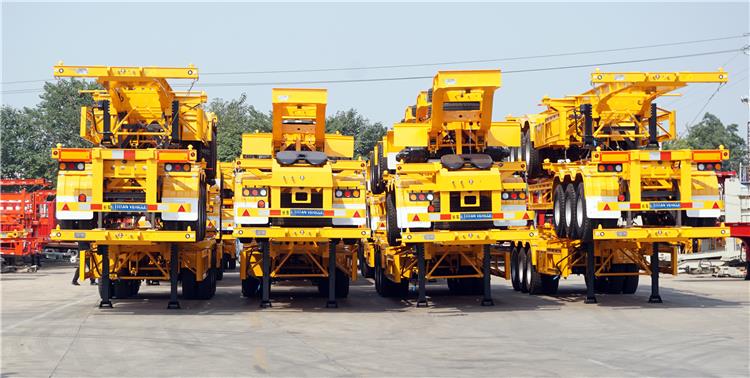 Custom Container Chassis for Sale
Container Chassis for Sale

Advantages:
1. TITAN Vehicle adopts high strength steel material to manufacture the custom container chassis for sale, it can make the container chassis trailer have a higher loading capacity and a longer service life.
2.The container Chassis for Sale has multiple transport functions and can load containers of different feet, with a loading capacity between 40 tons and 60 tons.
3. TITAN container chassis for sale uses factory-made, wear-resistant tires. On highways, container chassis trailer tires can reach more than 300,000 kilometers.
4. Container chassis for sale is one kind which is specifically worked in terminal port for load and lifting containers precisely and quickly by welded the guide block, bottom block and indicated bar.
5. The transport container chassis for sale are specially designed, and their special functions help to easily load containers and maximize the efficiency of terminal operations.

Details of Container Chassis Trailer
How to choose the right container chassis trailer?
Container chassis trailers come in different shapes and sizes. There are major components and systems that you will find in each one of them and this will be useful in helping you determine which trailer to buy or hire.
It depends on your needs and the regulations set by the authorities in that jurisdiction. Here are the basic defining characteristics and specifications of a container chassis trailer:
Size: Container chassis trailers come in different sizes to take containers with dimensions of 20ft or 40ft. There are also those suited to carry 45ft containers and could be a perfect fit for you to take up more cargo if the laws from your local authorities allow.
Load capacity: The 2 axles / 3 axles container chassis trailer is of much help when weight considerations are to be made. The loading capacity for our container chassis for sale ranges from 20 tons – 40 tons. For heavyweight applications, you may want to consider having the 40 tons option. However, the 20 tons option could just be enough for most containers that you want to transport.
Design: Owing to its application and use, the container chassis trailer is constructed of high strength material. It is a robust structure designed and constructed to get you the services you need without much Fabrication is done through quality welding techniques that are tried and tested to ensure that the trailer meets high standards of quality.

Tri axle 20/40ft container chassis for sale
Axles: Based on the axle configuration, you will commonly get one that uses 2 axles container chassis trailer for 30 tons capacity. For this option, the maximum weight of the 40ft container is 25tons. We can also customize tri axle chassis for different demands. All these options will be made available to you based on your needs.