3 Axle 60 Ton Removable Gooseneck Trailer Description:
Lowboy trailer for sale has many different names in different countries around the world, such as RGN trailer, detachable gooseneck trailer, folding gooseneck lowboy trailers, hydraulic low bed trailer, removable gooseneck trailer, front loading rgn lowboy trailer, and military lowboy trailer for sale.
Loading method for gooseneck trailer: cargo is loaded from the front. Detachable gooseneck cargo table is only 85 cm, the center of gravity is very low, so the stability and security are very good. As you can see, the heavy duty lowboy trailer can transport ultra-high and medium sized equipment and machine.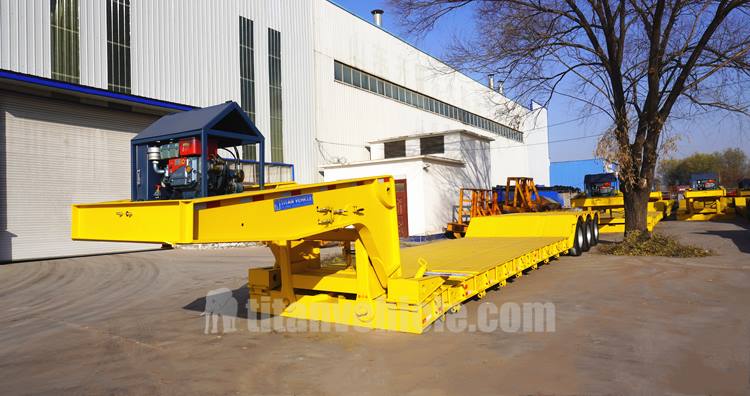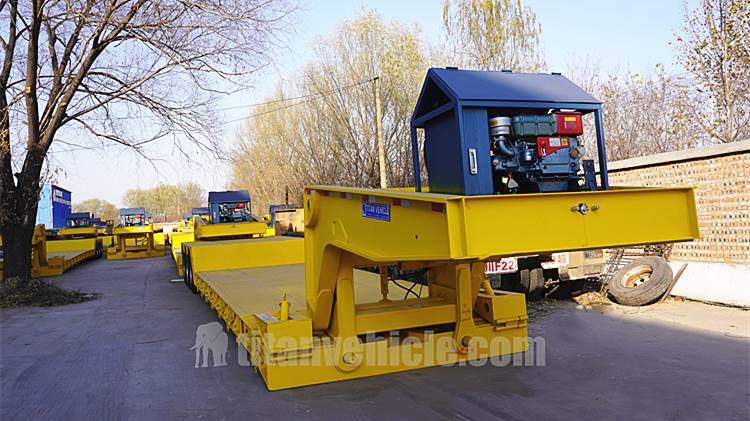 Specification:
Dimension: 15800mm x 3000mm x 2500mm
Loading capacity(T): 50-150T
Axle: 3 axle
Tire: 12 units, 8.25R20/10.00R20/11.00R20/12R22.5
Suspension: Mechanical suspension or air suspension
Spring leaf: 120(W)mmx16(Thickness)mmx10 layers
Landing gear: JOST/FUWA brand
Tare weight: About 9.5-19T
Main beam: Height: 500mm; Width: 230mm; Side beam: 250 I-beam 10/8/10; Material: HG60 high-strength steel.
Bottom Platform: 5mm thick, checkered plate
Hydraulic cylinder: 12KW diesel engine with hydraulic station
Ramp: spring or hydraulic type
ABS: Optional
Valve: WABCO valve
Light: LED light (specially intended for oversea markets)
Voltage: 24V
Tool box: 1 set
Painting: Polyurethane paint, with long service lift, and avoid the vehicle get rust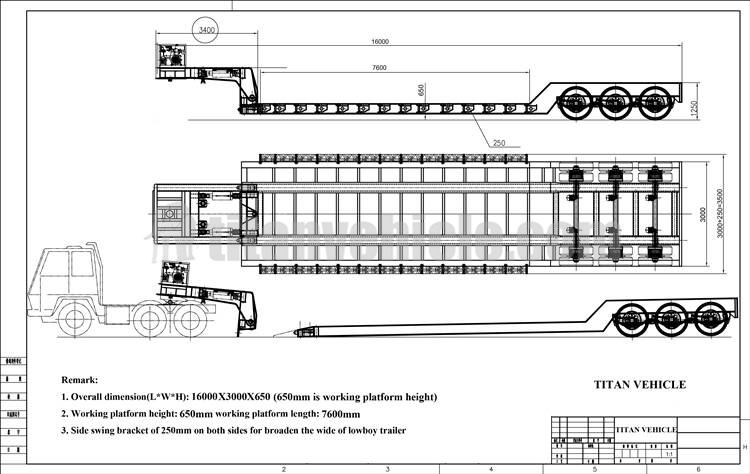 Through the video, you can know different types of gooseneck trailer, lowboy trailer, removable gooseneck trailer, etc.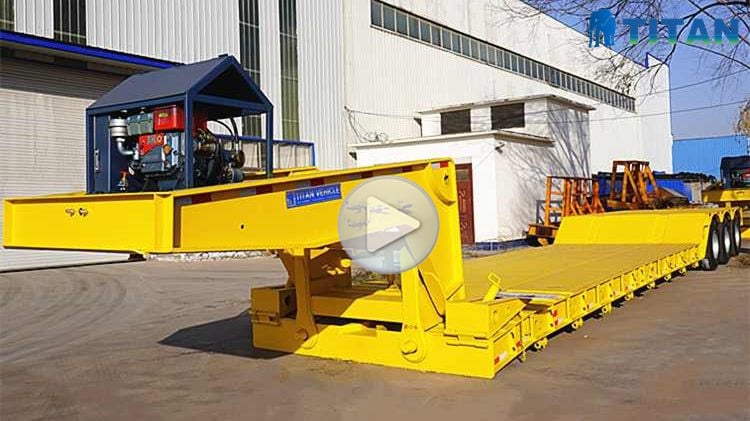 Please click "TITAN Removable Gooseneck Trailer" to get detailed video!
Welcome to leave your inquiry! We will provide more details, price, catalog, drawing, videos for you!