Tri Axle Flat Bed Trailer will be sent to Philippines.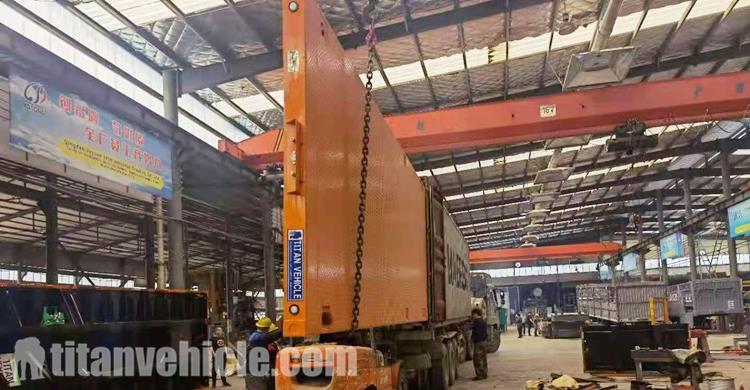 Tri Axle Flat Bed Trailer for Sale In Philippines
In September 2020, the customer ordered the first flatbed semi trailer from TITAN. The customer very liked TITAN's tri axle flat bed trailer very much. In 2021, they found the sales manager Amor again and purchased a 20/40ft tri axle flat bed trailer.
And 2020 Philippines customers found us on Alibaba, talked to sales manager Amor and had questions about semi-trailers for a long time. From the scale of the company to the production of semi-trailers, customers must conduct strict investigations in every aspect. Because he is not only looking for a supplier, but also a long-term partner. Although this is something to be followed, the customer chose TITAN tri axle flat bed trailer, which is the affirmation and recognition of every aspect of TITAN.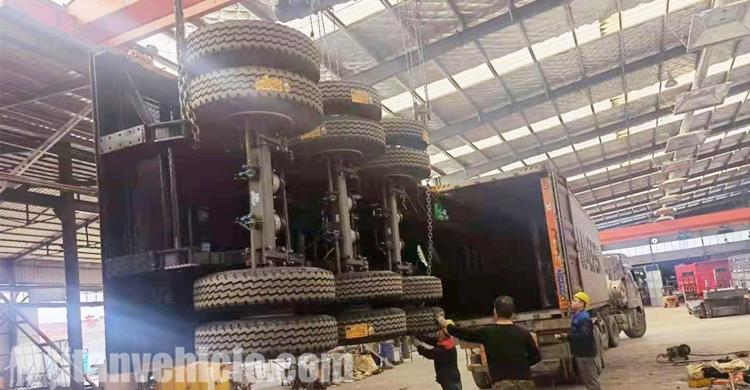 20/40Ft Tri Axle Flat Bed Trailer for Sale Price
Here are kinds of common suspensions for tri axle flat bed trailer:
1. Mechanical suspension: The longitudinal force of the body falls directly on an axle. It is reliable and easy to maintain. The mechanical suspension is our common leaf spring. It is mainly composed of a leaf spring, suspension support (commonly known as lifting gear), connecting rod, U-bolt and other parts.
2. Air suspension: The most obvious feature of an air suspension is its airbag-type air spring. Air suspension for semi-trailers is mostly in high-end fields such as precision instrument transportation and hazardous chemical transportation.
3. Bogie suspension: The tri axle 20/40ft flat bed trailer of bogie suspension is to reduce the common leaf spring front and rear brackets to a single bracket connected to the car body. Compared with ordinary leaf spring suspension, the bearing capacity of bogie suspension is bigger.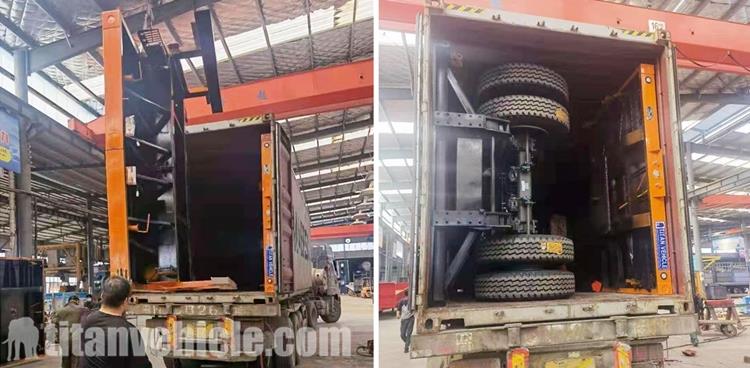 Details of Tri Axle Flatbed Trailer Manufacturer
Details of TITAN tri axle flat bed trailer:
1.High strength beam and more cross beam: make sure the tri axle flatbed trailer handle the bad road condition.
2.Heavy duty type suspension: ensure driving safety and handle the bad road condition
3.Polyurethane paint: Make the tri axle flat bed trailer more beautiful and not easy to rust
4.12 units Container locks: for transport 20ft, 40ft container.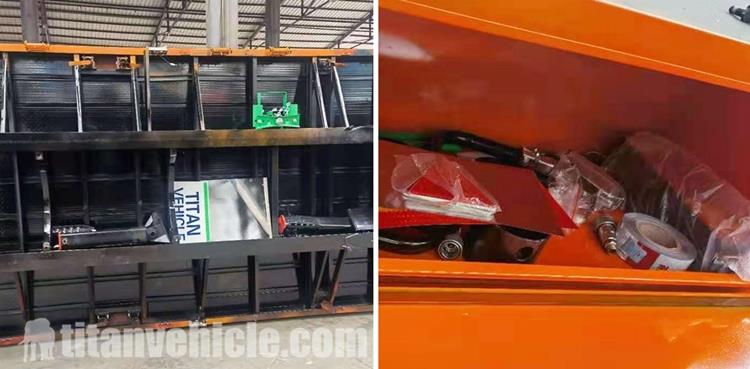 Package Parts of 3 Axle 20/40 Foot Flatbed Trailer
More details specification of tri axle flat bed trailer:
1.TITAN tri axle flat bed trailer uses automatic arc-submerging welding method to weld the main beam, there isn't interface between the steel plate,it can ensure the integrated main beam, so the main beam is stronger and more durable.TITAN tri axle flat bed trailer adopts high-strength steel material to manufacture the flatbed trailer, it can make the flatbed trailer have a higher loading capacity and a longer service life.
2.TITAN uses the 13 ton axle but the 16 ton 220 mm width brake pads which can improve the brake performance by 20 %. polyurethane paint, the tri axle flat bed trailer is more beautiful, has strong adhesion, long-term use of non-fading, non-fading paint, effective protection of the body against rust, prevent acid and alkali corrosion, extend the life of the tri axle flat bed trailer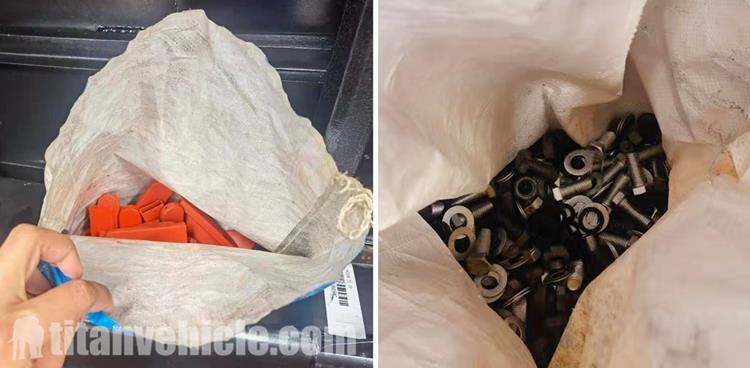 Tri Axle Flatbed Trailer for Sale Price Manufacturer
3.To make sure the service life of the 3 axle flat bed trailer, We use a famous German WABCO braking valve that will definitely shorten the Braking Distance, to make the safety of the trailers and the drivers.
4.The cross beam and the side beam are enhanced, the down plate of the main beam and the bottom plate of the gooseneck is all reinforced, it can ensure there is no curling during the using procedure.
You can download video, you can learn about different types of flatbed semi trailer, such as 2 axle flatbed semi trailer,3 axle container semi trailer,4 axle 40ft flatbed semi trailer, etc. As well as the process, testing, packaging and customer feedback, etc.
This kind of semi trailer was designed with lots of advantages and features. If you want to get more information, please don't hesitate to make contact with us.