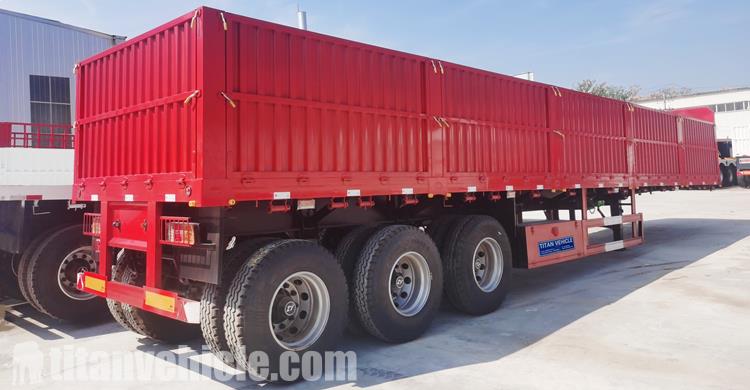 Tri Axle 50 Ton Drop Side Trailer for Sale In Madagascar
Madagascar customer customized 2 sets drop side trailer. The customer saw a car with the TITAN logo in the local area. Find us by searching. And leave an inquiry on the website. The sales manager immediately contacted the customer to inquire about the demand. The customer mainly transports some bulk goods.
After 1 month of confirmation negotiations. The final customer bought 2 sets of 50 ton drop side trailer. TITAN will take pictures to the customer at any time during the production process and when it is completed, to inform the customer of the production progress. The sales manager William will send the pictures and videos of the tri axle drop side trailer to the customer, and it will be shipped in a few days. The customer expressed excitement and nervousness and worried that the semi-trailer would be damaged during transportation.
We fully understand the concerns of our customers. Of course, all our semi-trailers will be covered with rain cloth to prevent erosion by sea water and rain. And we will always keep in touch with customers and help them solve any problems. Hope customers can receive 50 ton drop side trailer smoothly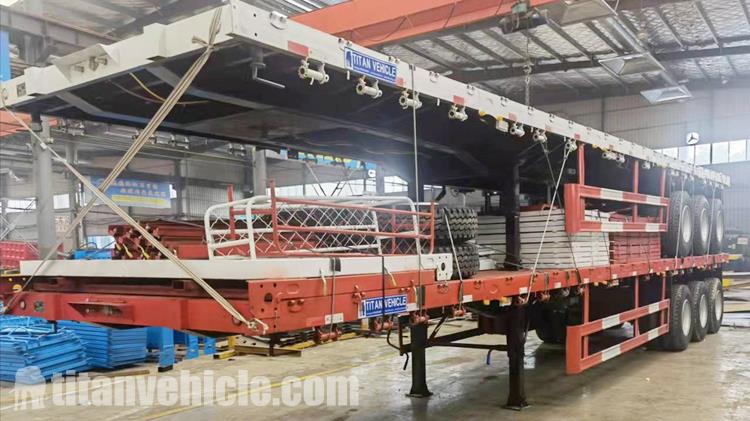 50 Ton Drop Side Trailer for Sale Price
3 Axle Drop Side Trailer Has Longer Service Life than Others:
Modular design, intelligent manufacturing
TITAN 3 axle drop side trailer adopts advanced intelligent manufacturing equipment such as finite element analysis, modular design, laser cutting machine, robot welding, etc., from the design source to the product processing and manufacturing, the entire process is strictly required to ensure that every 3 axle drop side trailer delivered to the customer. They are all high-quality and qualified products.
Green and environmental protection, anti-rust and more durable
There are no dead corners in the overall coating, the coating is more uniform in automated production, the inner side of the box and the warehouse sideboard are covered with a coating, rust-proof and durable, and fully respond to the country's requirements for winning the blue sky defense war, and achieve green environmental protection.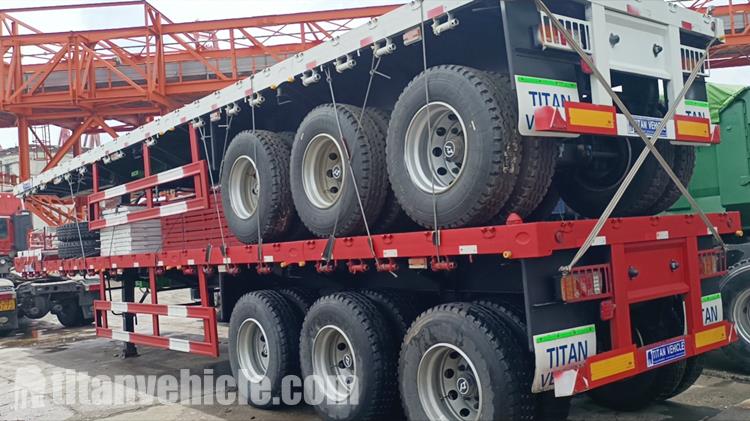 Package of 3 Axle Drop Side Trailer Trailer Near Me
Pay more attention to safety and energy saving
1. The bracket adopts a high-strength material upper-end closed design structure, which can meet the direct connection of the lower wing plate of a 3 axle drop side trailer for container or cargo. The platform tri axle drop side trailer with side wall suspension adopts an internationally renowned brand, which has a long life and is more reliable in durability.
2. High-precision load-bearing, long life and low temperature. The guide arm can choose a double leaf spring and a single leaf spring. The optimized single-leaf guide arm structure, lightweight design, three bridges reduce the weight of more than 200 kg and have good guidance and super reliability and stability.
The guide arm bushing is made of inner and outer steel, and the middle vulcanized rubber design structure has stronger load resistance and more stable vehicles.
3. Imported brake pads and implanted wear alarm device. Effectively guarantee the braking performance of the drop side trailer during operation. Reduce tire wear and fuel consumption. Under the same road conditions and load capacity, fuel consumption per 100 kilometers can be reduced by more than 1.2 liters.
4. Brake discs containing alloy elements, anti-cracking, anti-wear and high-temperature resistance. Super long warranty of 200,000 kilometers, maintenance-free, brake life up to 10 years and 1.5 million kilometers.

Details of Tri Axle Drop Side Semi Trailer
What are the Components of Tri Axle Drop Side Trailer
1. Drop side trailer frame. The frame is the main and important part of load-bearing. It is composed of main beams, side beams, cross beams and tilted supports.
2. High Sideboard. The side wall is divided into a flat plate and a vertical corrugated board. Can be detached or welded to death.
3. Drop side trailer protection device. Trailer protection protects pedestrians and other vehicles from getting under the drop side trailer price. It can also reduce wind resistance and save fuel.
4. Traction kingpin. The traction pin is an important component that connects the 50t drop side semi trailer to the tractor and withstands traction and is connected to the traction seat.
5. Support leg. In order to make the 50t drop side semi trailer reliably parked after leaving the truck head, the front end of the frame is equipped with two support legs that are linked left and right or left and right.

Drawing of Side Wall Semi Trailer
You can download video, you can learn about different types of side wall semi trailers(like 3 axle sidewall trailers, 4 axles high side trailer, grain hopper trailer, aluminum alloy side board trailer, 2 axle side wall semi trailer with bogie suspension, dropside drawbar trailer). And the process, testing, packaging and customer feedback, etc.
This kind of semi trailer was designed with lots of advantages and features. If you want to get more information, please don't hesitate to make contact with us.