40 Ft Flatbed Semi Trailer Description:
The 40 ft flatbed semi trailer is mainly composed of container locks, main frame, axles, tires, suspension, light circuit system, "ABS" braking system, tool box, support device and side and rear lower protection devices, safety accessories and signs, etc.
TITAN use the reinforced suspension on 40 ft flatbed semi trailer, 70mm center balance pin. In the front and rear of the suspension, left and right are reinforced.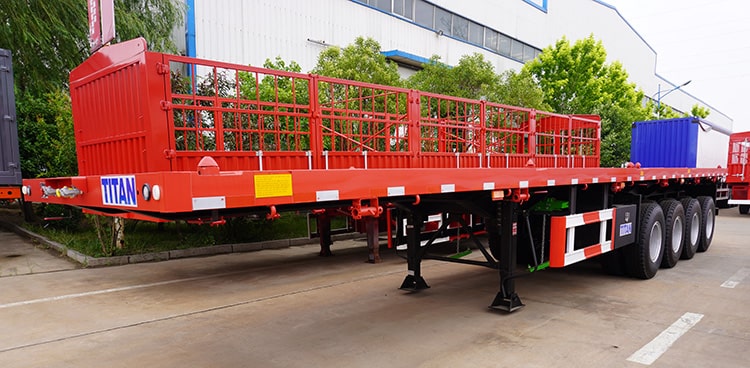 40 Ft Flatbed Semi Trailers for Sale in Tanzania dar es salaam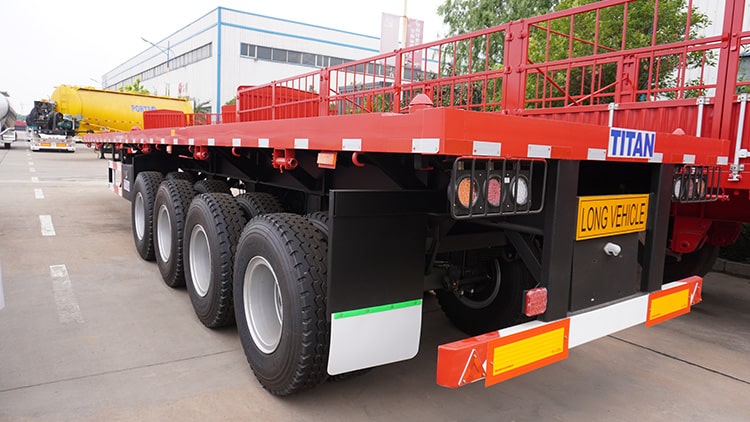 40 Ft Flatbed Semi Trailers for Sale in Tanzania dar es salaam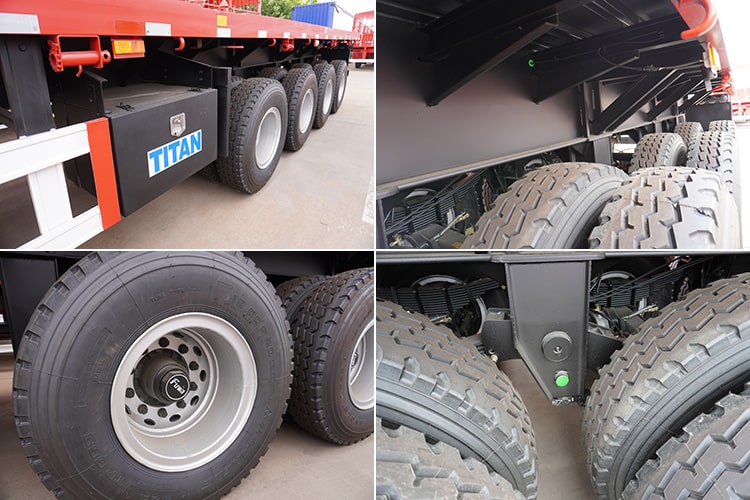 40 Ft Flatbed Semi Trailers for Sale in Tanzania dar es salaam
40 Ft Flatbed Semi Trailer Specification:
Model: 4 axle flatbed semi trailer
Dimension(mm): 12500x2500x1550mm
Loading capacity(ton): ≤60T
Axles: 4 axles, 13T/16T ,FUWA/ BPW/ TITAN Brand
Tire: 16 units, 12.00R22.5 or 315/80R22.5
Rim: 9.00-22.5 or 9.75-22.5
Suspension: Mechanical suspension
Spring Leaf: 90(W)mmx13(Thickness)mmx10 layers or 100mmx12mmx12 (specially intended for overseas markets)
King Pin: JOST brand 2.0 or 3.5 inch (bolted or welded)
Landing Gear: JOST brand D200T or Chinese brand 28tons(double-speed)
Main Beam: Height: 500mm, Upper plate:14mm, Middle plate:8mm, Bottom plate:16mm, Material:Q345B steel
Side Beam: 16mm or 18mm steel channel (material: Q235 steel)
Platform: 3mm-thick checkered plate
Brake Chamber: WABCO RE 6 relay valve; T30/30+T30 spring brake chamber(TKL brand), 45L air tank
Twist Locks: 4,8,12 sets (lifting or screw type)
Valve: WABCO valve (specially intended for oversea market)
ABS: Optional
Light: LED light (specially intended for oversea market)
Voltage: 24V
Socket(Receptacle): 7-pin Socket (for 7 wire harness)
Tool Box: 1m x 0.5m x 0.5m (The tool box contains 1 tire spanner, 1 gudgeon sleeve and 1 cranking bar. Its size can be tailored to suit your needs)
Painting: Sandblasted, anti-rust chassis surface is available with 1 layer of anticorrosive primer and 2 layers of top coats
40 Ft Flatbed Semi Trailer Advantage:
1. TITAN Vehicle adopts high strength steel material to manufacture the flatbed trailer, it can make the flatbed trailer have a higher loading capacity and a longer service life.
2. Also the trailers floor is checker plate, this will keep the other bulk cargo more stable.
3. Durable mechanical widened spring suspension, make sure the stability and safety.
4. polyurethane paint, the vehicle is more beautiful, effective protection of the body against rust, extend the life of the vehicle.
5. Hight Quality container locks, make sure the stable and safety of the loads.
Through this video, you can see different types of flatbed trailers, As well as the process, testing, packaging and customer feedback, etc.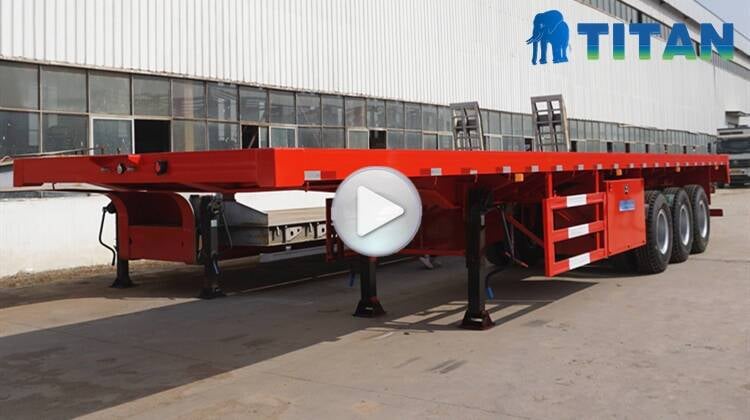 Please click "TITAN Flatbed Trailer" to get detailed video!
Welcome to leave your inquiry! We will provide more details, price, catalog, drawing, videos for you!