4 Axle Flatbed Trailer will be sent to Burkina Faso.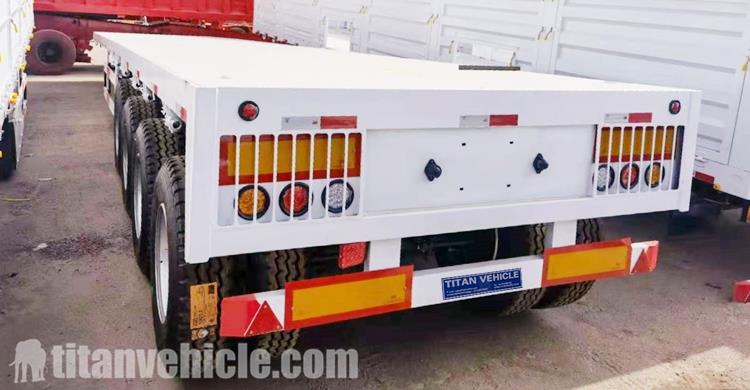 4 Axle Flatbed Trailer for Sale In Burkina Faso
The 4 Axle Flatbed Semi Trailer has been completed and is about to be shipped to Burkina Faso. The customer found us in Made in China and said that they need a 4 axle flatbed semi trailer. The customer is very familiar with semi trailers, so the requirements are very strict. The customer and the sales manager William talked for a long time. William helped the customer solve many problems, which made the customer trust TITAN. Finally, the customer chose TITAN and purchased a 4 axle flatbed semi trailer.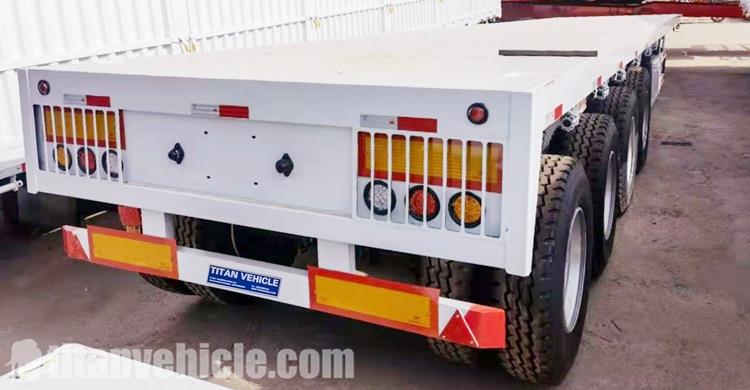 20/40Ft Flatbed Semi Trailer for Sale Price
The customer is very proficient in the operation of the 20/40ft flatbed semi trailer, but the customer does not know how to inspection the flatbed semi trailer, which is also a problem for many customers.
Daily inspection
1. The first step is to look at the tires: Visually inspect the tire pressure to see if there is no air shortage or debris adhesion, and then see if there is any deformation or cracks in the steel ring.
2. Check the tightness of the tire screws again: Don't be too troublesome with this detail. You should check whether each screw is fastened one by one. It's a trivial matter to run away a screw on the way. Losing a tire can also be solved by money, but if you run into an accident, you will regret it.
3. Suspension system just take a look: Look at the tightness of all nuts, bolts, and U-bolts. This is all related to whether you eat a tire.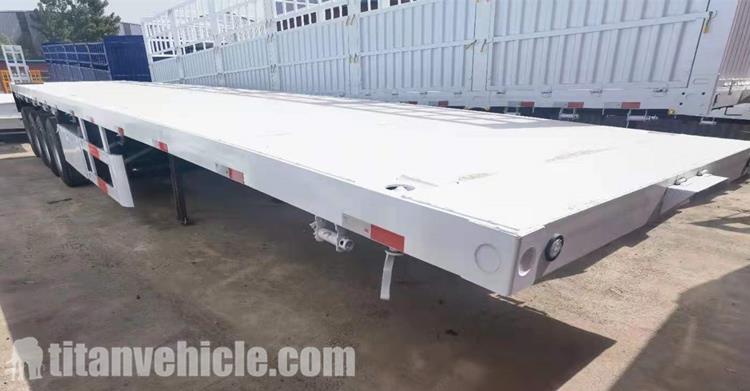 Factory Show of 40 Foot Flat Bed Trailer for Sale
4. Shake the outriggers to ensure normal: The outrigger inspection must be shaken up and down a few times, and then check whether there are cracks in the welding place, especially the riders who are running and dropping, must pay attention to this problem.
5. Feel the wear of moving parts: Reach out and touch the small parts such as the hinges, hooks, pegs, and container locks to see if the 20/40ft flatbed trailer is cracked and broken.
6. Check all fixtures and reverse cursor paste: Just check if there is any abnormality, get on the car and turn on the lights to see if there are any broken lights. There is no shortage of reflective signs. I believe there must be card friends who have been punished due to defective reflective signs on the road.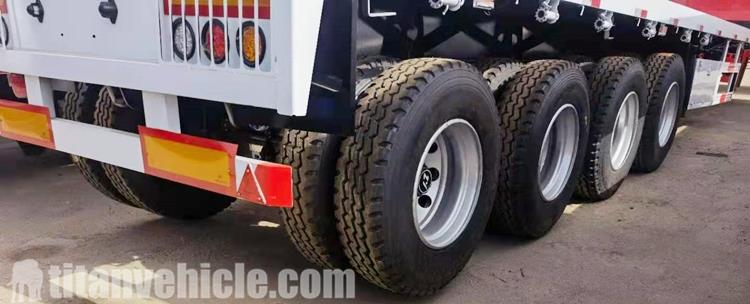 Details of Flatbed Trailer Manufacturer for Sale
7. Look at the brake connection of the tractor and flatbed semi trailer: After starting the flatbed semi trailer, check whether the air pressure gauge is enough, and then try the brakes with a foot brake.
8. Listen to whether the brakes are leaking: Get out of the car to listen for air leaks, and test whether the brakes of the 4 axle flatbed semi trailer are working well.
After checking that everything is ok, you can go on the road. Safety first, I sincerely hope that all drivers have a safe journey.

Drawing of 4 Axle 40 Foot Flatbed Semi Trailer
You can download video, you can learn about different types of flatbed semi trailer, such as 2 axle flatbed semi trailer,3 axle container semi trailer,4 axle 40ft flatbed semi trailer, etc. As well as the process, testing, packaging and customer feedback, etc.
This kind of semi trailer was designed with lots of advantages and features. If you want to get more information, please don't hesitate to make contact with us.