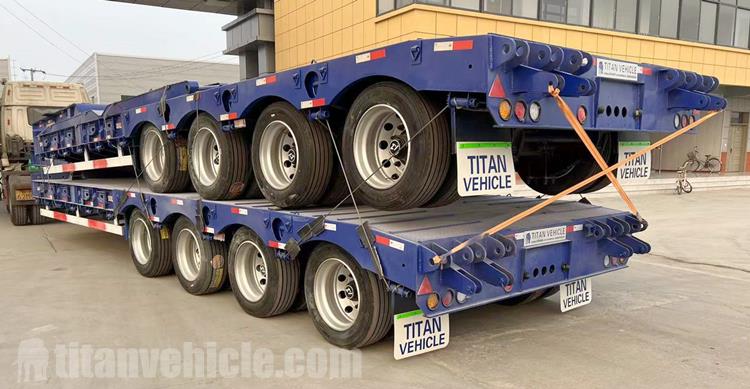 4 Axle 80 Ton Low Loader Trailer for Sale In Botswana
Botswana customers ordered 4 axle 80 ton low loader trailer. We received factory feedback, and his lowbed semi trailer has finished and will be sent to Botswana. Our customers used the low loader trailer before, but his low loader trailer main beam has broken, so he attaches great importance to the quality of the semi-trailer.
Customers compare 6 factories including us. After a series of comparisons and discussions with customers. Finally, TITAN was chosen as a long-term partner. Lowbed semi trailer are also very extensive, suitable for the transportation of various mechanical equipment, large objects, road construction equipment, large tanks, power station equipment and various steel materials.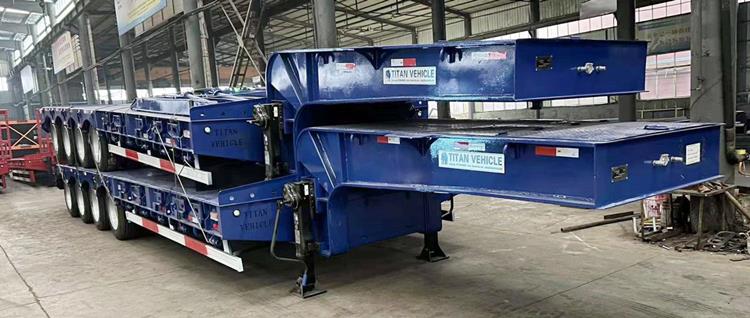 4 Axle 80 Ton Low Loader Trailer for Sale In Botswana
There are many main parts of low loader trailer, which can help you solve some doubts.
1. The axle of low loader trailer is a support bridge, and the axle is connected to the frame through a leaf spring and a tie rod and a suspension device to support and transfer the force of the load between the frame and the wheels.
cover low loader trailer with a waterproof rain cloth cover lowbed trailer with a waterproof rain cloth
2. The electrical system of the semi-trailer consists of seven-core sockets, cables, gas circuits, various lamps, etc., which are used for lighting, safety warnings and air supply for brakes.
3. The 4 axle 80 ton low loader trailer protection device is composed of side protection and rear protection to protect pedestrians and other vehicles from getting under the semi-trailer.
4. The 4 axle 80 ton low loader trailer suspension is made of non-independent steel plate stamping rigid suspension, composed of tandem steel plate springs and suspension bearings, which are used to support the load and reduce the impact of the truck and cargo load. Due to the different uses of special vehicles, there are also different requirements for the suspension design. There are four commonly used suspensions: series-connected leaf spring balanced suspension, single-point suspension, air suspension, and rigid suspension (one line and two axles).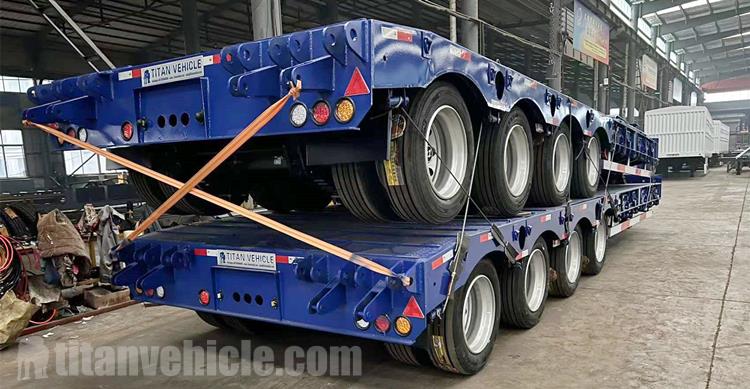 4 Axle 80 Ton Low Loader Trailer for Sale In Botswana
5. Other accessories on the semi-trailer include toolboxes, spare tire racks, gantry racks, and piles. It can be installed according to the type of goods.
6. The support device of the 4 axle 80 ton low loader trailer is mainly used to support the trailer when it is detached, and it is composed of outriggers and connecting brackets.
7. The traction pin is an important component that connects the semi-trailer with the tractor and bears the traction force and is connected with the traction seat. It is generally forged from chromium alloy structural steel. There are 50# traction pins and 90# traction pins for different cargo tonnages. Generally, the total weight of the trailer and cargo is limited to 50T. 50# pins are used for those below 50T, and 90# above 50T. 90# traction pins are used for insurance purposes.

4 Axle 80 Ton Low Loader Trailer for Sale In Botswana
TITAN most important production process:
Before production, TITAN technical department must first design and produce drawings according to the needs of the user and the market, so that the technical parameters of the main trailer are matched, and then transferred to the manufacturing department.
1. Stage of cutting steel sheet material
According to the drawings of each part produced by the design department, each part is cut out with a CNC cutting machine, such as beam webs, reinforcement plates, standard small accessories and so on.
2. Submerged arc welding beams, beams fixed
The second step is to fix the cut web and the upper and lower wing plates to weld points, and then weld the beam by submerged arc welding.

4 Axle 80 Ton Low Loader Trailer for Sale In Botswana
You can download video, you can learn about different types of lowbed semi-trailers, like 2axle, 3axle, 4axle lowbed semi trailer, hydraulic ladder lowbed semi trailer, etc. As well as the process, testing, packaging and customer feedback, etc.
This kind of semi trailer was designed with lots of advantages and features. If you want to get more information, please don't hesitate to make contact with us.