3 Axle Bulk Cement Tanker Trailer will be sent to Mozambique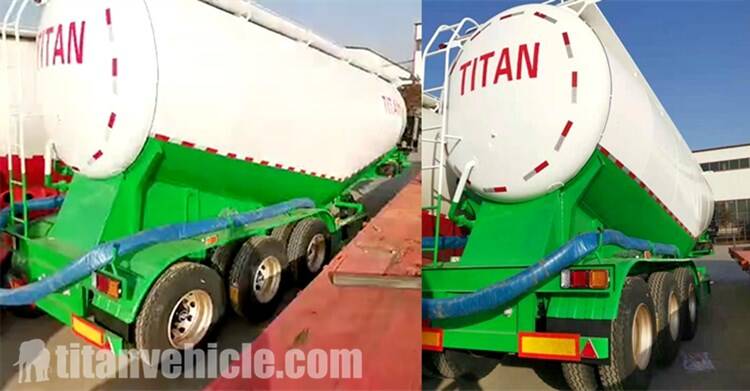 3 Axle Bulk Cement Tanker Trailer for Sale in Mozambique
Mozambique client is a construction company that purchases Cement tanker trailer to transport cement. According to the customer's local road conditions, we use the most durable tires. This is also what the customer requested.
The volume of the bulk cement transport semi-trailer can be customized,according to your requirement. All the TITAN cement tank trailer will go through the pressure test and metal inspection testing, to ensure a good sealing property of our cement tank trailer.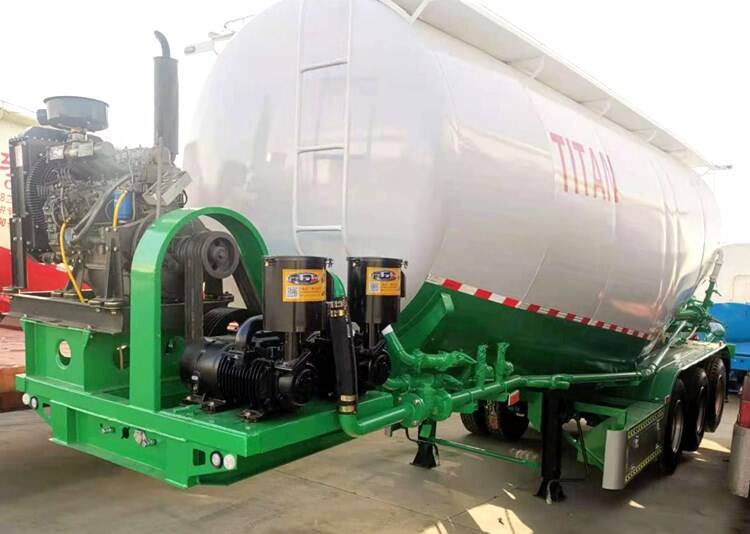 Price for Trailer
Fly ash, cement, lime powder, ore powder, etc. can be transported by TITAN bulk cement tanker trailer. At the same time, TITAN specially designs the internal structure according to the characteristics of various materials to ensure conveying efficiency.
Secondly, the loading and unloading of materials is more advantageous, the top gravity loading is convenient, the high-pressure pipeline unloads quickly, and the remaining material in the tank is less, which effectively reduces the loading and unloading time.
The axle adopts domestic well-known brands such as Fuhua and adopts aluminum alloy steel rims and tubeless tires. The reasonable combination is suitable for various road conditions including flat roads, mountain roads, hills, and dirt roads.
TITAN bulk cement tanker trailer is mainly used in the logistics system of engineering construction, long-distance freight, the transfer station and professional powder material transportation.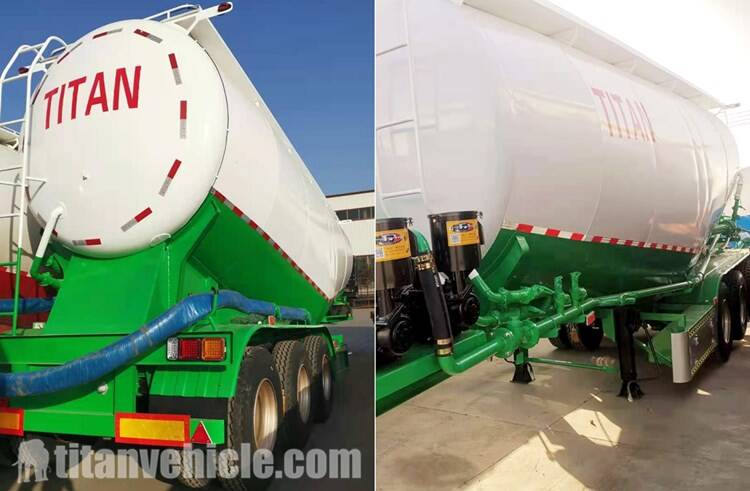 Bulk Cement Tanker Trailer for Sale
Where is TITAN strong?
High floor area ratio: the effective rate is nearly 100%, which can produce greater value compared with similar products.
At the same time, TITAN 3 axle bulk cement tanker trailer also has the characteristics of fast unloading speed: the instantaneous speed can reach 1.4t/min, which is convenient for customers to operate, saves customers' time and cost, and improves efficiency. The operability advantages of TITAN cement trailer: compact structure, small turning radius, convenience for customers to use.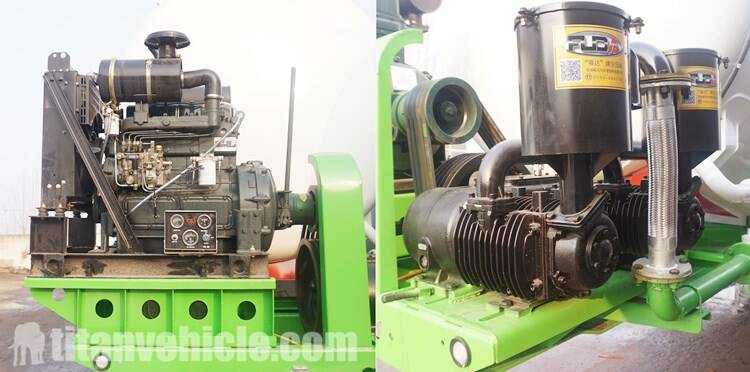 cement tanker trailer
What is the structure of TITAN cement trailer?
The product design and development all adopt three-dimensional modeling of the core, the digital model of the whole vehicle adopts CAE simulation analysis, and the scientific research personnel have carried out many real-car performance tests, which has high reliability and high-end atmosphere.
From the perspective of tank structure, TITAN cement trailer uses high-strength alloy steel from a well-known domestic steel plant with good performance and reliable welding; the tank adopts advanced technology to ensure high strength and good airtightness of the tank; Adopting a throat-type fluidized bed, a side-slide structure, a gas material separation device and a safe discharge device, effectively reduce the vehicle's own weight and increase the discharge speed.
From the perspective of the power plant, the power system can choose the main vehicle to take power, which saves costs and is easy to operate; it can also be equipped with a traditional diesel engine transmission; it can also be driven by a motor to reduce fuel consumption and effectively save costs for customers. It is convenient for customers to choose the power source.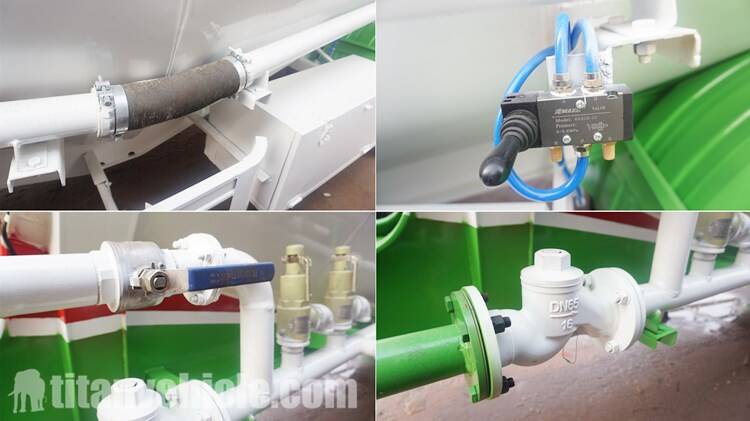 Details of Tri Axle Cement Tanker Trailer
In addition, bulk cement trailers for sale adopts cast aluminum lightweight material cover: the cover can be easily lifted with one finger, the fasteners are all galvanized, and the unique design of the material port prevents material accumulation, which greatly facilitates customers Use and reduce maintenance costs.
The braking system of the vehicle adopts a dual pipeline braking system, equipped with an imported relay valve, pneumatic main vehicle braking system and ABS anti-lock braking system to ensure the safe driving of the vehicle.
The suspension system of the vehicle adopts the high-strength, lightweight and wear-resistant suspension of a well-known domestic brand. It is composed of tandem light-weight leaf springs, high-strength tie rods and supports to ensure the load balance of each axle and effectively prevent the vehicle from deviating and tire gnawing.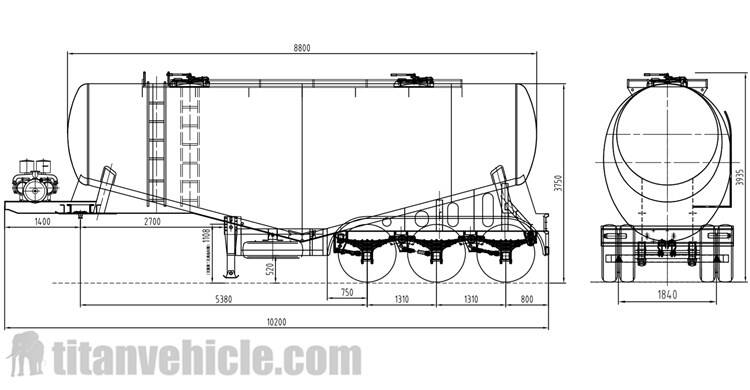 Drawing of Cement Tanker Trailer
Finally, the vehicle body undergoes multiple processes such as shot blasting, sanding, cleaning, primer, intermediate coating, topcoat, and drying, which effectively improves paint film adhesion. The salt spray test proves that the body has strong corrosion resistance.
You can download video,you can learn about different types of bulk cement tanker trailers, such as 3 axle dry bulk tanker trailer, 30-ton fly ash tanker, 50cbm silo trailer for sale, and process, testing, packaging and customer feedback, etc.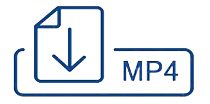 Bulk Cement Tanker Trailers Video
This kind of semi trailer was designed with lots of advantages and features. If you want to get more information, please don't hesitate to make contact with us.