Product Description:
TITAN produces goldhofer multi axle trailer is mainly used in transporting large and heavy loads, bridge, tunnel engineering ,power engineering, petrochemical engineering and railway construction.
TITAN goldhofer multi axle trailer trailer for transport oversize and over weight freights that split apart series hydraulic full trailer that can be assembled into weight from 45 tons to 2200 tons of various series.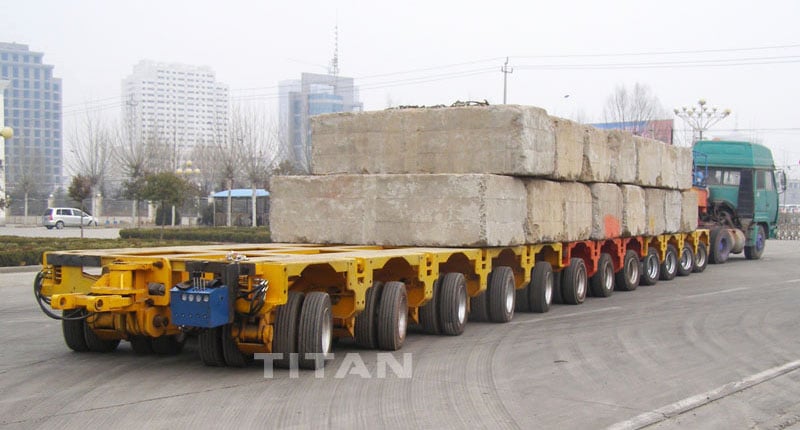 Advantage:
- Hydraulic axle suspension adopt uneven road condition.
- Platform height is adjustable
- Small turning radius, 48° steering angle with hydraulic gooseneck
- End by end combination and side by side combination of each module are available
- Extremely robust and durable construction, extremely high load capacity.
- All wheels steerable automatically or manually.
- Lifting cylinder make trailer automatically responds tough road conditions.
Applications of goldhofer multi axle trailer:
Heavy-cargo transport:
Some companies specialize in transporting heavy cargo from one destination to another. Such companies serve clients who need to transport heavy loads a few times in a year.
The manufacturers also require transport solutions to transport the fully-assembled equipment to the clients or warehouse. The goldhofer multi axle trailer can be customized to transport any cargo as long as it is well packaged.
Construction Industry
The construction of bridges, large buildings and roads also require the use of modular trailers. Big bridge segments and large girders are placed onto the modular trailers from the construction sites.
Construction companies usually have projects located in different areas. Modular hydraulic trailer help in the transportation of the already built sections to places where they will be installed and at the same time shift materials and equipment from one project to another.
Ship Building Industry
Ships and ship sections are normally huge and bulky. You can imagine how the construction of the big ships you see transporting goods and people across seas is done.
Modular trailers become very useful in the movement of ship sections to assembly halls and the entire ship to the sea. Ships are normally very heavy weighing up to thousands of tones.
The biggest ships will need goldhofer spmt with over 200 axle lines. On some occasions, the placement of the axles is done side by side to help in carrying long and wide ship sections.
Welcome to leave your inquiry! We will provide more details, price, catalog, drawing, videos for you!