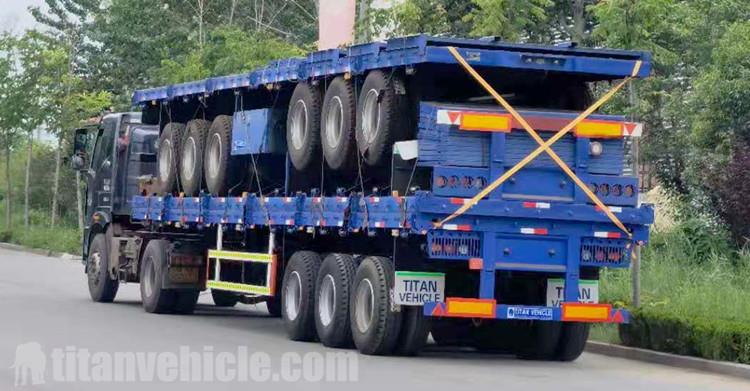 Triaxle Trailer with Boards for Sale in Zimbabwe
In October 2020, the customer ordered the first triaxle trailer from TITAN. The customer very liked TITAN's triaxle flat bed very much. In 2021, they found the sales manager Alice again and purchased 3 units triaxle with boards.
And 2020 Zimbabwe customers found us on Alibaba, talked to sales manager Alice and had questions about semi-trailers for a long time. From the scale of the company to the production of semi-trailers, customers must conduct strict investigations in every aspect. Because he is not only looking for a supplier, but also a long-term partner. Although this is something to be followed, the customer chose TITAN tri axle trailer, which is the affirmation and recognition of every aspect of TITAN.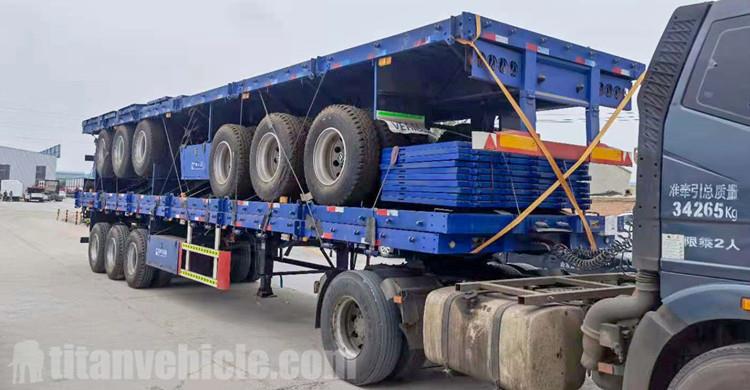 Triaxle Trailer with Boards Ready to Ship to Zimbabwe
TITAN is one of the leading manufacturers of triaxle side wall trailer. Our trailers are designed with operators in mind, who expect the highest standards of performance and build quality. Triaxle with boards are robustly designed and built, last longer and require minimal maintenance - and yet they have an amazingly low un-laden weight. Whether you are hauling cement, steel, construction materials, etc each side wall trailer is engineered with robust capacities you can rely on. The construction is composed of a one-piece high-quality steel main beam, a strong floor with Sidewall frame and many more components that provide very beneficial weight savings to customers.

Triaxle Side Wall Trailer Details Display
Use of the triaxle trailer with board?
1. Grain Transport
A triaxle side wall trailer may have one or two hoppers on the bottom. When you fill the trailer with grain, it can deliver that grain through the hopper in the base. The grain can be poured in from a large spigot, and the trailer has a cover that will prevent damage to the product on the inside.
When you deliver your product to the client, you can open the hoppers to pour out the grain. You can carry any grain in the trailer, and it will fall through the hopper easily. You can close the hopper at any time if you are only supposed to deliver a certain amount, and you can lock the hatch in place.
2. Pebble And Rock Delivery
Pebble and rock delivery may be simpler if you are using a tri axle trailer with boards. The trailer allows you to pour out pebbles or rocks in a certain spot. You may create a long line of pebbles or rocks, and you can dump the pebbles and rocks in a hole that you have driven over.

Triaxle Trailer with Boards for Sale in Zimbabwe
3. Fertilizer Delivery
You can deliver fertilizer to the appropriate location using the hoppers on the bottom of the trailer. Again, you can pour fertilizer into the top of the trailer with no trouble. You can open the hoppers at any time, and you can measure how much has been released. Your client may ask you to drive over the area where the fertilizer is supposed to go, or you can dispense the fertilizer into a grate or container that is situated below the truck.
4. Dirt/Soil Delivery
Dirt and soil delivery may be easier if you are using a side wall trailer. The side wall trailer can be used to pour out the dirt or soul while it is driving over the area where you want the dirt. You may position the trailer over a hole that needs to be filled, or you can create a tract of soil that can be used for planting, leveling, or grading.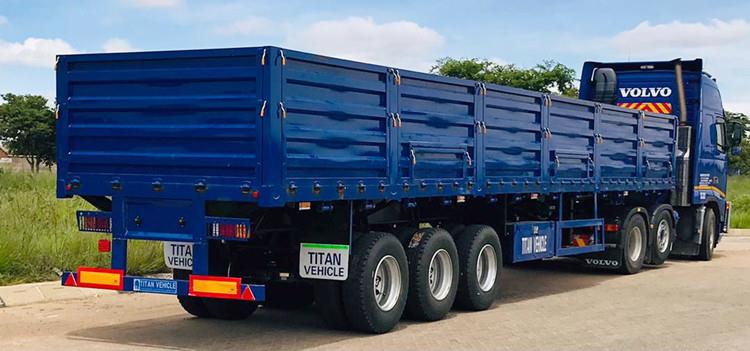 Triaxle Trailer with Boards Feedback from Zimbabwe Customer
You can download video, you can learn about different types of side wall semi trailers(like 3 axle sidewall trailers, 4 axles high side trailer, grain hopper trailer, aluminum alloy side board trailer, 2 axle side wall semi trailer with bogie suspension, dropside drawbar trailer). And the process, testing, packaging and customer feedback, etc.
This kind of semi trailer was designed with lots of advantages and features. If you want to get more information, please don't hesitate to make contact with us.