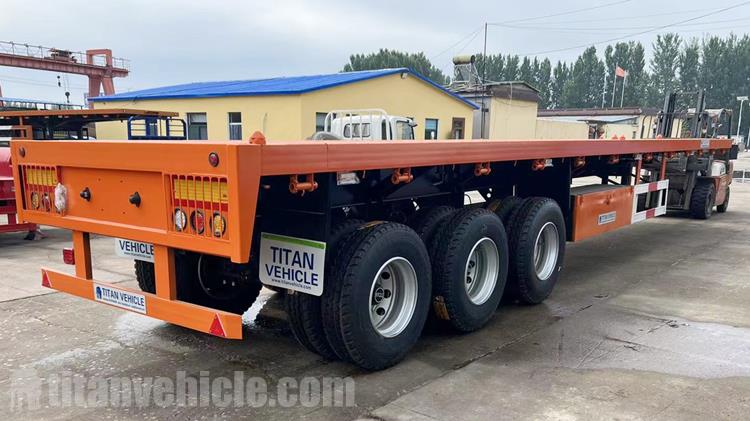 Tri Axle Flatbed Trailer for Sale In Cayman Islands
Thank you Cayman customers for choosing our company again. Actually, this is the second time he has bought a flatbed trailer from us. He bought our 40 ft container trailer to transport container for the first time. He quickly made back the cost of the semi trailer with the TITAN 40 ft container trailer and wanted to expand his work.
When he had a demand for a flatbed trailer, he immediately thought of our company. Because he was very impressed with our product quality and after-sales service. He did not consider other suppliers and chose us directly.
The following is the picture of the package and delivery. If the customer wants to check the production progress, our sales manager will send new videos and pictures to the customer every once in a while. And the inspection video will be sent to the customer before shipment.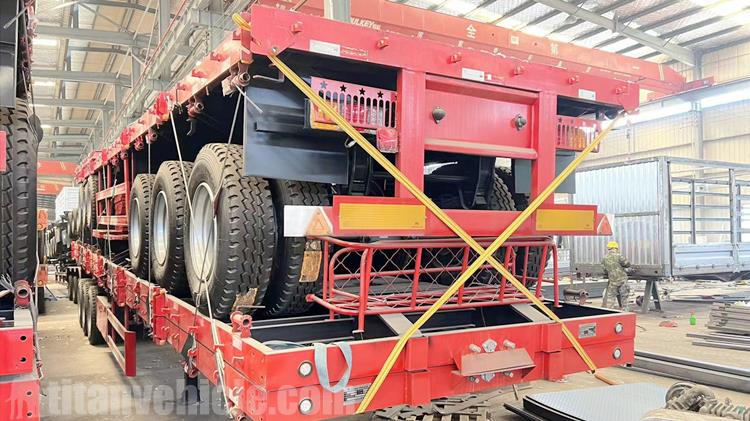 Tri Axle Flatbed Trailer for Sale In Cayman Islands
Several other tri axle flatbed trailer include the pull-out flatbed with front baffle, the interlink flatbed semi trailer, and his container tipper.
The flatbed trailer is a kind of transportation equipment, which is mainly composed of a steel structure frame, and it is also divided into the lighting system, braking system, and walking system in terms of approach.
The flatbed trailer is carefully designed, its height and weighing capacity can safely transport the cargo from one place to another, load the cargo onto the container tri axle flatbed trailer and transport it to the destination, and if it is necessary to change the tri axle flatbed trailer or ship or other means of transport in the middle, we do not need to take the cargo out of the container.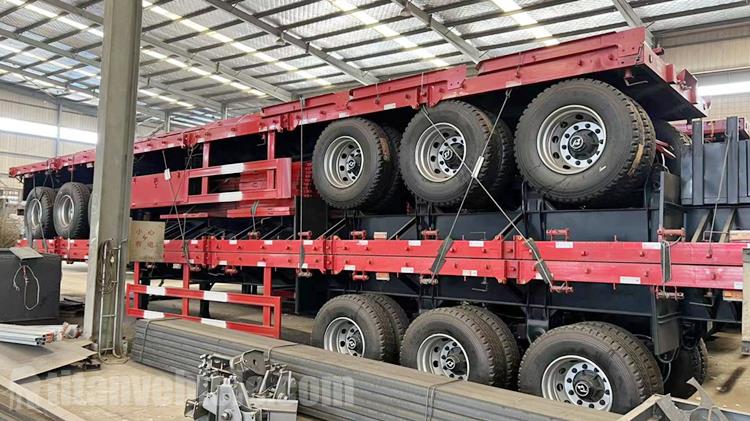 Tri Axle Flatbed Trailer for Sale In Cayman Islands
What is the production process of tri axle flatbed trailer
First, we will make a drawing of standard width of a flatbed trailer according to your requirements, then after confirming the drawing is correct, we will give it to the workshop for production.
According to the requirements of each part of the drawing, we will use the CNC cutting machine to cut each component, such as the main beam needs to use steel plate, reinforcement, etc.
welding tri axle flatbed semi trailer working platform, side beam, main beam, main welding pin, welding suspension, welding base plate.
Tri axle flatbed trailer manufacturer to remove rust, frost, spray primer, paint, spray wax; install axles; install tires.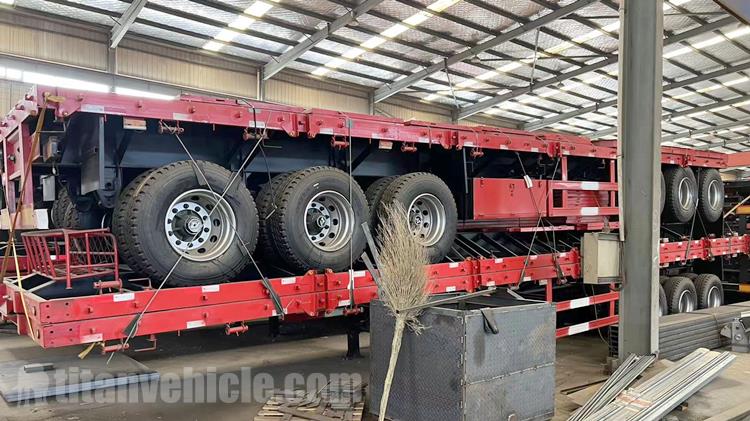 Tri Axle Flatbed Trailer for Sale In Cayman Islands
Suspension system: Mechanical suspension and air suspension series optional.
1. Mechanical suspension series: Tri axle flatbed trailer used tandem and balance construction, have high strength and strong impacting resistance, evenly distribute the axle load into each axles. High strength material keep the service life much longer and efficient buffering, simple maintenance, easy replacement for the wearing parts.
2. Air suspension system: Optional BPW and L!. More shocking proof which combined with lifting and steering axles.
Tri Axle Flatbed Trailer for Sale In Cayman Islands
You can learn about different types of flatbed semi trailer, such as 2 axle flatbed semi trailer,3 axle container semi trailer,4 axle 40ft flatbed semi trailer, etc. As well as the process, testing, packaging and customer feedback, etc.
This kind of semi trailer was designed with lots of advantages and features. If you want to get more information, please don't hesitate to make contact with us.