Tri Axle 45CBM Fuel Tanker Trailer will be sent to Guinea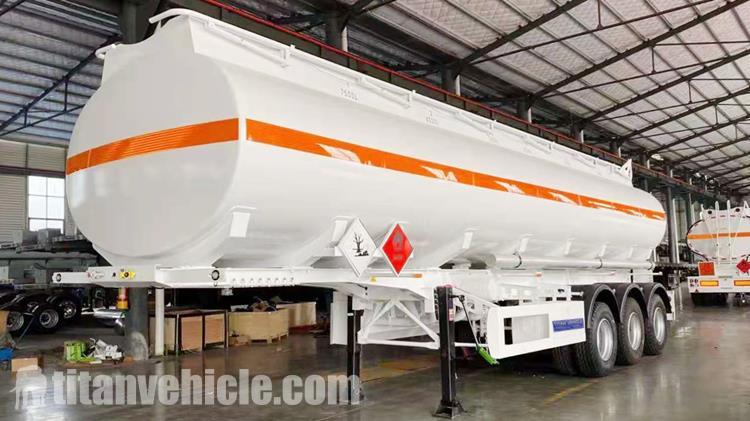 Tri Axle 45CBM Fuel Tanker Trailer for Sale In Guinea
TITAN tri axle 45cbm fuel tanker trailer is ready to arrange sea shipping. We understand that customers need to transport edible oil, soybean oil, olive oil. Of course, the customer knows TITAN through friends in the same industry. Understand customer needs as usual. The customer has used fuel tanker trailer before. But it is a single compartment. Based on the needs of customers, we recommend the Fuel tanker trailer with 3 compartments.
3 Axle fuel tanker trailer tanker body adopts advanced welding technology, which reduces the risk of welding.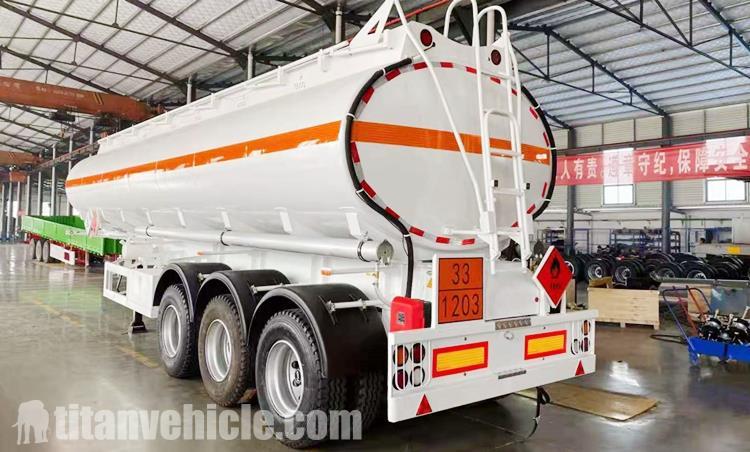 3 Axle Fuel Diesel Tanker Trailer for Sale Manufacturer
TITAN 45cbm fuel tanker trailer capacity and cabin can be customized, we have aluminum, stainless and carbon steel tank body trailer, if you want to transport cooking oil, you can choose stainless tank, if your country is serious about for weight limit, you can choose the aluminum tank.
In addition to that, TITAN trailer also has air suspension and mechanical suspension, the mechanical suspension has a good performance in bad road conditions, air suspension will be lighter than mechanical suspension. It can according to your requirements to design.
TITAN fuel tanker trailer has different brand trailer axle, BPW, FUWA and so on, specification is different, if you have strict requirements for the axle, we can design for you.
45CBM fuel oil tanker trailers adopt advanced design and manufacture durable fuel tankers, especially for Africa market which need solid and strong and safe fuel tankers with bad road conditions adjustable which are distortion resistance, earthquake resistance and bump, make your transport safety, also beneficial.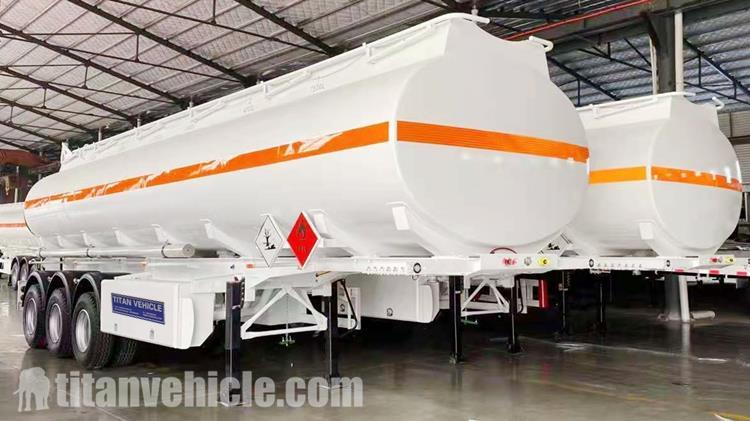 45000 Liters Fuel Oil Tanker Trailer with Best Price
Tri Axle 45CBM Fuel Tanker Trailer Advantages:
1. With safety devices: the manhole is an explosion-proof large cover. The bottom outlet of the tank is equipped with an emergency shut-off valve.
2. The tank body is automatically welded by an advanced large-scale special welding machine.
3. The 45000 liters fuel tanker trailer tanker body is longitudinally welded. Ensure the safety of the tanker and increase the service life.
4. Water-filled test equipment Water tank: To ensure the high seal of tank body and avoid the leaks oil.
6. The waved board reduces the impact of the liquid on the tanker.
7. Advanced paint system and polyurethane paint. Appearance is beautiful, use time is above 5 years.
8. We adopt famous brand parts for our tank trailer, it saves costs & ensures long-time service.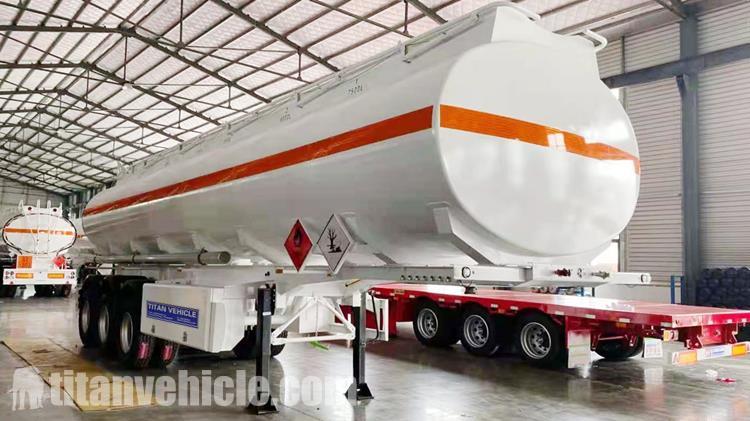 Fuel Tanker Trialer with Capacity 45000 Lts
3 Axle Fuel Tanker Trailer Precautions
1. To ensure that the fuel tanker trailer is clean, the oil tank and the oil delivery system should be cleaned regularly, and the internal and external joints at both ends of the oil delivery hose should be frequently coated with lubricating oil. The oil tanker trailer is easy and convenient to disassemble. After each work, the tubing should be cleaned in time to ensure that the inside of the tubing is clean!
2. Oil tanks and piping systems should be cleaned regularly. 3 axle fuel tanker trailer Regularly check whether the joints of the piping system are well connected and the seal is reliable! The safety valve and filter net of the oil tanker should be checked and cleaned frequently!
3. Before refueling operation, you must use a power pole to insert into the wet ground, the fuel tanker trailer grounding tape should be grounded, and the static electricity should always be well conducted during the operation!
4. Oil Tanker Trailer should install an electrostatic belt according to the specifications. When static electricity encounters the extremely high concentration of combustible gas remaining in the car, it will explode. The electrostatic belt will frequently rub against the car body, etc., and space, where static electricity is easy to generate, can be effectively removed. Static electricity hazards to ensure that the body is not harmed.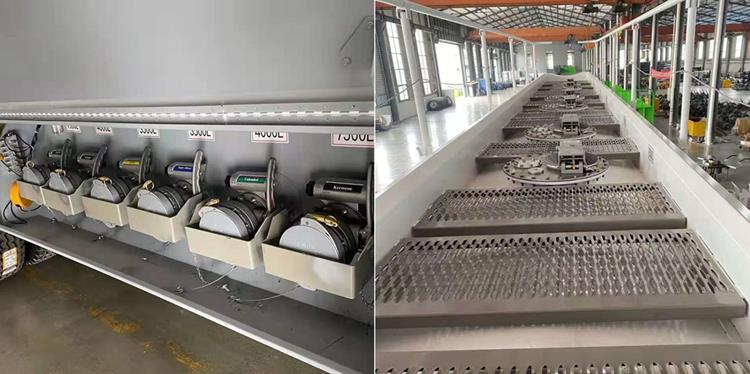 Details of Fuel Tanker Trailer
You can download video, you can learn about different types of fuel tanker semi trailers (like 3 axle fuel tanker, 4 axle storage tanker trailer, Aluminum tanker trailer, acid tanker trailer, fuel tanker with flatbed trailer, fuel tank Full trailer). And the process, testing, packaging and customer feedback, etc.
This kind of semi trailer was designed with lots of advantages and features. If you want to get more information, please don't hesitate to make contact with us.