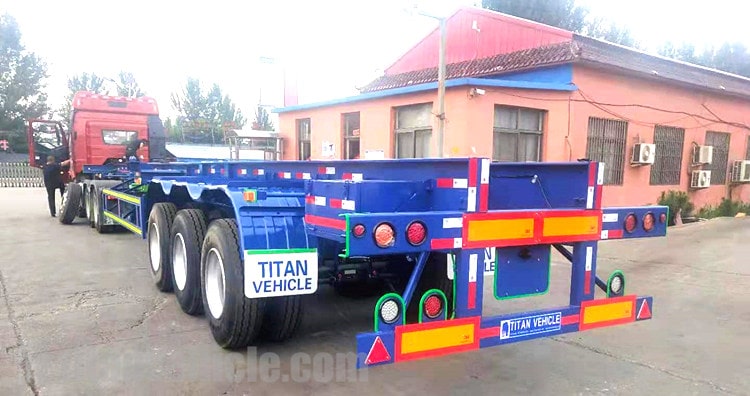 Tri Axle 40ft Skeleton Trailer for Sale in Zambia
This Tri Axle 40ft Skeleton Trailer will be sent to Zambia. Skeleton Trailer is also a common model in our factory, especially tri axle 40ft skeleton trailer, suitable for container shipment. This customer from Zambia bought a semi-trailer from TITAN for the first time. At first, he saw our products on Alibaba and sent us an inquiry. When the salesman contacted the customer, the customer said Companies that are not familiar with importing large-scale products are still a little worried. And the customer also asked our salesman some questions: What should I do if the vehicle is damaged during transportation? Does the seller provide raincloths during vehicle transportation? How is the product quality? What are the configurations of the product? Our salesman answered these questions one by one and said that we would provide free rain cloths to the vehicles. After some comparisons, the customer finally chose TITAN's semi-trailer. Our factory also hurriedly hurriedly made finished products for customers as soon as possible, and shipped them immediately after customers paid the final payment. Looking forward to customer feedback later.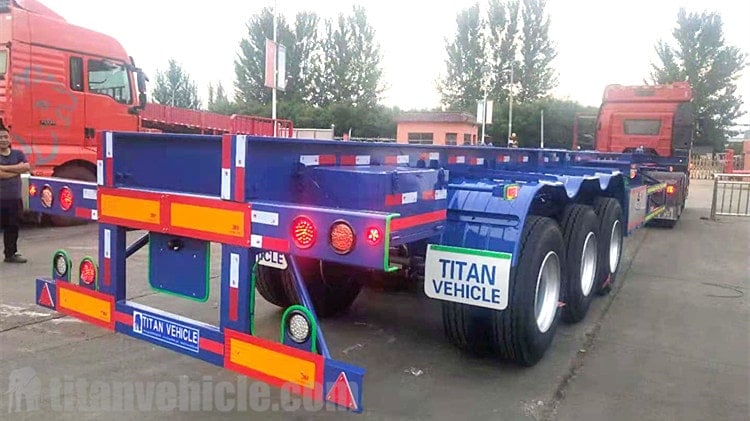 Tri Axle Skeleton Trailer for Sale
Uses and characteristics of skeleton trailer
Tri axle 40ft skeleton trailer is the more commonly used type of semi-trailer, but many friends don't know it well. What is the purpose of the container? Here is a brief introduction for you, I hope it will be helpful to you. When the container is in the transportation process, it only needs to be reloaded instead of inverted, which simplifies the loading, unloading and handling operations to a great extent, and facilitates the realization of mechanized loading, unloading and loading and unloading. It usually takes only a few minutes to replace a container, which reduces the waiting time for loading and unloading, improves labor productivity, speeds up the turnover of goods and transportation, and reduces cargo damage and cargo balance.

The 40ft skeleton trailer can transport containers and non-dangerous goods tank container structure semi-trailers. The subjective structure of this vehicle is straight beam type or front neck small gooseneck type. It is mainly used in the logistics system of ships and multimodal transportation to support ports, routes, highways, transfer stations, bridges and tunnels. The container transport semi-trailer has reasonable structure, high strength and beautiful appearance design. A container compaction device is installed on the frame, which can load two 40-foot and 20-foot standard containers. The four container shrinking devices at the front and rear are fixed structures, while the middle container shrinking device is a concealable structure. The container semi-trailer has stable quality and reliable performance. Specially used for the transportation of various containers, it can be reused for a long period of time, and has sufficient strength, it can be quickly loaded, unloaded and transported, and it can be directly and conveniently changed from one transportation method to another transportation method .

Tri axle skeleton trailer is a special transport semi-trailer used to transport containers. In the early days of the development of container transportation, due to the small load and the small number of containers, ordinary trucks were used to carry them. With the rapid development of container transportation, many countries have successively developed vehicles specially used for transporting containers. The 40ft skeleton trailer determines the size of the loading position according to the size of the standard container, and is set at the position relative to the four corners of the bottom end of the container. Twisting and locking device for fixing containers, specially used for transport semi-trailers for transporting containers.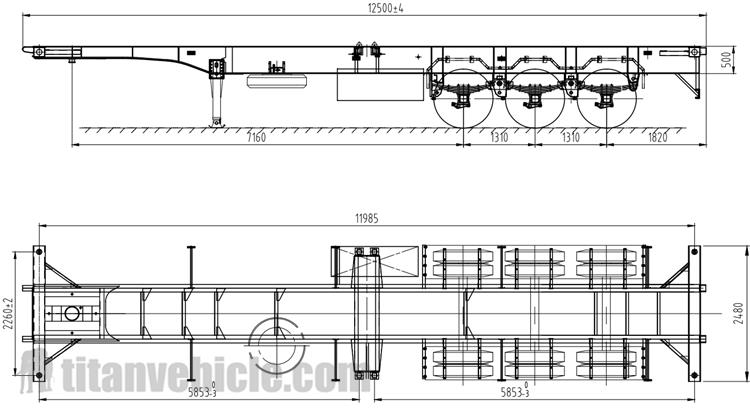 Drawing of 3 Axle 40Ft Chassis Container Trailer Price
The four corners of the loading position are equipped with twist-lock devices to fix the container. Generally, semi-suspension, full-suspension and double-suspension styles are used, and most of them use semi-suspension styles. The characteristics of the tri axle 40ft skeleton trailer should have the following conditions: it can be quickly loaded and unloaded, and it can be directly and easily changed from one mode of transportation to another. This kind of transportation method can directly replace the goods during the intermediate transportation without moving the goods in the packing box, which is conducive to the loading and unloading of the goods, can be reused for a long period of time, and has sufficient strength.
You can download video, you can learn about different types of container chassis trailers, like 2/3/4 axle skeleton chassis for sale, 20/40ft skeleton container, interlink container trailer, terminal trailer, and the process, testing, packaging and customer feedback, etc.
This kind of semi trailer was designed with lots of advantages and features. If you want to get more information, please don't hesitate to make contact with us.