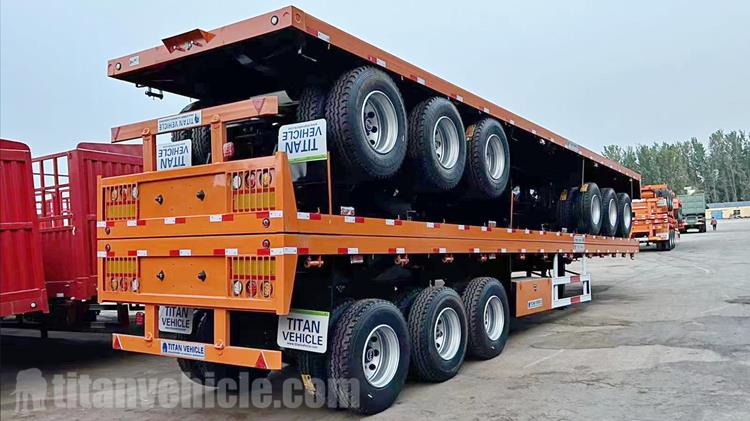 Tri Axle 40Ft Flatbed Semi Trailer for Sale In Ethiopia
Ethiopia customer saw the flatbed trailer of local customer. The customer needs to transport containers and some bulk cargo. So the sales manager Sunny recommends the customer to use the best-selling tri axle 40ft flatbed semi trailer and container chassis trailer to transport the goods and container, which can meet the customer's transportation needs.
First of all, we will spray wax on the whole vehicle to prevent moisture before delivery, and then wrap it with rain cloth to prevent seawater corrosion. Make sure that the flatbed semi-trailer received by the customer is in good condition. Hope that customers receive the flatbed semi-trailer as soon as possible.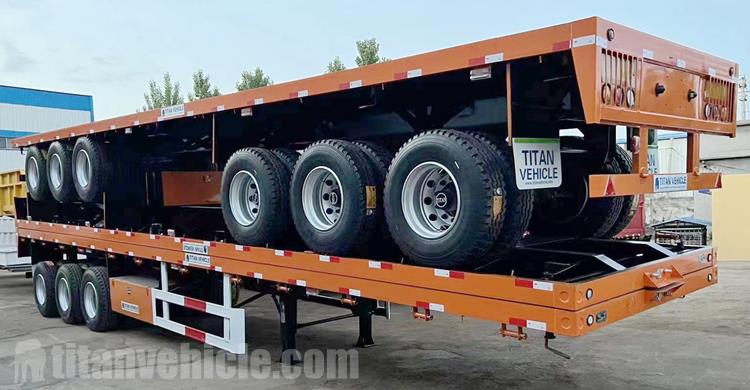 Tri Axle 40Ft Flatbed Semi Trailer for Sale In Ethiopia
Tri Axle 40ft Flatbed Semi Trailer application
TITAN produces the high-quality tri axle 40ft flatbed semi trailer for carrying 40ft container, 20ft container, and bulk cargo.
The tri axle 40ft flatbed semi trailer can carry loads of 40-ton machines and cargos. We can provide different configurations of our flatbed semi trailer to meet your transportation requirement.
The size of the tri axle 40ft flatbed semi trailer area is determined according to the standard container size. A twist lock device for fixing the container is provided at positions corresponding to the four corners of the bottom of the container. Tri axle 40ft flatbed semi trailers are special trailers for transporting containers.
Tri Axle 40Ft Flatbed Semi Trailer for Sale In Ethiopia
Flat bed trailers advantage
Highly robust structure steel with tensile and high load capacity, 40-ton loading capacity. Heavy-duty type mechanical spring suspension for high loads of requirements needs. Length and width of lowbed available custom made Air suspension and a bogie suspension is an option.
TITAN professional engineering team will be ready to provide you with a set of well-integrated solutions that meets your transportation needs and your local regulations. The TITAN engineering team can communicate with you online to fully understand your needs, the solutions include the product design, product material, product drawings, and product videos.
The function of a tri axle 40ft flatbed semi trailer is made possible through its structure's design and manufacture. Basically, it is transport equipment mainly of a steel construction defining its frame. It also comprises a lighting system, brakes and tires. It is carefully designed to desired heights and weight capacity to safely load and transport cargoes from one location to another.
Use platform trailers to transfer cargo at the shipper's warehouse. Unloaded to the consignee's warehouse, when changing trailer or boat on the way, there is no need to take the goods out of the box and change them.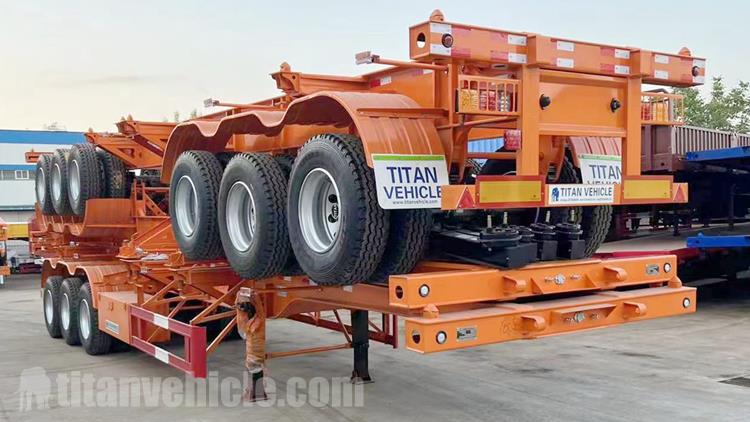 Tri Axle 40Ft Flatbed Semi Trailer for Sale In Ethiopia
Specification:
Model: Tri axle flatbed semi trailer
Dimension(mm): 13000x2500x1550mm
Loading capacity(ton): ≤60T
Axles: 3 axles, 13T/16T ,FUWA/ BPW/ TITAN Brand
Tire: 12 units, 12.00R22.5 or 315/80R22.5
Rim: 9.00-22.5 or 9.75-22.5
Suspension: Mechanical suspension(Germany or America type) or Air suspension(China brand or BPW brand)
Spring Leaf: 90(W)mmx13(Thickness)mmx10 layers or 100mmx12mmx12 (specially intended for overseas markets)
King Pin: JOST brand 2.0 or 3.5 inch (bolted or welded)
Landing Gear: JOST brand D200T or Chinese brand 28tons(double-speed)
Side Beam: 16mm or 18mm steel channel (material: Q235 steel)
Platform: 3mm-thick checkered plate
Brake Chamber: WABCO RE 6 relay valve; T30/30+T30 spring brake chamber(TKL brand), 45L air tank
Twist Locks: 4,8,12 sets (lifting or screw type)
Valve: WABCO valve (specially intended for oversea market)
ABS: Optional
Voltage: 24V
Socket(Receptacle): 7-pin Socket (for 7 wire harness)
Painting: Sandblasted, anti-rust chassis surface is available with 1 layer of anticorrosive primer and 2 layers of top coats

Tri Axle 40Ft Flatbed Semi Trailer for Sale In Ethiopia
You can learn about different types of flatbed semi trailer, such as 2 axle flatbed semi trailer,3 axle container semi trailer,4 axle 40ft flatbed semi trailer, etc. As well as the process, testing, packaging and customer feedback, etc.
This kind of semi trailer was designed with lots of advantages and features. If you want to get more information, please don't hesitate to make contact with us.