40ft flatbed trailer will be send to Tanzania on June 24th.3 sets flatbed semi trailer has finished,and will be send to Tanzania.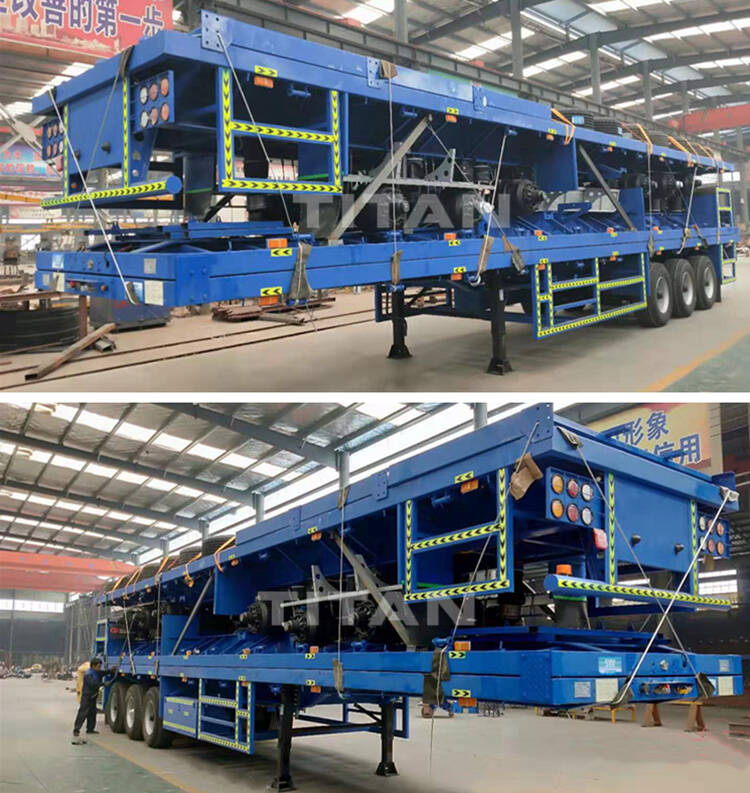 3 Axle flatbed trailer for sale in Tanzania
This is the three flatbed trailers that our agent purchased on behalf of our customers. Because customers are anxious to use them, ordered three of them first.
In July, he will order again for the remaining ones. In addition to transporting 40ft containers, it can also transport 20ft containers. The following is the flatbed trailer we packed. All our semi-trailers are wrapped in rain cloth and shipped, which effectively prevents seawater from eroding.

Flatbed semi trailer for sale in Tanzania
Summer is here, so it is necessary to protect the flat semi trailer under high temperature.When the vehicle enters the high-temperature season, the necessary technical inspection and adjustment should be carried out for the whole flatbed trailer.

Parts of the flatbed trailer near me
1.Improve lubrication conditions and reduce wear on machine parts.
First, we must strengthen the maintenance of air filters and motorized filters to ensure that they work properly. For vehicles used in dusty conditions, it is necessary to appropriately shorten the oil replacement cycle. Flatbed semi trailers driving in hot weather should use high-quality motor oil and install oil radiator. Thick gear oil of summer is used for transmission, final reducer and steering gear, and lubricating oil with higher dropping point is used for wheel bearing.

Parts of the flatbed trailer near me
2.Check the cooling system parts to ensure complete and intact.
Mainly check the sealing of the cooling system, the tightness of the fan belt, whether the vents and vents on the radiator cover are smooth, whether the cooling water is sufficient, and whether the thermostat is in good condition. In addition, the scale should be eliminated in time, and the engine cooling water should use soft water or treated hard water as much as possible.
This kind of semi trailer was designed with lots of advantages and features. If you want to get more information, please don't hesitate to make contact with us.