40Ft Container Trailer will be sent to Namibia Luderitz on January 19th.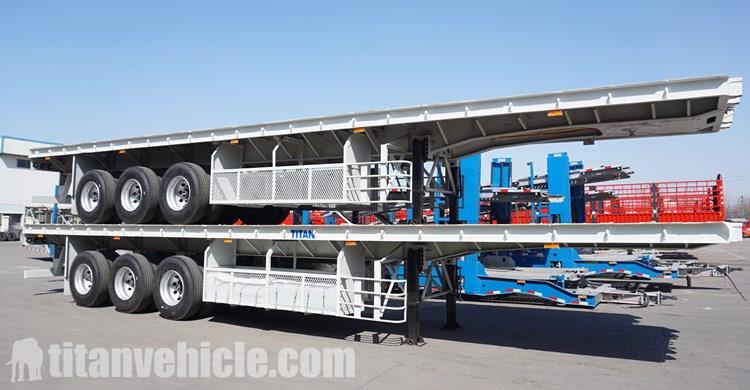 40Ft Container Trailer for Sale in Namibia Luderitz
It is the first time for Namibia customers to purchase a 40ft container trailer. The customer trusts TITAN very much. The 3 axle container trailer video we sent to the customer includes detailed pictures of the production, test video and other details. Customers are very satisfied with it, not only TITAN's professional production line but also a detailed introduction to the container trailer.
For the convenience of customers, and although the container trailer operation is very simple, we provide special container trailer operation videos and maintenance manuals for customers who use semi-trailers for the first time. In addition, you can also answer customer questions online at any time.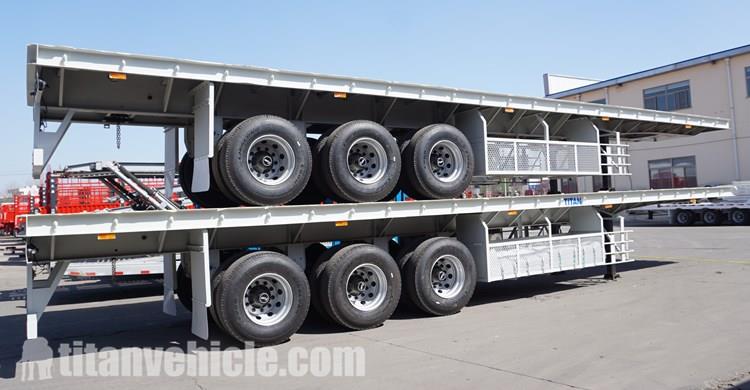 How Much is New Trailer Truck
Things to Consider When Choosing a Container Trailer
Size: The 40ft container trailer is designed to carry different cargoes and containers. If you need a flatbed for carrying an oversize load, then an extendable flatbed trailer will be the best choice to go for.
Load Capacity: The load capacity can also determine the type of trailer that you will choose based on your needs. It can range from 10 tons – 80 tons. The various container trailers for sale take a considerable size and weight of cargo. However, all are not designed to carry the same amount of weight.
On applications where weight considerations are to be made, the 2 axles or 3 axles container trailer can really help. Heavy cargo can comfortably and securely be carried on these strong chassis made of high-yield materials.

Axles: The different axle capacity is based on transportation needs and requirements. The different types of 3 axle flatbed trailers based on axle configuration include those carrying 12.5 tons per axle, 13 tons per axle and those taking 9 tons per axle. The number of axles for each trailer is also a vital consideration to make based on the weight of your cargo.
The trailer structure is designed to support various wheel axle assemblies at various positions along its length.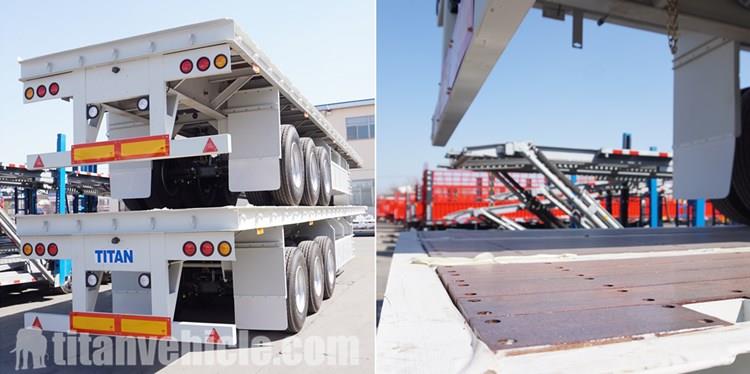 Details of 40Ft Flatbed Trailer
Tires: Different tire-configurations are used based on the amount of load to be carried. There are those that permit a single tire and those who don't. For single tires, you must make sure that you have a reasonable distribution of tires along the trailer.
The function of a container trailer is made possible through its structure's design and manufacture.
It is carefully designed to desired heights and weight capacity to safely load and transport cargoes from one location to another. Each container trailer comes with its own load rating, size alongside other systems as would be needed for its use. These specifications are very useful in helping you buy the right trailer for your operations.
The 40ft container trailer for sale is a kind of trailer whose design is suitably made to carry bulk cargo and containers between shipping facilities and terminals. It is a bare platform on which different container sizes are secured using container locks ready for transportation. They are primarily used for the transportation of bulk cargo.

Package of Tri Axle Container Trailer Price
By simple definition, this is a long flat platform of either 20ft, 40ft, 48ft, or 53ft length used for carrying shipping containers. The 3 axle container trailer has no roof or walls to the side. Basically, it is transport equipment mainly of a steel construction defining its frame. It also comprises a lighting system, brakes and tires.
You can download video, you can learn about different types of flatbed semi trailer, such as 2 axle flatbed semi trailer,3 axle container semi trailer,4 axle 40ft flatbed semi trailer, etc. As well as the process, testing, packaging and customer feedback, etc.
This kind of semi trailer was designed with lots of advantages and features. If you want to get more information, please don't hesitate to make contact with us.