Adapter Trailer for 80m Blade Transportation will be sent to Vietnam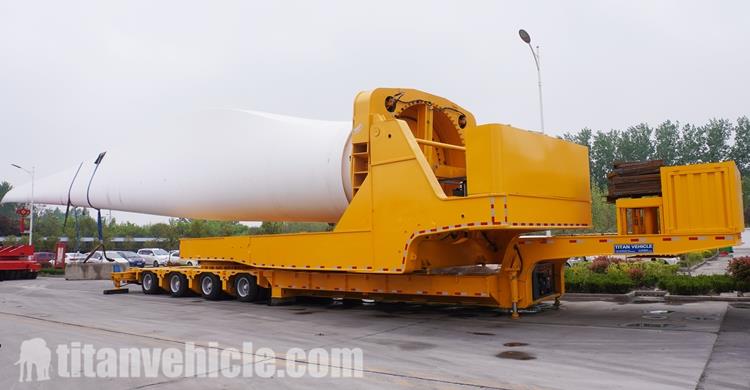 Adapter Trailer for 80m Blade Transportation for Sale In Vietnam
Vietnam customers found us on Google and they said that TITAN extendable semi trailer and windmill blade adapter trailer are very popular in loacl. Many local people bought it from TITAN. So customers trust us very much and want to buy Adapter Trailer for 80m Blade Transportation from TITAN.
The customer requested to test the operation of the whole vehicle after completion. Our sales manager Alice personally went to the factory to supervise and test the Adapter Trailer for 80m Blade Transportation. Below is a picture of the test. All our semi trailers will carry out relevant vehicle inspections to ensure quality.
Testing of Windmill Blade Adapter for sale
This Adapter Trailer transportation method generally uses a special blade lifters blade transportation wind turbine blade transportation with blade lifting-rotating-hydraulic rear-wheel steering. The special adapter trailer can lift the blades through hydraulic control and rotate themselves 360 degrees during driving, avoiding various obstacles during transportation (mountain slopes, trees, houses, bridges, tunnels, etc.), which can greatly reduce the blades. The total length of the transport windmill trailer body can improve the curve passing performance.
The blade rotates flexibly, and the transformation cost is small. The blade sweeping area of ​​the special blade lifters wind blade adapter trailer for 80m Blade Transportation and transportation method is larger than that of an ordinary extendable trailer for sale. The blade sweeping area is large, and the area involved in the renovation project in the curve is reduced by about 10 times.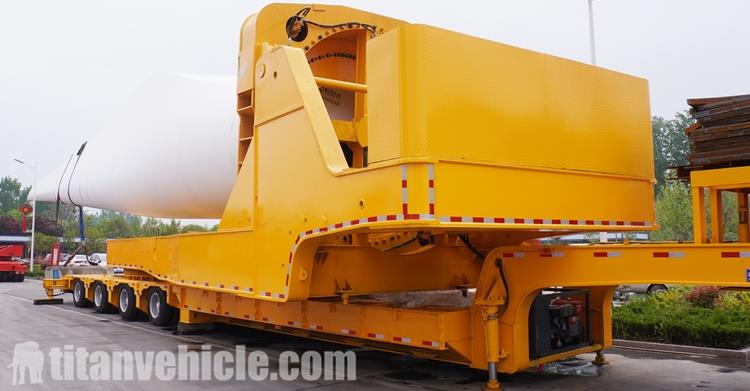 Adapter Trailer for Sale Manufacturer
Blades can be transported by lifting, which can better avoid high mountains and cliffs, or house buildings, so about achieve rapid blade transportation. At the same time, this method can also reduce the cost of road reconstruction and house demolition, which can help improve blade transportation efficiency and engineering benefits.
In this design structure, the turbine blade is fixed on the adapter. What makes this windmill blade adapter trailer special is that the adaptor is customized for the blade. Although usually made from the best materials with sufficient yield strength, their custom design for taking blades may not make it a fit choice for other types of loads.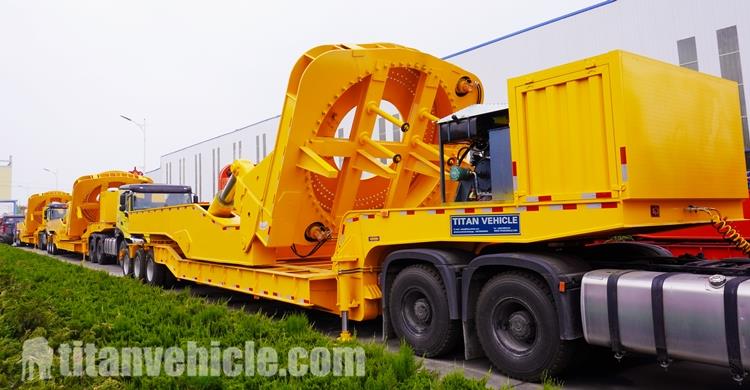 4 Axle Windmill Blade Transport Trailer Price
That means hauling an adapter trailer will unlikely be used for another function. It is the kind of blade lifters wind blade trailer you need if all you want to do is transport adapter trailer only. That is best solution to avoid obstacles, such as buildings and trees effectively, especially running on steep hills or narrow winding mountainous roads.
Windmill blade transport trailer adapter trailer can transport blades of model 121-156. It is suitable for the wind turbine blades length of 59.5-76 meters, and the longest can transport the wind blade of 80 meters. The weight of the windmill blade that can be carried is 13-23.5 tons.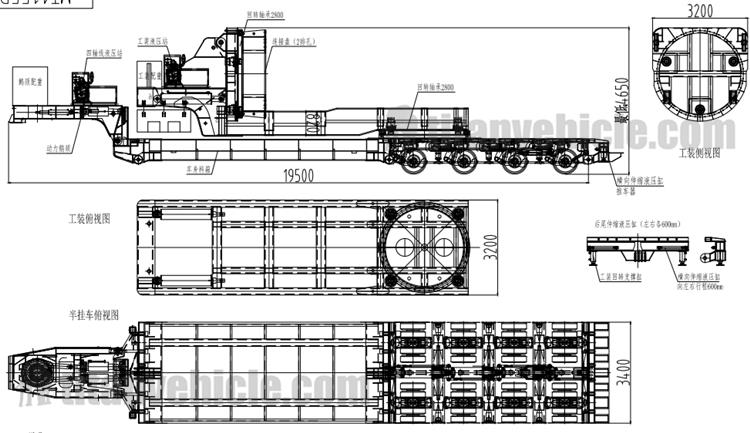 Drawing of 4 Axle Adapter Trailer for 80M Transportation
Here is the Extendable Windmill Blade Trailer transportation details display video.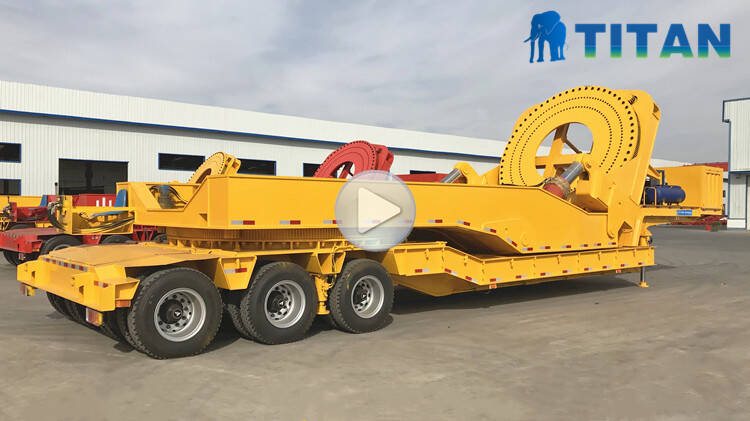 This kind of semi trailer was designed with lots of advantages and features. If you want to get more information, please don't hesitate to make contact with us.