3 axle flatbed and 50T lowboy trailer will be send to Tanzania
The 3 axle flatbed and 50T lowboy trailer ordered by the customer have been packed and ready to be sent to Tanzania. The 3 axle container trailer are mainly for transporting containers, while the 2 axle low bed trailer are mainly for transporting small and medium-sized equipment. So customer bought it together and also saved shipping costs. Many customers buy multiple semi-trailers and transport them together.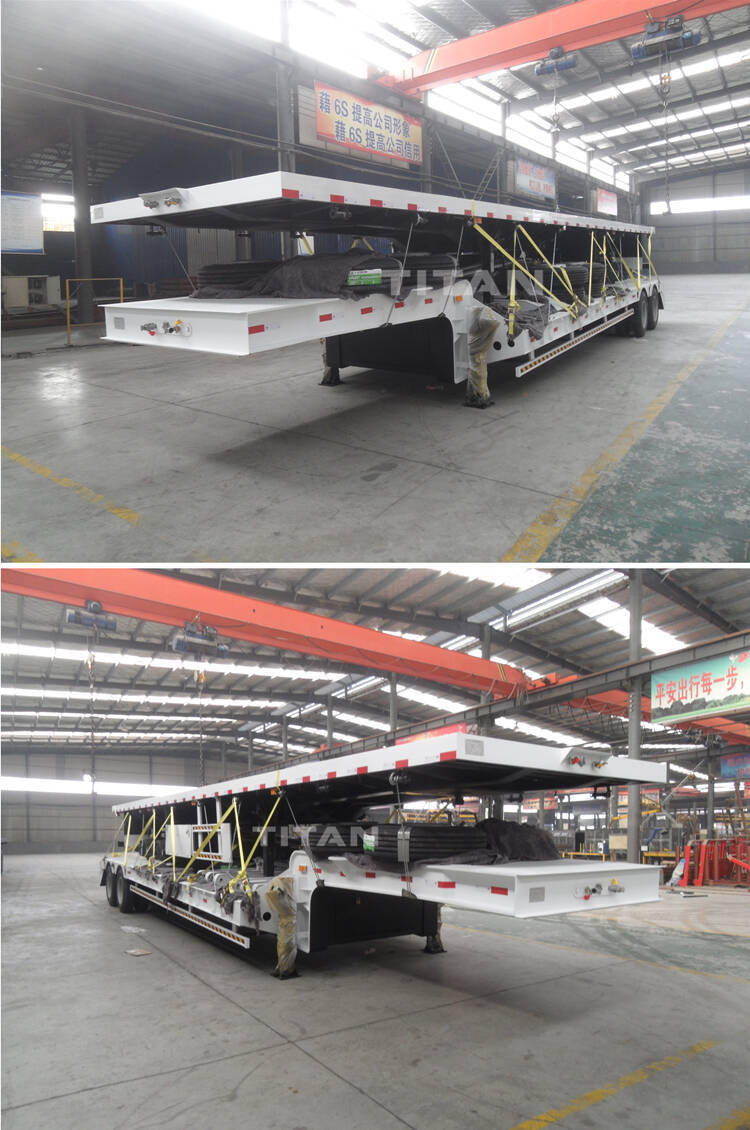 3 axle flatbed trailer and 50T lowbed trailer price
How much is the flatbed trailer and lowbed trailer?
Of course,different specification has different price,TITAN adopt World famous brand parts of the semi trailer.
Flatbed Trailer ABS system is an abbreviation of Anti-Lock Braking System. It is a very important safety device in a trailer. It is used to prevent the wheels from being locked and dragged during braking, so as to improve the directional stability, steering maneuverability, and shorten the braking distance during the braking process of the trailer, so as to give full play to the braking performance.

Lowbed semi trailer for sale
The support device of the semi trailer is mainly used to support the low flatbed trailer when it is detached, and is composed of legs and connecting brackets.
The electrical system of a semi trailer is composed of seven-core sockets, cables, gas lines, various lamps, etc. It is used for lighting, safety warning, and air supply for brakes. Generally, if you look at the regularity of electrical wiring, you basically know how the quality of this heavy transport trailer.

3 axle flatbed trailer for sale
Other accessories on the semi-trailer include toolboxes, spare tire racks, etc. There are also some small accessories such as tight ropes and rope hooks, which are very functional accessories, which need to be selected according to their own types of goods.

50T Lowbed semi trailer for sale
The low loader truck protection device consists of side protection and rear protection to protect pedestrians and other vehicles.
This kind of semi trailer was designed with lots of advantages and features. If you want to get more information, please don't hesitate to make contact with us.