3 Axle Crawler-Type Tipper Dump Box Trailer will be sent to Mauritius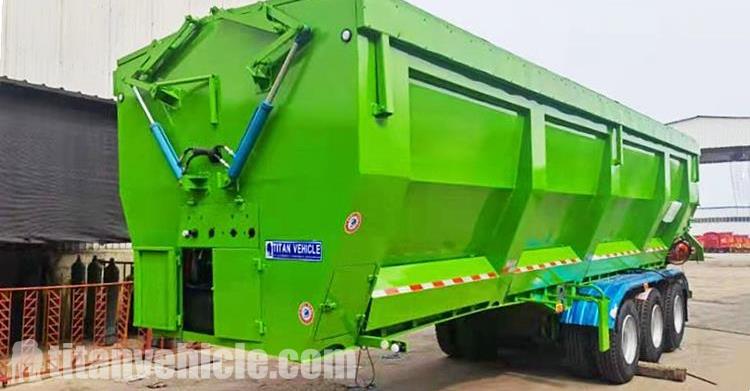 3 Axle Crawler-Type Tipper Dump Box Trailer for Sale In Mauritius
Mauritius customer bought 2 sets 3 axle crawler-type tipper dump box trailer in June. The semi trailer that the customer bought from another supplier before was used for less than half a year, and the semi-trailer parts were damaged. This makes the customer very dissatisfied. The customer found us through a friend's introduction. TITAN's semi trailer quality is trustworthy. There are many TITAN customers in the local area, and without exception, they are full of praise for TITAN semi trailers.
Since the demand for tipper semi trailer has increased sharply in recent years, many new customers face a lot of manufacturers, brands, configurations, and product explanations different from sales staff before buying a tipper semi trailer.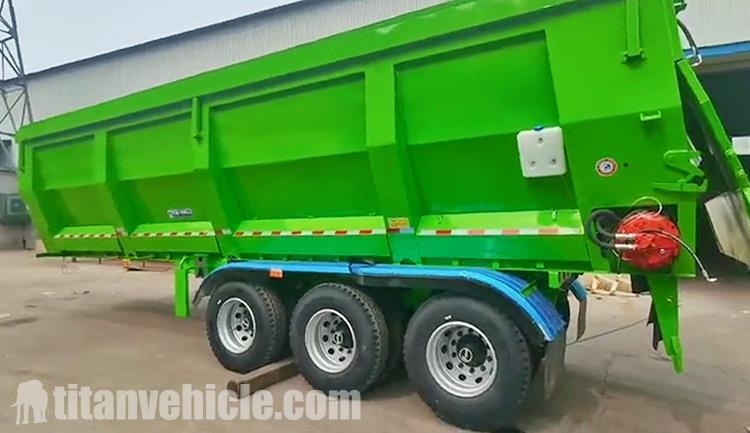 60 Ton 3 Axle Crawler Type Tipper Trailer for Sale
TITAN 3 Axle Crawler-Type Tipper Dump Box Trailer are outstanding due to their excellent driving. The tipping semi-trailer drives safely on the road thanks to a low overall center of gravity and a stiff and torsion-resistant rigid frame structure.
3 Axle Crawler-Type Tipper Dump Box Trailer is suitable for loading stones, sand, coal, carbon, white ash, iron powder, water slag, raw ash, clay, clinker, asphalt, grain, etc. The minimum weight of the standard model is 6.5T. Length is 8.5 to 13 meters and can load 30 to 120 tons.
In civil engineering, often works in conjunction with excavators, loaders, belt conveyors and other construction machinery. The dump trailer carriage adopts rear-dump and side-dump self-unloading methods, which improves the efficiency of the bulk cargo transport by the loader.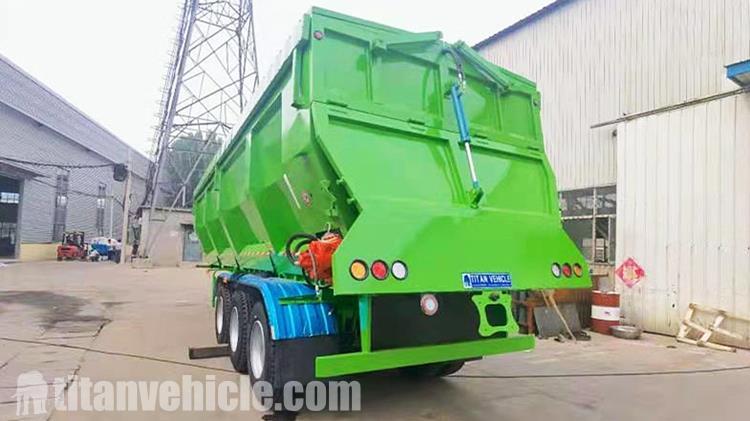 3 Axle Tipper Dump Trailer with Best Price
Body
All bodies and gates are being supported with vertical steel U-type tipper truck trailer profiles considering the capacity. Side doors can be produced either fixed or movable. The rear gate is attached from the top and has the automatic locking type and/or with the hydraulic tailgate. Is supported by supporting profiles.
Hydraulic Installation
The body is being lifted from the front by the telescopic-type cylinder. Hydraulic power is supplied by the transfer of energy from PTO to the pump. PTO is controlled from the driver's cab. The oil tank has a 70lt capacity. On the tank there are, 125" suction filter, and 25" return filter with ventilation, level indicator, special valve, and releasing tap. All pipes used in the installation are suitable with DIN NORMS.
Tipper Trailer
2 or 3 axles options. Chassis and axles, brakes and electrical installations are produced accordingly with the regulated norms. The hydraulic System and Fuel Pump are driven by PTO. Mechanical legs are operated parallelly, with double speed, telescopic, static has 50 ton- dynamic 25 ton capacity.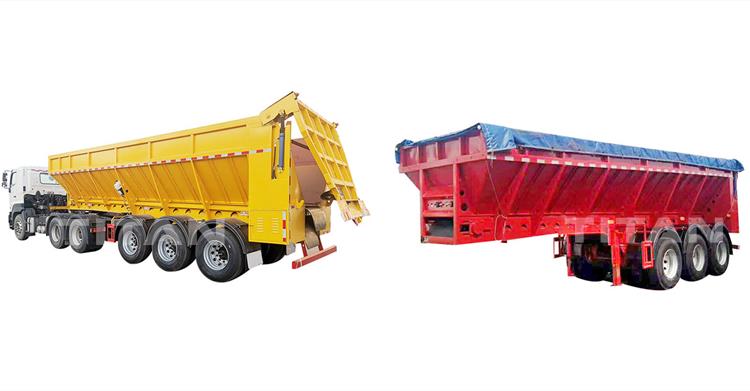 Other 3 Axle Crawler Type Tipper Dump Box Trailer
The processing technology of vehicles must pass.
However, with the popularization of mechanical automation, many factories have realized basic automatic operations in the process of cutting, welding and other processes in the processing of vehicles. The manufacturing technology has generally been greatly improved.
The material used should be real.
The seemingly the same steel is actually divided into high-strength, manganese steel, and ordinary carbon steel. Among them, high-strength is divided into 700, 900, 980 and other models. Its durability is gradually increased with the increase of the label. The weight of the body can be gradually reduced, but the cost will also increase.

Drawing of 3 Axle Crawler-Type Tipper Dump Box Trailer
You can download video, you can learn about different types of semi tipper trailers, such as u shape dump semi trailer, side tilted dumper trailer, container tipper trailer, tipping chassis trailer. And the process, testing, packaging and customer feedback, etc.
This kind of semi trailer was designed with lots of advantages and features. If you want to get more information, please don't hesitate to make contact with us.