50CBM Bulk Cement Tanker Trailer will be sent to Cote d'Ivoire Abidjan.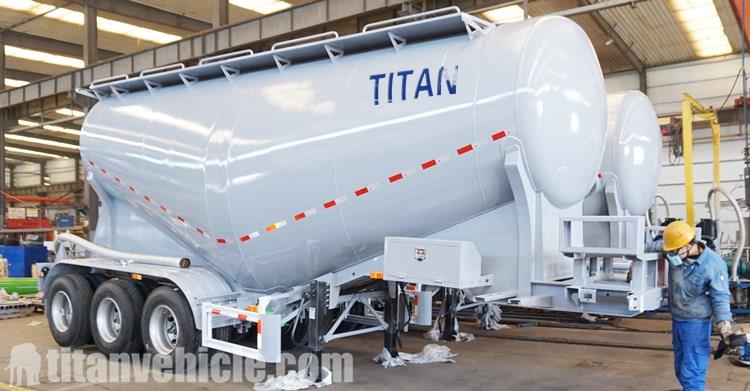 3 Axle 50CBM Bulk Cement Tanker Trailer for Sale in Cote d'Ivoire Abidjan
TITAN sales manager Sunny started to communicate with the customer in December 2019. Later, due to the outbreak of the epidemic, the customer suspended his purchase plan. Until around 2020 November, the customer restarted the purchase plan again.
The customer occasionally saw customer feedback about TITAN bulk cement tanker trailer on Google, and the customer was more determined to cooperate with TITAN. Because at that time many details have been discussed before, this time the customer confirmed the order directly without much discussion. Here are some pictures of the bulk cement tanker trailer.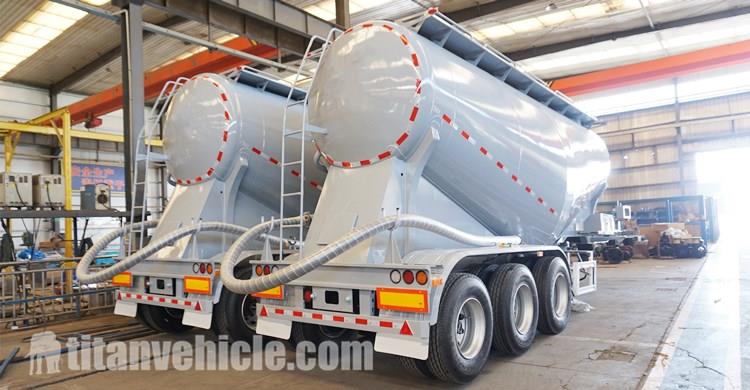 Used Semi Trailer Truck and Price
Bulk Cement Trailer other structure assembly and its working principle
1. The frame is the main body of the 3 axle cement tanker trailer, which is welded into a frame structure by two longitudinal beams and multiple beams, and formed by welding with the tank body.
2. The brake is controlled by the semi-trailer energy storage spring brake system and the wheel brake doubles as the parking brake. This device is used when parking or standing on a slope.
3. 3 Axle cement tanker trailer for sale adopts the double-pipe pneumatic braking system. The service brake system mainly consists of palm joints, air supply pipelines, control pipelines, emergency maintenance valves, gas storage cylinders, energy storage brake chambers and wheel brakes.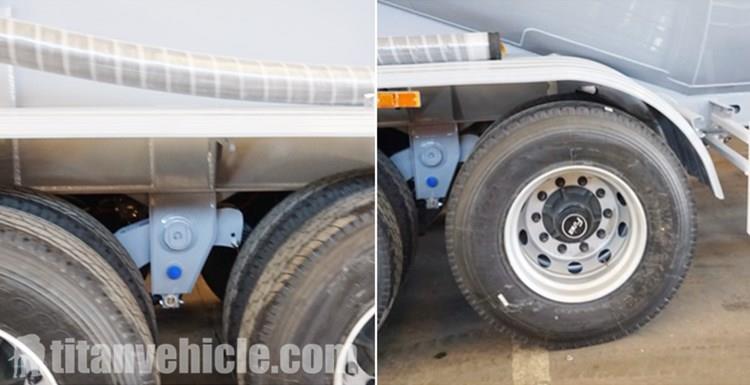 Details of Tri Axle Bulk Cement Tanker Trailer for Sale Price
4. The traveling mechanism system is composed of suspension, leaf springs, tie rods, axles and wheels. The suspension is a three-axis tandem balanced leaf spring suspension. Air suspension can also be used to support the load and absorb driving vibration.
5. The ABS braking system is an electronic system that controls and monitors the speed of the vehicle during braking. It can improve the active safety of the vehicle.

Customers feedback of 3 Axle Cement Tanker Trailer
The main assembly of 50CBM bulk cement tanker trailer is composed of tank body, power system (diesel engine or power take-off, air compressor), pneumatic system, braking system and other parts.
1. Tank body: The tank body is mainly composed of two oblique cones and front and rear heads, which are placed on the frame and serve as a carrier. The tank body is equipped with a feed inlet, a non-slip walking platform and a climbing ladder for loading and maintenance personnel to enter the tank.
The 50cbm bulk cement semi trailer has a fluidized bed composed of a slide plate, an air chamber, a porous plate, a discharge port, a reinforcing rib, etc., and the tank body structure is V-shaped, W-shaped or straight.
2. Power system: use domestic well-known brand oil-free pendulum single-cylinder or double-cylinder air compressor to provide compressed air for unloading work, rated working pressure is 0.2Mpa; displacement is 10-14 cubic meters/min. The diesel engine and the electric motor wave are connected to the drive shaft through the secondary force to provide power input for the air compressor.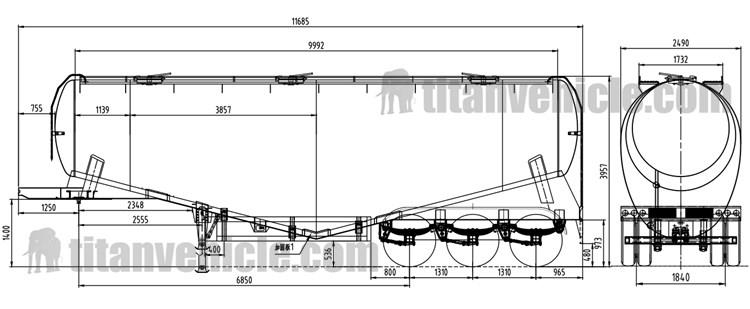 Drawing of 50CBM Bulk Cement Trailer
You can download video,you can learn about different types of bulk cement tanker trailers, such as 3 axle dry bulk tanker trailer, 30-ton fly ash tanker, 50cbm silo trailer for sale, and process, testing, packaging and customer feedback, etc.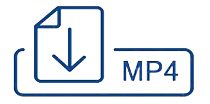 Bulk Cement Tanker Trailers Video
This kind of semi trailer was designed with lots of advantages and features. If you want to get more information, please don't hesitate to make contact with us.