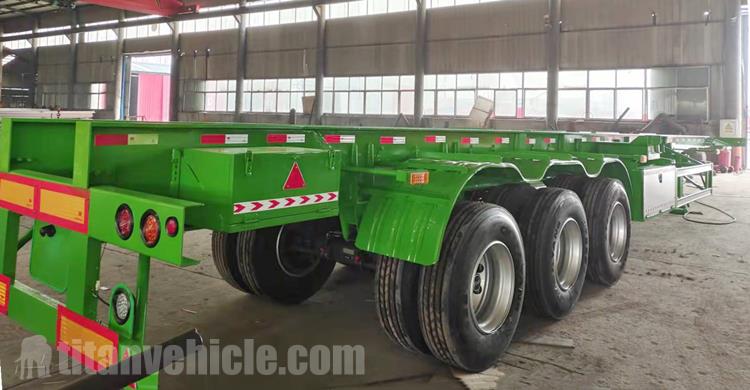 3 Axle 40Ft Container Chassis Trailer for Sale In Guinea Gnbty
Guinea customers bought the 40ft container chassis trailer from TITAN before. When the customer first bought trailers from TITAN, he was a little worried about the quality of the container chassis trailer and it can be damaged during transportation. And luckily, the trailer was sent to Guinea successfully, and the customer is satisfied with the 40ft container chassis trailer.
This 40ft container chassis trailer will be sent to Guinea. 40ft container chassis trailer is also a common model in our factory, especially tri axle 40ft container chassis trailer, suitable for container shipment.
And the customer also asked our salesman some questions: What should I do if the vehicle is damaged during transportation?
Does the seller provide rain clothes during vehicle transportation? How is the product quality? What are the configurations of the product? Our salesman answered these questions one by one and said that we would provide free rain clothes to the vehicles. After some comparisons, the customer finally chose TITAN's 40ft container chassis trailer.
Our factory also hurriedly made finished products for customers as soon as possible and shipped them after customers paid the final payment. Looking forward to customer feedback later.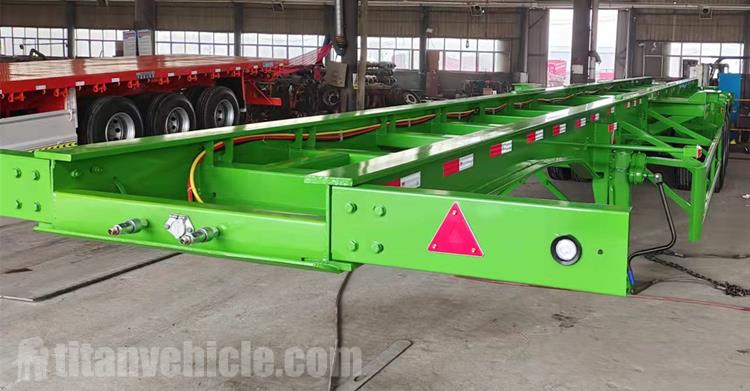 3 Axle 40Ft Container Chassis Trailer for Sale In Guinea Gnbty
Different Models of TITAN Trailer
The diversity of products can meet the individual needs of customers. According to customer needs, we can produce container chassis trailer, tipper chassis trailer, interlink skeletal trailer, etc.
1. Common Trailer
TITAN container chassis trailer is the most commonly used and the most frequently ordered model by customers. The frame is usually made of steel. It can be used to transport containers of various lengths: 20ft, 40ft or 45ft.
TITAN 40ft container chassis trailer has clearly marked positions and twelve sets of container locks are installed to facilitate the fixing of containers of different sizes and ensure their safety at their destination.
It has a landing gear that is used to enhance stability during loading and offloading operations. It is simple to use and most importantly, affordable. However, the need for external accessories could possibly delay the operations.

3 Axle 40Ft Container Chassis Trailer for Sale In Guinea Gnbty
2. Tipper chassis trailer
TITAN tipping chassis trailers have a different structure than other container trailers. This model of trailers has an apparatus that simplifies the process of loading a container on the trailer bed.
The container chassis trailer comes with a hydraulic lifting cylinder that contracts longitudinally to facilitate loading and on the other hand, they extend in an outward manner to enhance the offloading process. The pivotal drive on the upper frame translates to a change in the distance between the roller and the securement point of the cable in relation to the lower frame. This results in the lift and movement of the loaded container without the need to search for external equipment such as a winch device to trigger the desired distance.
3. Terminal trailer
The terminal chassis trailer for sale is an economically feasible and practical trailer to use. This is an invention that offers a truck chassis for loading and offloading high weight containers without much effort.
It has a simple structure. It comprises a simple truck chassis but of rugged construction.
This terminal trailer is adjustable to meet your desired maneuverability conditions for loading and offloading. Adjustments to axle spacing can also be made based on your needs.

3 Axle 40Ft Container Chassis Trailer for Sale In Guinea Gnbty
How to Choose the Right TITAN 40ft container chassis trailer?
Your choice first depends on your preference for the type of work you need to accomplish. Usually, the selection is based on the following conditions:
Cost is also an important factor to consider in your choice of a trailer. If all you need is a simple trailer for a simple application, it wouldn't be wise to choose the 40ft container chassis trailer. The container tilt-type trailer has a higher price than the rest. This is primarily due to its advanced lifting system. A flatbed or a container chassis will do.
Weight Capacity Requirements, All these TITAN 40ft container chassis trailers can carry a considerable amount of weight. However, the 2 axles / 3 axles used container chassis trailer is of much help when weight considerations are to be made. Its construction has primarily been made to provide a chassis that can help you carry high-weight containers.
Most importantly, this can be adjusted to meet your desired conditions of maneuverability, loading, offloading and axle spacing.
3 Axle 40Ft Container Chassis Trailer for Sale In Guinea Gnbty
This kind of semi trailer was designed with lots of advantages and features. If you want to get more information, please don't hesitate to make contact with us.