1. What is windmill blade transport trailer?
Wind Turbine Blade Transport Trailer for transport rotor blade, wind blades , e-138 e2 rotor blade. That is best solution to avoid obstacles, such as buildings and trees effectively, especially running on steep hills or narrow winding mountainous roads.
Hauling wind turbine blades mainly includes wind blades, nacelles, e-138 e2 rotor blade ,hubs and towers, and each component is an over-limit item for ordinary road transportation, which requires professional wind turbine blade transport trailer for transportation and assemble a wind turbine. So wind turbine transportation companies need a windmill blade trailer for sale.
For wind blades, the length is extremely long, which becomes the main feature that distinguishes it from other equipments. Considering the particularity of wind turbine blade trailer length, the currently constructed mountain wind farm transport generally use wind turbine blade transportation combined with high-power tractors to complete the transportation of wind turbine blades.

2. Different types of wind turbine blade transport trailer:
1. Ordinary extendable trailer
This transport method generally uses ordinary extendable flatbed trailer to transport wind blades. The characteristics of this extendable trailer for sale are that it can be extended and retracted to accommodate blades of different lengths.
These can be used to transport both wind blades and the tower. This is the kind of windmill blade transport trailer that you need if you want to handle the different kinds of loads in your operations. Extendable flatbed trailer design and construction are meant to take care of these needs.
The tail platform forms the rear section of the extendable trailer for sale. mega windmill transporter can either be a folding or pulling platform configuration. Therefore, users can choose a telescopic trailer based on these tail platform configurations.
TITAN has the following telescopic trailers:
1. Hydraulic lift 4 axle telescopic trailer hydraulic steering large wind turbine tower transport, 58 meters, transport blades within 80 meters on land (long-distance transport).
2. 6 axle telescopic trailer for mega windmill transporter could have three and four telescoping beams, and it could reach Max.62m length. the maximum can transport windmill blades within 80 meters.
3. Offshore wind turbine blade transport trailer, suitable for long-distance transportation of offshore wind turbine blades between 76-90 meters, blade tonnage 25-45 tons, offshore blades are relatively high and heavier, requiring hydraulic axis structure, single beam drawing, rear flap structure, The vehicle needs to turn and lift, features: large turning angle, strong bearing capacity of the rear pivot, low cargo platform height.

2. Windmill blade transport trailer
This transportation method generally uses a special blade transportation wind turbine blade transportation with blade lifting-rotating-hydraulic rear wheel steering. The special wind turbine transport vehicles can lift the blades through hydraulic control and rotate itself 360 degrees during driving, avoiding various obstacles during transportation (mountain slopes, trees, houses, bridges, tunnels, etc.), which can greatly reduce the blades. The total length of the transport windmill trailer body can improve the curve passing performance.
TITAN has the following wind turbine blade trailers:
1. Large modular trailer with rotor blade adapter, transporting 121-156 model blades, length 59.5-76 meters, the maximum transportation of wind turbine blades within 80 meters.
2. 3 lines 6 axle windmill blade transport, transporting large blades of model 121-156, length 59.5-76 meters, maximum 80 meters, weight within 13-23.5 tons, the center of gravity within 23.5 meters.
3. Modular Trailer with Rotor Blade Adapter is very popular in Vietnam and other countries. transporting 121-155 model blades. This wind turbine blade transport is suitable for rugged mountain roads and sharp bends.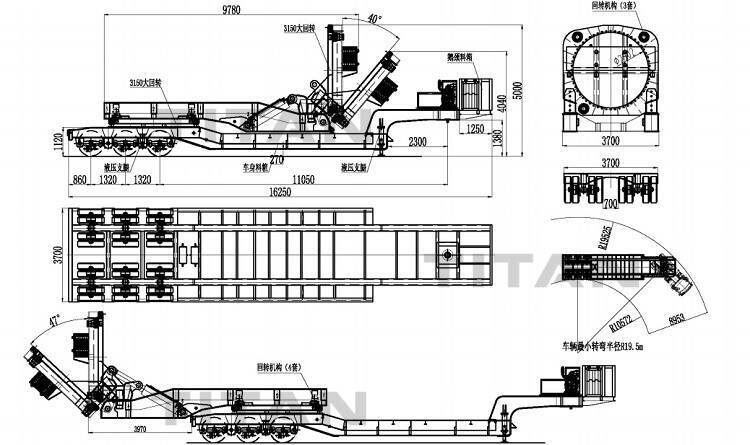 3. Windmill blade transport trailer feedback from Vietnam
3 Line 6 Axle Wind Turbine Blade Transport Trailer Feedback From Vietnam. At the beginning of October, we received feedback from Vietnamese customers.
In July, the customer found us on Google. He said that he was looking for a suitable supplier. The customer found a number of Chinese manufacturers, but they all told him that they could not do wind turbine transport trailer. By chance, the customer saw TITAN's 3 line 6 axle wind turbine transport locally and finally found TITAN. TITAN semi-trailer will customize a special windmill blade transport according to customer needs. Our wind turbine transport trailer is also very popular in Vietnam. Many customers will choose to cooperate with us again.
The following is feedback from customers in Vietnam. The customers told us that their project was completed safely. Thanks TITAN for help to complete this project.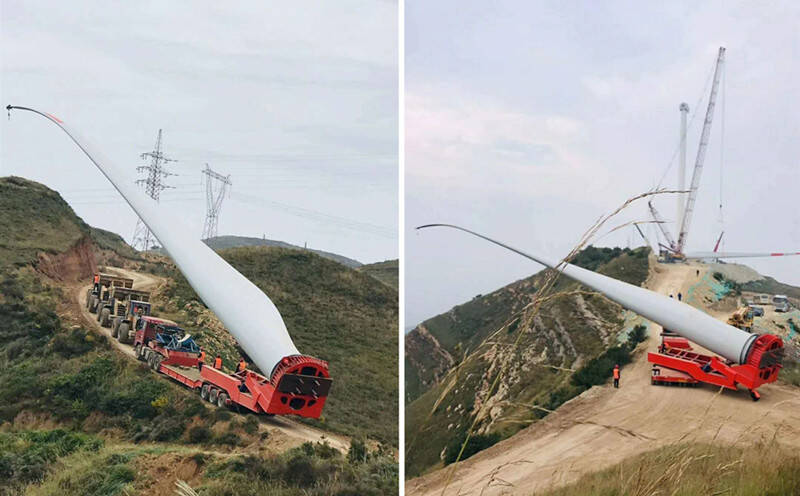 Windmill blade transport trailer for sale in Vietnam