What is container chassis trailer?
The skeleton container trailer is specially used for the transportation of various containers such as 20, 40, 45, 48, and 53 feet. The best design scheme has a reasonable structure and reliable operation.
Most industries use large containers to transport finished products, so container trailers are required. Containers are still one of the safest ways to transport fragile and sensitive goods. Skeletal semi trailer are designed for maritime container and sea freight transport tasks and combine both safe and rapid container handling.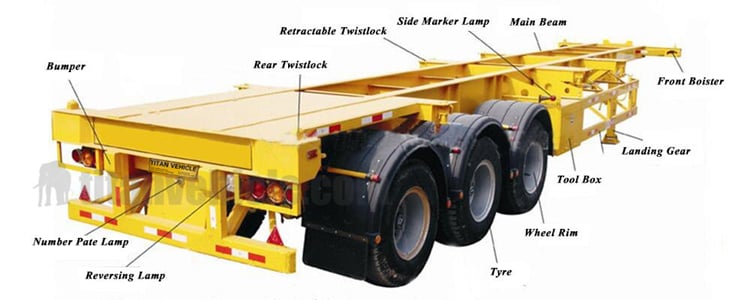 TITAN 3 axle 40ft skeletal semi trailer drawing
Application of skeleton trailer:
1. Specially used for transportation of various containers. It can be used repeatedly for a long time, with sufficient strength.
2. Use containers to transfer goods, which can be loaded directly in the consignor's warehouse and shipped to the consignee's warehouse for unloading. When replacing the tri axle chassis for sale or ship midway, there is no need to take the goods out of the box and replace them.
3. It can be quickly loaded and unloaded, and it can be directly and conveniently changed from one transportation tool to another transportation tool.
4. Terminal trailer is easy to load and unload the goods to meet the individual needs of customers.
Different types of skeletal semi trailer:
The diversity of products can meet the individual needs of customers. TITAN container chassis trailer can be customized to 20/40/45/53 feet. We also provide customers with different options: 2 axles, 3 axles, 4 axles, airbag suspension, spring steel suspension. According to customer needs, we can produce gooseneck type skeleton trailer, skeletal semi trailer, tipper chassis trailer, interlink skeletal trailer, etc.
1. Common Trailer
This is the most commonly used and the most frequently ordered model by customers.
The frame is usually made of steel. It can be used to transport containers of various lengths: 20ft, 40ft or 45ft.
It has clearly marked positions and twelve sets of container locks are installed to facilitate the fixing of containers of different sizes and ensure their safety at their destination.
TITAN 2 axle 40ft container chassis trailer for sale
2. Tipper chassis trailer
The trailer comes with an hydraulic lifting cylinder that contracts longitudinally to facilitate loading and on the other hand, they extend in an outward manner to enhance the offloading process.
The pivotal drive on the upper frame translates to a change in the distance between the roller and the securement point of the cable in relation to the lower frame.
This results in the lift and movement of the loaded container without the need to search for external equipment such as a winch device to trigger the desired distance.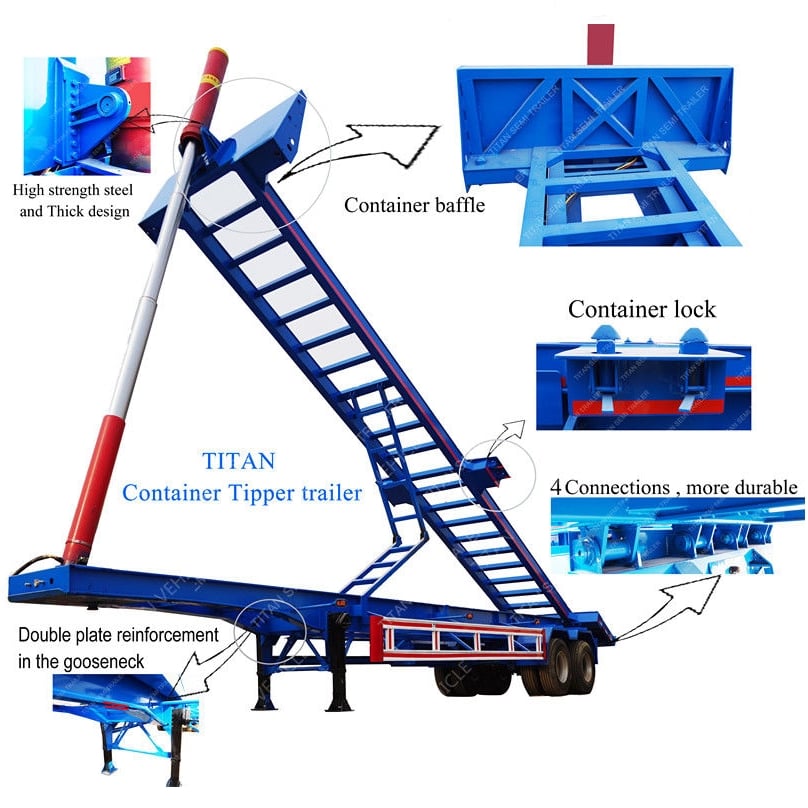 TITAN 40ft container chassis tipper trailer for sale
3. Terminal trailer
The terminal chassis trailer is an economically feasible and practical trailer to use. This is an invention that offers a truck chassis for loading and offloading high weight containers without much effort.
It has a simple structure. It comprises a simple truck chassis but of a rugged construction.
This trailer is adjustable to meet your desired maneuverability conditions for loading and offloading. Adjustments to axle spacing can also be made based on your needs.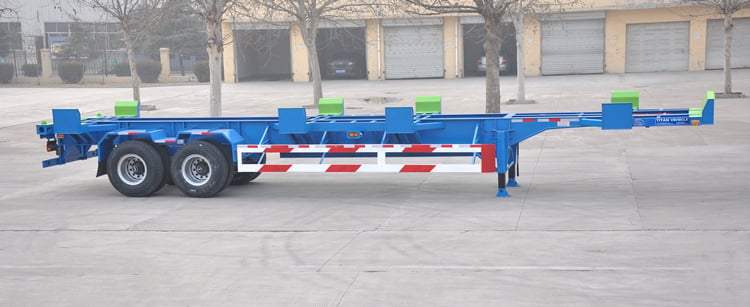 TITAN 2 axle container terminal chassis trailer for sale
4. Gooseneck container trailer
Its frame is roughly the same as other models, the main difference is that the front is a gooseneck design, below is a picture of our gooseneck trailer.
How to choose the right skeletal trailer?
Your choice first depends on your preference for the type of work you need to accomplish. Usually, the selection is based on the following conditions:
1. Application: If you use a trailer to transport not only containers but also some other goods, it is best to choose the type of flatbed trailer. Choose according to your needs, you can let professionals provide you with buying advice.
2. Axle: All these trailers can carry considerable weight. The greater the number of axles, the greater the carrying capacity.
3. Price: Cost is also an important factor to consider when choosing a trailer. Ordinary trailers have many uses and reasonable prices.
Through these videos, you can learn about different types of container chassis trailers, like 2/3/4 axle skeleton chassis for sale, 20/40ft skeleton container, interlink container trailer, terminal trailer.
And the process, testing, packaging and customer feedback, etc.
If you want more information about our flatbed semi trailer, please click "Skeletal Trailer"
And you can also look at other resources and products on our website.