TITAN ship nearly 150 units Side wall semi trailers and Fence semi trailers to Sudan every year. Our Semi trailers are very popular in Sudan.
This customer has been working with us in 2018, and it has been almost three years. In 2018, he visited China, looking for suppliers for his own business. Customers visited 6 factories including us. After a series of comparisons and discussions with customers. Finally, TITAN was chosen as a long-term partner.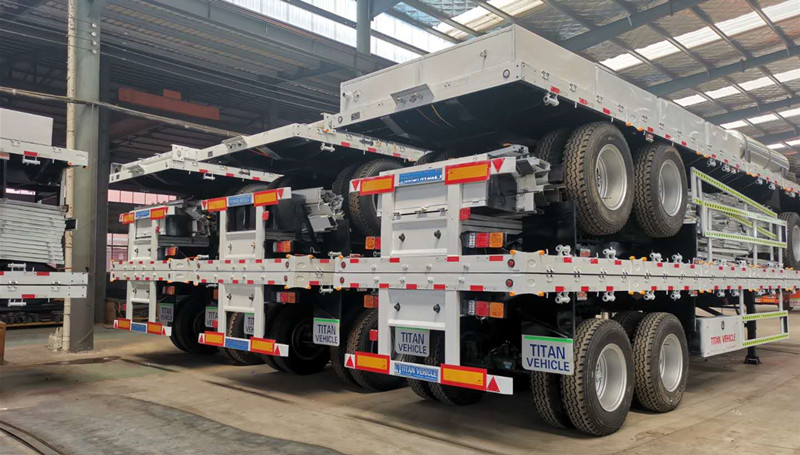 2 axle drop side trailer for sale in Sudan
The sidewall cargo semi trailer use to load a wide range of products and materials, like sand, bags, poultry etc. Also the some bulk cargo, very widely used in the transportation industry. Suitable for the mid/long distance transportation of the mid/heavy duty and bulk cargo. The high side cargo trailer can be added with a container turn lock to transport the container.
What are the types of TITAN high side trailer?
2 axle sidewall trailer, 3 axle dropside trailer, 4 axle high side trailer, grain trailer and the sidewall drawbar trailer. And load capacity has 30/40/60/80/100 tons for your choice. Customizable side wall height.
How does TITAN pack and deliver sidewall semi trailers?
12 units side wall trailers will be send to Sudan. TITAN drop side trailer will spray wax and cover the tarpaulin when the side wall trailer use bulk freighter.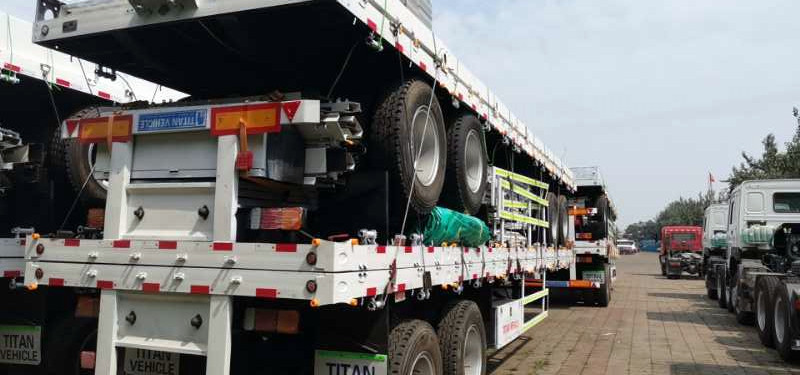 2 axle sidewall semi trailer ready to shipment
Here I'll introduce sidewall semi trailer for you. Some advantages and differences of our drop side trailer:
1. TITAN sidewall semi trailer uses low carbon high strength alloy steel Q345 to make the girder,which has higher bearing force and service life of more than 10 years.
2. TITAN Vehicle uses automatic arc-submerging welding method to weld the main beam, there isn't interface between the steel plate, it can ensure the intergrated main beam, so the main beam is more stronger and more durable.
Reinforce the underside of the gooseneck of the girder of TITAN sidewall semi trailer. Gooseneck double girder riser. Vehicle in the heavy load when the deformation range is very small, better to use. TITAN six paving beams are used to effectively ensure the flatness of the bottom plate.

TITAN 2 axle drop side wall semi trailer accessories
3. TITAN High Side Trailer side beam 160mm,100mm channel steel transverse, all the beams are supported, cross beam spacing not more than 500 inclined brace, the vehicle is not easy to deformation. Cross beams and side beams are reinforced.
TITAN side wall trailer the backplate is 3mm patterned plate, the backplate is strong and durable, and not easy to be deformed. Which is thicker than 2.5mm or 2mm in other factories.
4. TITAN sidewall semi trailer is equipped with JOST legs, LED light which is a world-recognized famous brand accessories. Better bearing capacity, long service life.
5. We use polyurethane paint with high adhesion, high chromaticity and beautiful color. The cost is twice that of ordinary acid paint.
Through the video below, you can learn about different types of side wall semi trailers(like 3 axle sidewall trailers, 4 axle high side trailer, grain hopper trailer, aluminum alloy side board trailer, 2 alxe side wall semi trailer with bogie suspension, dropside drawbar trailer)
And the process, testing, packaging and customer feedback, etc.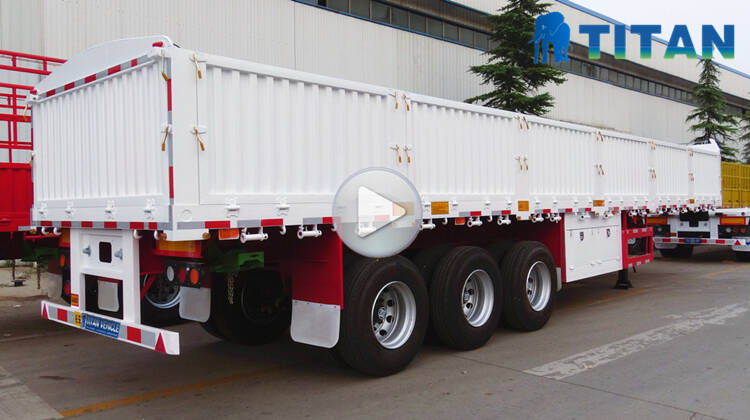 If you want more information about our semi-trailer, please click "Sidewall Semi Trailer".
And you can also look at other resources and products on our website.