Container flatbed semi trailer, 40ft is the most popular model. TITAN Container flatbed trailer is designed for transporting 20ft and 40ft containers and other cargo.
The size of the container trailer loading area is determined according to the standard container size. A twist lock device for fixing the container is provided at positions corresponding to the four corners of the bottom of the container. Flatbed trailers for sale near me are a special trailers for transporting containers.
The function of a flatbed trailer is made possible through its structure's design and manufacture.Basically, it is a transport equipment mainly of a steel construction defining its frame. It also comprises a lighting system, brakes and tires.It is carefully designed to desired heights and weight capacity to safely load and transport cargoes from one location to another.Use platform trailers to transfer cargo at the shipper's warehouse. Unloaded to the consignee's warehouse, when changing trailer or boat on the way, there is no need to take the goods out of the box and change them.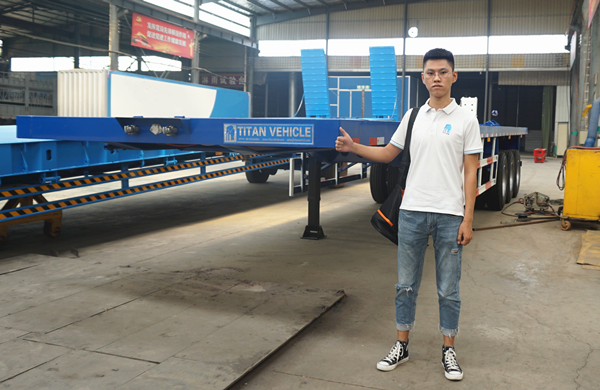 TITAN 3 axle flatbed trailers for sale in factory
Our Nigeria customers just received 2 sets 3 axle flatbed trailers a few days ago. Here are some pictures show that flatbed semi trailer.
Customers received the semi trailer, as soon as took the pictures for us and sharing with us. He told us that he is very happy to business with TITAN.
Customers have cooperated with us more than once, and the service is very good every time. Of course the quality of the flatbed semi-trailer is the most important. This is why we have many old customers buying TITAN semi-trailers again.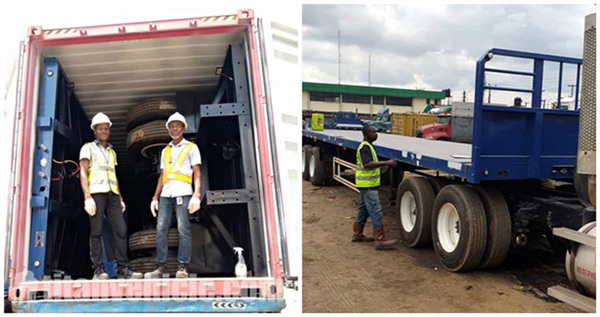 TITAN 3 axle flatbed trailers for sale near me in Nigeria
Advantages of TITAN 3 axle flatbed trailers:
1. The work platfrom is the main load-bearing part, which is composed of the main beam, side beam, cross beam, bottom floor, suspension and so on. The main beam should pay attention to whether the thickness is an international standard. The international standard for the main beam of a container flat semi trailer is 14/8/16 mm. The steel plate in the middle of the beam is made of Q345B manganese steel, the thickness is 8mm. Many unreliable suppliers will use 6mm main beam to save costs. But the carrying capacity was reduced by 26%.
2. The 3 axle flatbed trailers use a vacuum tire with better heat dissipation performance, the model is 12R22.5. TITAN flatbed container trailer uses custom made tires in a tire factory, wear-resistant tires. On Chinese highways, Titan tires can reach more than 300,000 kilometers.
3. Also adopt famous German made WABCO braking valve, to make sure the safety on the road.
4. We adopt famous brand parts for flatbed trailer, it save costs & ensure long-time service. Like JOST landing gear, fuwa axle.
5. TITAN flatbed trailers common mechanical suspension adopts special high strength steel. 6mm thickness. The center pin diameter is 70mm. Stronger than suspensions in many factories.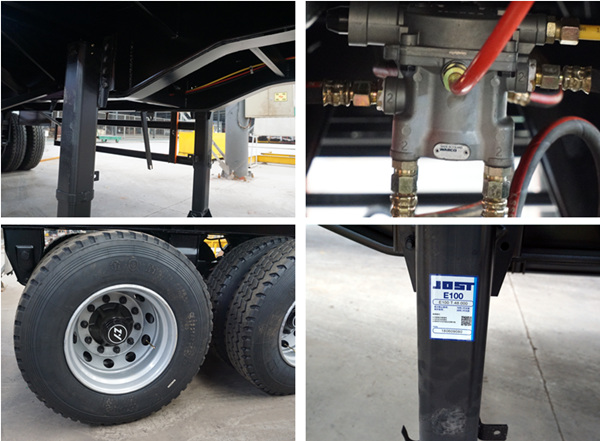 TITAN 3 axle flatbed trailers for sale details
Package and shipping of TITAN 3 axle flatbed trailer:
About package of 3 axle flatbed trailers for sale, we have many ways to transport.And we will recommend the best suitable and save way fo you. All semi trailer will undergo rigorous testing before delivery to ensure the quality.
We have professional technicians to operate. In addition, if though the RORO transport, a layer of wax will be sprayed on the semi-trailer to prevent seawater erosion, and then a layer of rain cloth will be wrapped to prevent moisture, so that it is foolproof.
Through this video below, you can learn about different types of flatbed semi trailer,such as 2 axle,3 axle,4 axle, flatbed etc.
As well as the process, testing, packaging and customer feedback, etc.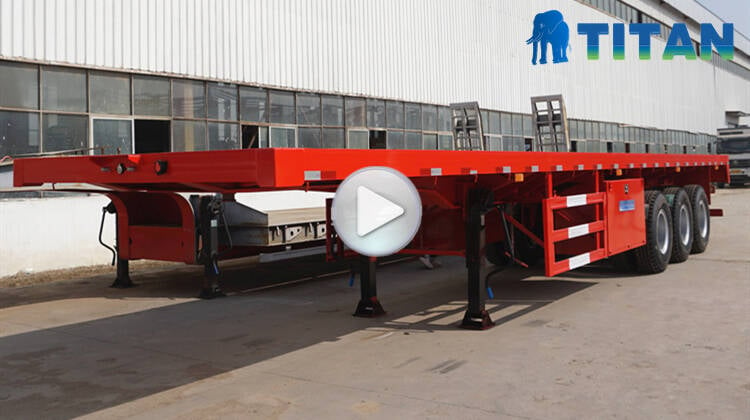 If you want more information about our flatbed semi trailer, please click "Flatbed Semi Trailer"
And you can also look at other resources and products on our website.