Shandong TITAN Vehicle Co., Ltd. is a well-known manufacturer and exporter of special trucks and semi-trailers in China.
TITAN Vehicle was established in 2004.
---
About TITAN:
Semi-trailers are mainly used in heavy transportation, wind energy, construction, petroleum, container transportation, logistics and other industries.
With 16 years of technology accumulation and 27,000 semi-trailer manufacturing experience, TITAN has become China's best manufacturer and exporter of special trailers and semi-trailers.
Many friends in the world choose TITAN.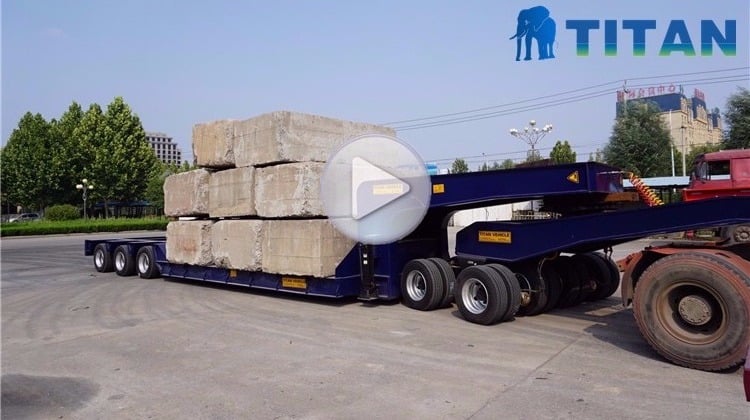 We are committed to providing our customers with the most economical transportation solutions.
With the durable quality, competitive prices, permanent parts supply services. TITAN semi-trailers have successfully entered more than 50 countries and regions around the world. Such as Ethiopia, Tanzania, Mozambique, Djibouti, Malawi, Uganda, Zimbabwe, Zambia, Algeria, Sudan, Mali, Ghana, Gabon, Cameroon, Nigeria, Sierra Leone, Liberia, Guinea, Côte d'Ivoire, Senegal, Pakistan, Sri Lanka, India, Argentina , Chile, Honduras, Uruguay, Bolivia, Philippines, Vietnam, Malaysia, Thailand, etc.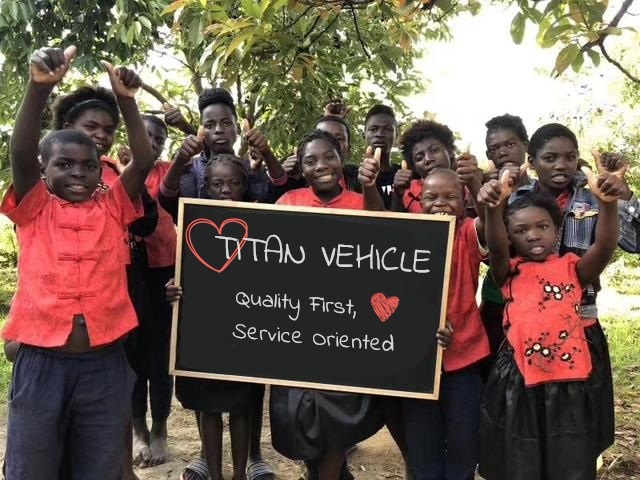 All customers and friends are warmly welcomed to our company for visit and business negotiations, TITAN will as always do our best effort to achieve maximum value together with our customers, partners, employees and society.
Values: Quality First, Service Oriented.
Mission: Exert ourelves to customer's demand, assist each employee be stonger and fulfill their dreams.
---
TITAN Semi-trailer Video Display:
The main semi-trailers supplied include container side lifter trailer, wind turbine extendable trailers, detachable gooseneck low boy trailers, low bed trailers, container flatbed trailers, oil tank trailers, bulk cement tank trailers, and bulk cargo transportation. Semi-trailers, acid tankers, dump semi-trailers, container side loaders, modular trailers and other professional semi-trailers.
The following are introduction videos of TITAN main products.
Through these videos, you can learn about different types of semi-trailers, as well as the process, testing, packaging and customer feedback, etc.
TITAN Flatbed Semi Trailers:
3 axles 40ft flatbed trailer is the most popular model. TITAN can also offer the 20ft/45ft/48ft/53ft, 2/3/4 axles, the capacity from 60-100 tons.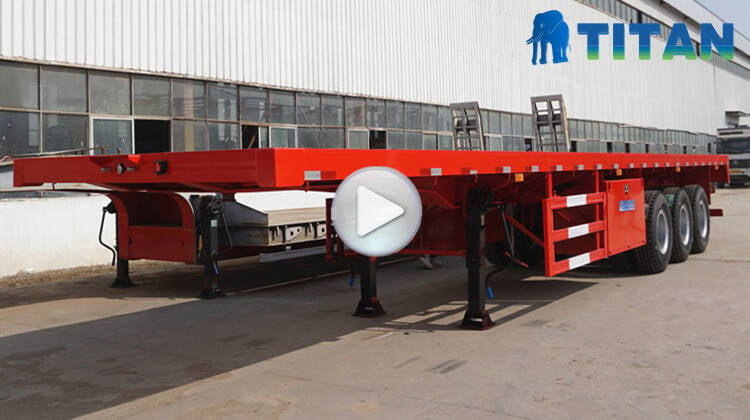 TITAN Lowbed Semi Trailer:
TITAN Vehicle offers lowbed semi trailer designed to carry 30 tons, 40 tons, 60 tons, 80 tons, 100 tons, 120 tons, 150tons. It's main cargo platform is low, which ensures the stability of transportation.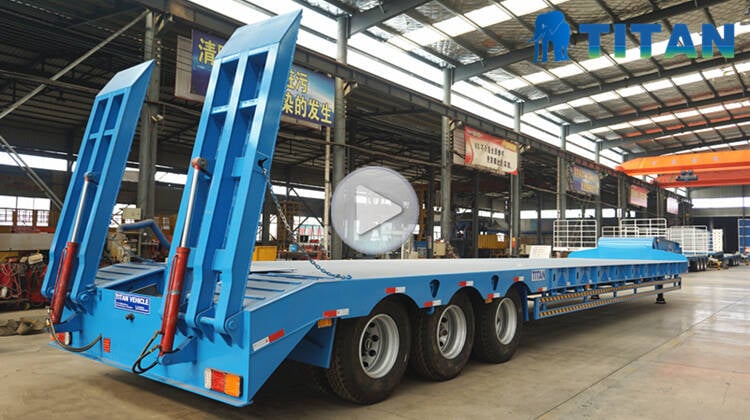 TITAN Sidelifter:
TITAN Sidelifter Trailer include 20ft self loader truck, 20ft and 40ft container side lifter trailer. Shipping tonnage is 21 tons, 37 tons, 40 tons, 45 tons for your choice.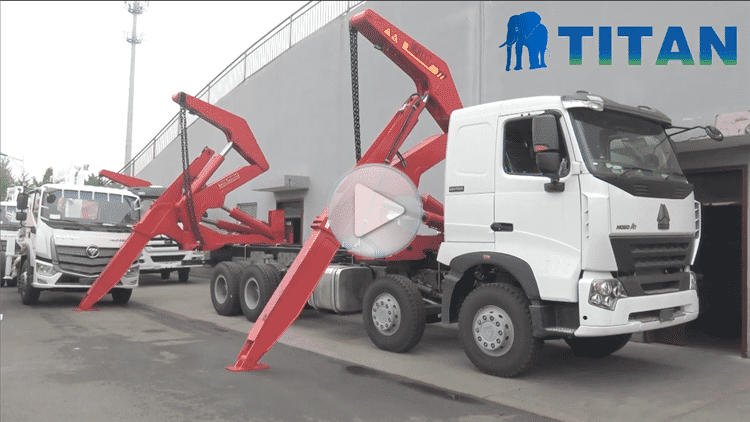 TITAN Detachable Gooseneck Lowboy Trailer:
TITAN can make the 2/3/4 axles detachable gooseneck lowboy trailers, with the capacity of 60/80/100/120 ton. To meet your transport needs and your local regulations, we can customize different configuration removable gooseneck lowboy trailer for you.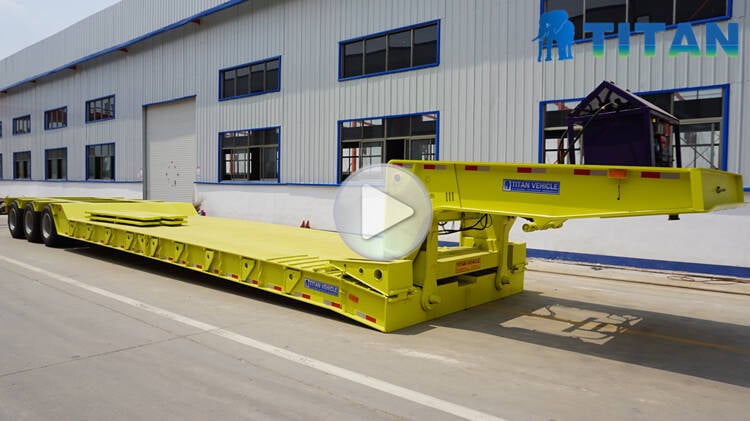 TITAN Sidewall Semi Trailer:
Side wall semi trailer has a sidewall structure design. We have 2/3/4 axles, and load capacity has 30/40/60/80/100 tons for your choice. Customizable side wall height.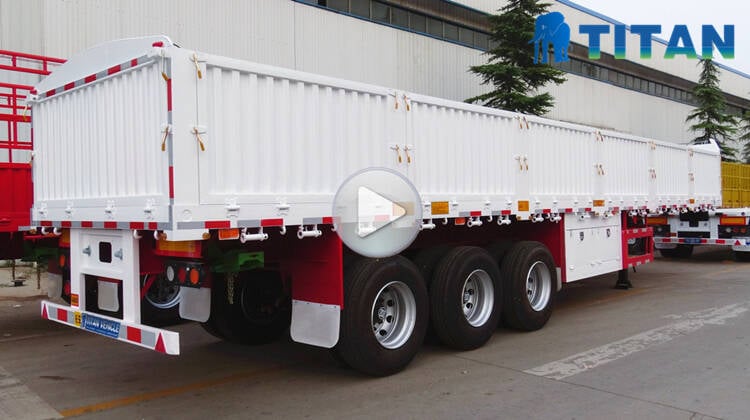 TITAN Fence Semi Trailer:
Stake fence trailer has a fence structure design. We have 2/3/4 axles, and load capacity has 30/40/60/80/100 tons for your choice. 3 axles 60 tons is the most classic model, of course, TITAN can also customize it according to your needs.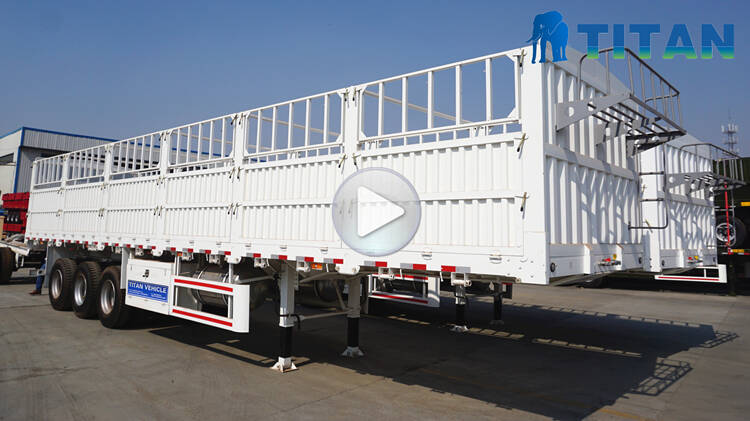 TITAN Extendable Wind Blade Trailer:
4 axle 56m extendable wind turbine blade transport trailer trailer testing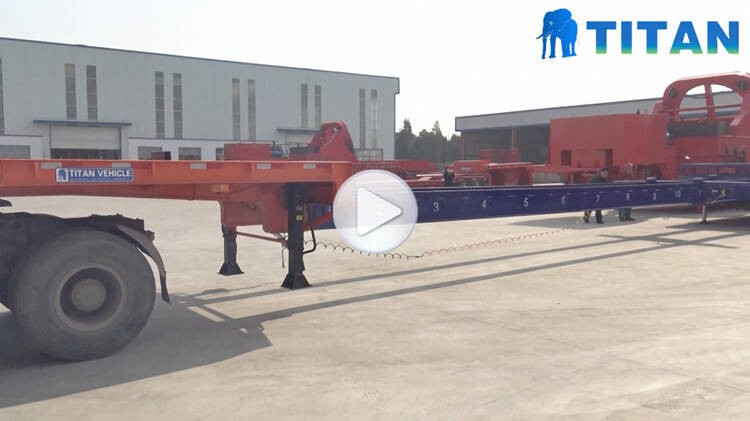 TITAN Wind Blade Transport Adaptor:
Wind turbine blade transport trailer can transport blades of model 115-156. It is suitable for the wind turbine blades length of 56.5-76 meters, and the longest can transport the wind blade of 80 meters.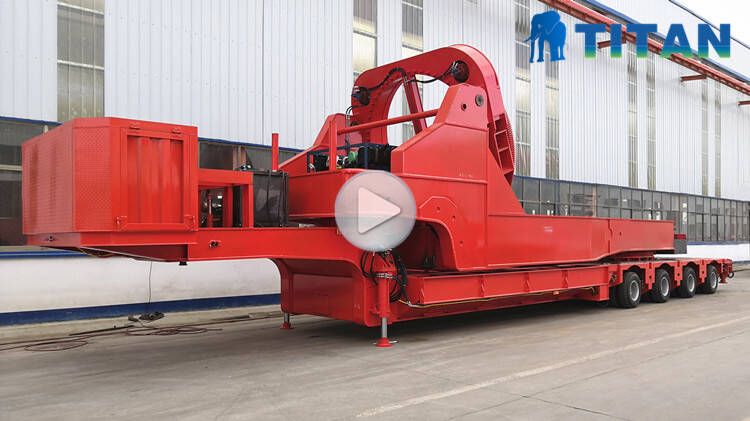 TITAN Tipper Semi Trailer:
TITAN dump tipper trailers have different load capacities: 24 cubics, 30 cubics, 35 cubics, 45 cubics, We can customize the tipper trailers according to your special need, like standard tipper semi trailer, U-shape tip trailer, flatbed container tipper trailer, skeleton dumper trailer, side dump truck trailers.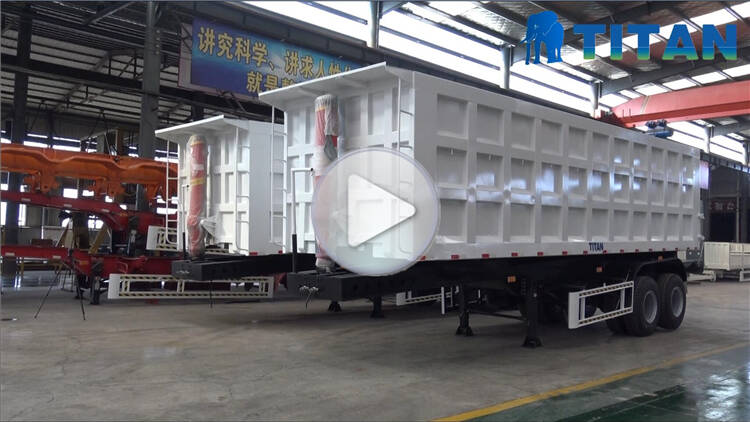 TITAN Container Chassis:
TITAN container skeletal trailer can be customized to 20/40/45/53 feet. We also provide customers with different options: 2 axles, 3 axles, 4 axles, airbag suspension, spring steel suspension.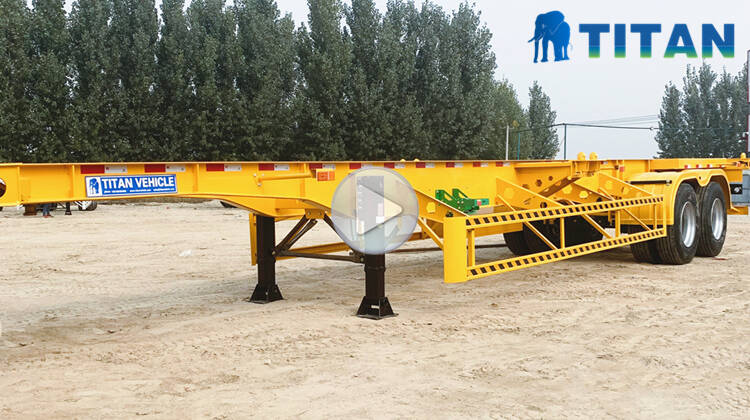 TITAN Fuel Tanker Trailer:
TITAN fuel tanker trailer can be designed in different capacities: 30 cubics, 40 cubics, 50 cubics, Our materials are different: carbon steel, stainless steel, aluminum alloy.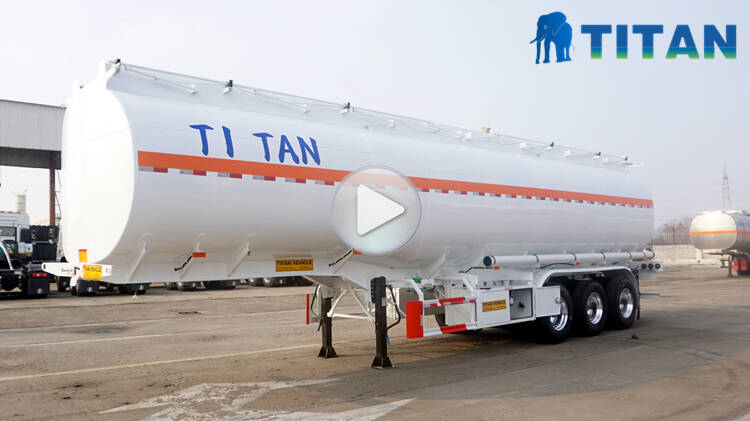 TITAN Bulk Cement Tank Trailer:
The main volumes of cement tanker trailer are 25/30/35/40/55/65 cubic meters. Powder tank trailers are V-shaped and W-shaped, and the materials are carbon steel, stainless steel, and aluminum alloy.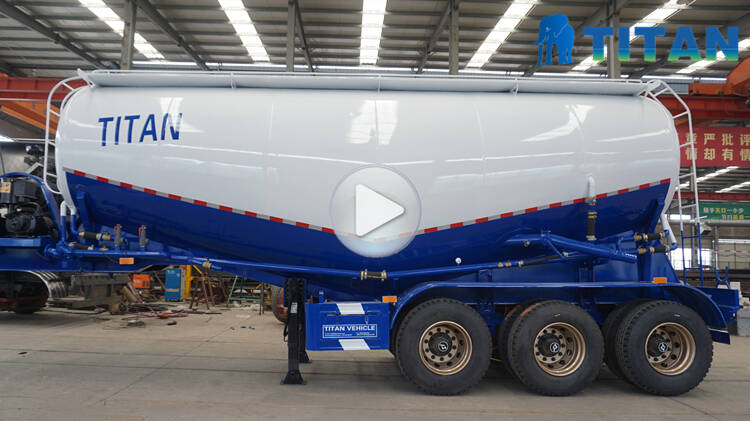 ---
Production Machinery:
TITAN VEHICLE perseveres in technology innovation and strengthen integration of digitalinformation technology and equipment manufacturing, having taken the coordinate robot spread to every corner of Special commercial vehicles. ln the meantime, ln the fields of robots, TITAN' s endeavoring to strengthen further cooperation actively with top robot manufacturers.
TITAN VEHILCE overcome much many difficulties in the automation welding fields of special commercial vehicles, auto parts, steel structure, construction machinery, etc.
Here I want to show you the equipment we adopt in our semi trailers production.
1. Corrugated plate unmanned production line:
TITAN adopt automation welding machine of Corrugated Platelntelligent&Unmanned Production Line.
Corrugated plate welding machine for side plates in trailer manufacturing is widely used in advanced semi trailers production. This control system makes side plates of trailers formed automatically at only one time. The machine makes sure the quality of sides plates in mass production as well as enhances the serivce life for the semi trailers.
Like the photo here: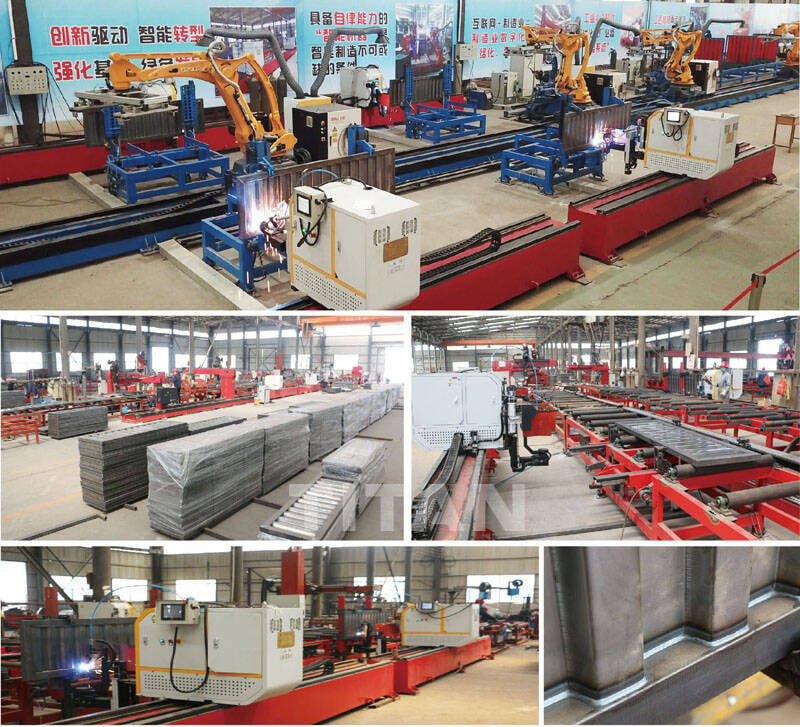 2. Automatic Base plate welding machine:
TITAN VEHICLE adopt Automatic Base plate welding machine.
It can automatically track to weld the edges of base plate. Just move weldlng torch to the first corner of base plate, and press 'Auto Button on' ,the machine will track and weld all seams automatically without any operator. The high welding seams will improve the service life of the heavy semi trailers when loading the cargo on the bottom floor.
As I show the photos here:

3. Tank production line:
This production line adopt the most advanced international high-end double pulse TIG Flat Butt Welding Machine, Tank Rolling Machine, Automatic Tig Welding Machine Tanks machines, etc, which fully realizes auto welding for plates and baffles plates, forming tank body at only one time by tank rolling machine.
Tank laser welding robot keep the high welding precision, intelligent acquisition welding seams, unmanned operation by tracking the seams.
For our TITAN Equipment, please check the photos here: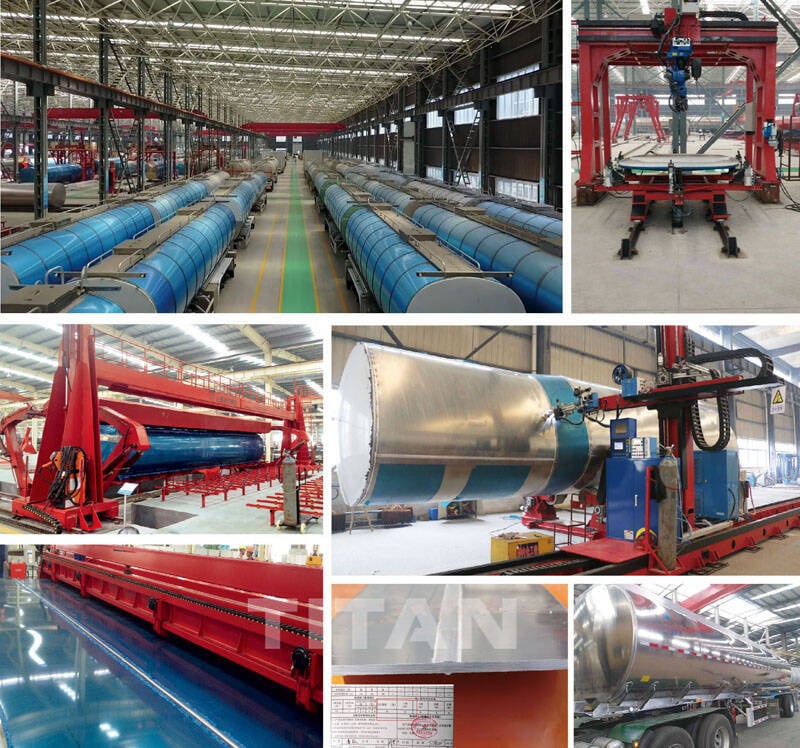 ---
Partner Visiting:
WHAT OUR CUSTOMERS SAY:
Today I have cleared the semi-trailer from the port ,thank you very much for your hard work ,the trailer is beautiful ,everybody asks me about the trailer is a good quality,i told them TITAN vehicle is the best also trust company
--Mr.Mahamoud
Your company is advanced ,very good company to work for ,good reputation
--Mr.Charles
---
TITAN Service:
The Best Professional Services from TITAN Vehicle to Support you forever!
1. After the trailer finished, TITAN will make the operation video to introduce how to operate and maintain the trailer, and also provide the operation manual for customer.
2. TITAN can send its technician to customer's county to supply the technical training.
The main course will include the operation, maintainance, understand various failure and corresponding solving measures. After the training, customer's worker can operate the trailer by themselves and very know the various functions of the trailer.
3. TITAN can provide customers a full set of spare parts to ensure the supply of components and parts will be sufficient and in time.
4. Once failure happens, no matter what reasons, TITAN will send its technician to customer's country as soon as possible to assist to resolve the failure.
Case - TITAN Sidelifer Professional Services in Djibouti