TITAN 3 axle cargo transport stake semi trailer for sale adopt advanced intelligent manufacturing equipment such as finite element analysis, calibration design, laser cutting machine, robot welding, etc., and strictly process requirements from the design source to the entire process of product manufacturing. So as to ensure that every trailer delivered to the customer is a high-quality and qualified trailer.
TITAN stake semi trailer in Sudan adopts the fully automatic KTL electrophoresis + powder spraying coating process, and it is fully coated without dead corners. The automatic production coating is more uniform, the box board and the warehouse fence area are coated, rust-proof and durable, and green Environmental protection.
3 axle cargo transport stake semi trailer for sale in Sudan
The specific advantages of TITAN stake trailers are as follows:
1. The stake semi trailer model and fence structure design process is combined with the user's cargo category, reasonable design, to fully reduce the weight of the carriage under load conditions, the structure is simple and applicable, and it is convenient to disassemble, reduce investment costs for users, and create more profit value.
2. The frame adopts a space frame structure formed by welding longitudinal beams and integral through cross beams. It can balance the strength, rigidity, and toughness of the frame, with strong bearing capacity and no deformation.
3. The guide arm can choose double-leaf spring and single-leaf spring. The optimized design of single-leaf guide arm structure, lightweight design, three-bridge weight reduction of more than 200 kg, and has good guidance, super reliability and stability.

4. It adopts a new type of suspension system with high strength and strong impact resistance. The load of each axle is balanced, and the system tie rod angle is reasonably designed to reduce the friction slip distance between the tire and the ground and effectively reduce tire wear during frequent bumps.
Reduce tire wear and fuel consumption. Under the same road conditions and load capacity, fuel consumption per 100 kilometers can be reduced by more than 1.2 liters.
5. Imported brake pads and implanted wear alarm device. Effectively guarantee the braking performance of the vehicle during operation.
6. The service life of the TITAN cargo transport trailer brake can reach 1.5 million kilometers in 10 years. Brake discs containing alloy elements, anti-cracking, anti-wear and high temperature resistance.

7. High-precision load bearing, long life and low temperature.
8. Double push rod brake calipers, stable braking performance.
9. The use of low temperature resistant brake air pipe makes driving safer. The 3 axle fence semi trailer wiring harness uses 7-core wiring harness, without any grounding treatment, the lamp can work normally, the use failure rate is low, and it does not need to be replaced for life.
10. Use Phillips pneumatic handshaking joints, air-tight and more durable.
Through the video below, you can learn about different types of fence semi trailers(like 3 axle fence trailers, 4 axle stake trailer and fence full trailer)
And the process, testing, packaging and customer feedback, etc.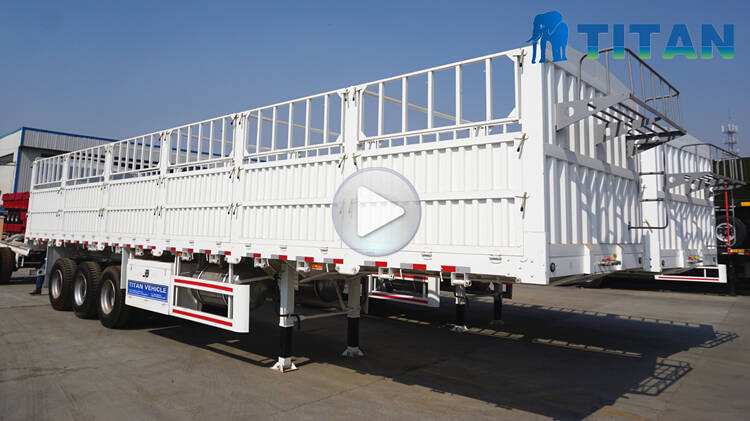 If you want more information about our semi-trailer, please click "Fence Semi Trailer".
And you can also look at other resources and products on our website.