80 Ton Detachable Gooseneck Lowbed Trailer for Sale by TITAN VEHICLE
TITAN Detachable Gooseneck Lowbed Trailer with 80 ton loading capacity which is the best trailer to transport transport construction machinery, like crawler, crane, excavator, crawler loader and other crawler machinery. With the low loading platform and voluminous loads trailers are in great demand, TITAN detachable gooseneck lowbed trailer is the best solution for your transportation needs. TITAN detachable lowbed trailer are noted for their highly robust structure steel and high loading capacity from 60 ton load capacity to 150 ton load capacity. TITAN can provide you the customize detachable lowboy trailer to meet your transport requirements.
Features - TITAN 80 Ton Detachable Gooseneck Lowbed Trailer
Hydraulic gooseneck lowbed trailer, easy for constrution equipment like crawler climb on the deck.

Highly robust structure steel with tensile and durable construction, 80 Ton loading capacity.

The working platform is as close to the ground as possible for transport of high and voluminous loads.

250 mm side swing bracket on the both sides for increasing the overall width of lowboy trailer.

Length and width of dimensions of lowbed trailer is available custom made.
Main specification - TITAN 80 Ton Detachable Gooseneck Lowbed Trailer
| | |
| --- | --- |
| Brand | TITAN VEHICLE |
| Loading capacity | 80 Ton |
| Axle | 3 axles, 16 ton load capacity |
| Tire | 12 units |
| Frame | High strength steel construction |
| working platform height | 650mm |
| Platform plate | 5mm, diamond plate |
| Suspension | Hard-wearing mechanical spring suspension |
| Braking system | WABCO |
| Kinpin | 90#, bolted type |
| Electic system | 24V, LED Lights |
Details - TITAN 80 Ton Detachable Gooseneck Lowbed Trailer
The hydraulic detachable gooseneck is a gooseneck which can be detached from the front of the trailer frame but remains be attached to the truck tractor. So that the heavy duty equipment can be loaded safely and easily over the trailer working platform's front end. meantime, the hydraulic cylinders are used to facilitate to detaching process.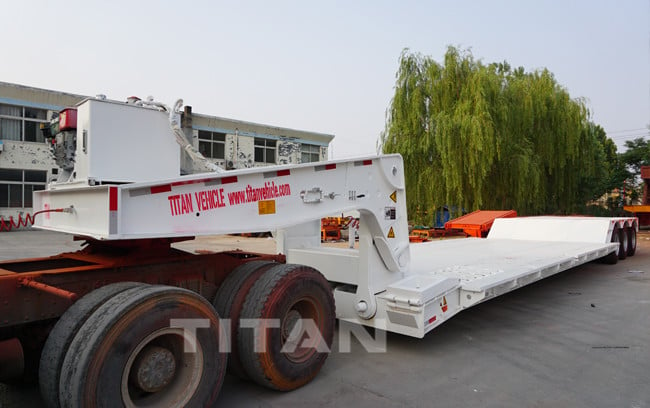 TITAN detachable 80 ton gooseneck lowboy trailer - www.titanvehicle.com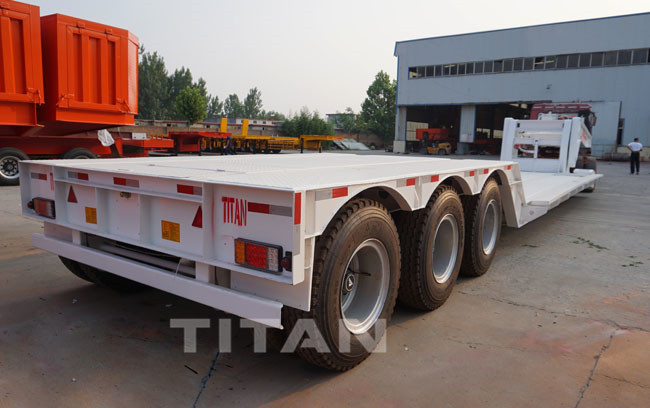 Here is hydraulic Gooseneck Support is a device that uses a hydraulic jack to press onto the truck tractor frame to lift the detached gooseneck off the ground , so the truck tractor can be removed away from the front of trailer working platform to load or unload equipment.The Hydraulic gooseneck Jack is the patent product designed by ourselves in China, and this special design which is being aftered all the time, and never have been passed!
Video- TITAN 80 Ton Detachable Gooseneck Lowbed Trailer
TITAN professional engineering team will be ready to provide you with a set of well-integrated solutions that meets your transportation needs and also your local regulations. TITAN engineering team can communicate with you online to fully understand your needs, the solutions include the product design, product material, product drawings, product videos.
All customers and friends are warmly welcomed to our company for visit and business negotiations, TITAN will as always to our best effort to provide you the most duarable detachable 80 Ton Detachable Gooseneck Lowbed Trailer to support you forever.