48 cbm cement silo semi trailer silo cement trailer for sale
---
TITAN 60 tons payload silo cement bulker ---It is used for the transportation of dry powder materials such as fly ash,cement powder,lime powder and mineral powder, and pneumatic unloading. As is know to all ,the remainder and discharge speed are very important to the bulk cement tank contaciner semi trailer .Under the pressure of 0.2MPa, the average unloading rate of the cement tanker is not less than 1.2t/min of our bulker and Remainder rate less than 0.05 tons .
Our silo cement tank trailer's Painting usually has very strict requirements and high standards. The body of cement tank adopt sand blasting process, the use of high-grade polyurethane paint, paint adhesion strong, beautiful, bright and persistent. First ,Sandblasting for tank ,then anti-rust chassis surface, one layer anti-corrosive primer, two layers of top coats; Our paint is polyurethane paint, it has a strong paint film, full gloss, strong adhesion, water resistance, wear resistance, corrosion resistance.We can guarantee that the paint of our bulker is not removing 6~7 years .
Specification - TITAN cement bulker tank trailer
| | |
| --- | --- |
| Brand | TITAN cement bulker tank trailer |
| Total Volume (m3) | 50 cbm |
| Tanker Body Material | 5mm or 6mm/ high strength wear-resistance steel |
| Diesel Engine | WEICHAI 4105 Brand |
| Compressor | BOHAI, FUDA 12m3 or other brands |
| Manhole Cover | Carbon steel or Aluminum 500mm(Diameter) |
| Discharging Valve | Diameter is 3 or 4 inch |
| Main Beams | Welded design, High Strength Steel |
| Axle | 3 axles, 13 ton |
| Suspension | Mechanical suspension |

Product introduction-- TITAN cement bulker tank trailer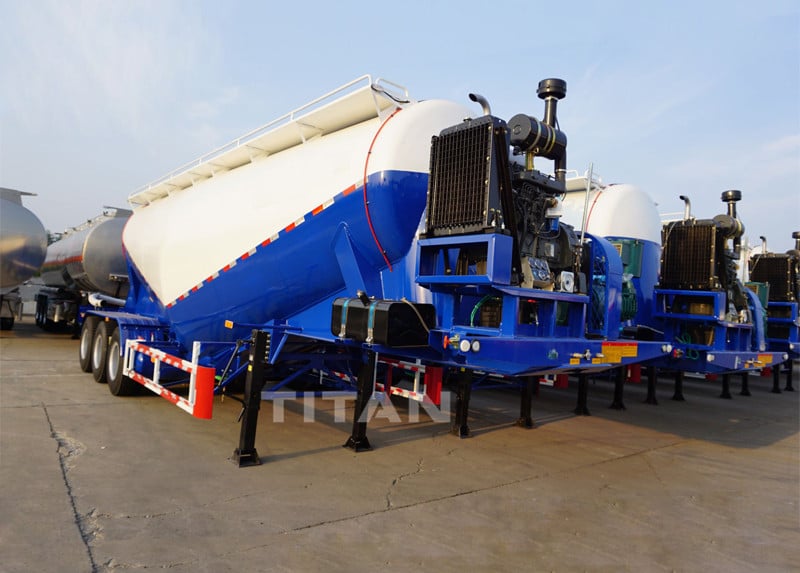 Drawing---TITAN 50 tons cement bulker tank trailer

Titan Vehicle has designed and manufactured the highest quality cement bulk trailer,dry powder trailer,silo trailers,pneumatic trailer ,Lime Powder Trailer Tanker,Bulk Fly Ash Trailer,land plaster tank trailer,Aluminum powder tank trailer,flour trailer cement bulker,fly ash bulker trailer,cement silo tank ect.
If you are interested, welcome to the inquire or online message! Please fill in your contact information and suggestions! Thank you!

We will meet the acme of perfection to serve and provide more details , price ,catalog,drawing ,video for you !
Orders for ready-made or custom-made trailers are welcome!