40 feet timber trailers for sale
The timber trailer adopts off-road vehicle design principle. The trailer chassis was completely reinforced. It can runs well in forest zone . The working flatbed length can be designed according to your requirement.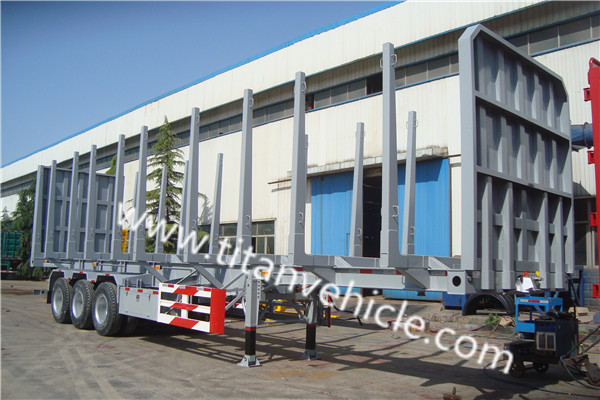 Below is recommended
1. Steel Material:
High strength low alloy steel Q345 with 350 MPa yield strength is used for welded I-beam and 235 MPa in other fabricated parts.

2. OEM Parts Configuration:
--King pin: JOST 2 inch or 3.5 inch bolted type
--Landing Gear: Supplier: & Type: JOST D200T.
--Suspension: mechanical suspension with 10 pieces leaf springs.

--Axles: 2*15tons FUWA axles.
--Tires: 11.00-20; or 11R20; or 315/80R22.5, 12 pieces
--Brake system: WABCO 4 relay emergency valve
--Brake chamber: T 30/30 type chambers on the rear axle, T 30 type chambers on the front axle.

--Electrical system: one set of 7 hole standard cable; 24 volt lighting system with modular wiring harness.
-- Painting . two layers of primer after treatment of sand blasting then two layers of final coating of color. High
painting technology will reduce the trailer rustiness .
--Pin height :2000mm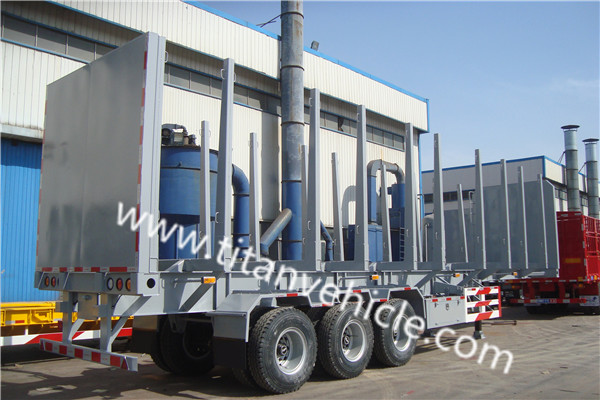 Any inquiry of timber trailer , just feel free to contact with us.