33000 liters fuel transportation trailer tanker mini truck fuel tank oil tanker semitrailer
---
The tank body are constantly jumping and shaking when vehicle is on the bumpy road, that will lead to the tank occur deformation, leakage and open welding.To resolve this problem, TITAN fuel transportation trailer adopts longitudinal welding technology to weld the tank, there are just 4 longitudinal welding seams on the surface of tank body, that not only can guarantee the long time service of tank, also benefit customers forever.
The body of tank adopt sand blasting process, the use of high-grade polyurethane paint, paint adhesion strong, beautiful, bright and persistent.First ,Sandblasting for tank ,then anti-rust chassis surface, one layer anti-corrosive primer, two layers of top coats; Our paint is polyurethane paint, it has a strong paint film, full gloss, strong adhesion, water resistance, wear resistance, corrosion resistance.We can guarantee that the paint is not removing 6~7 years .
By the way, if you need, we can put your logo on the trailer.
Details of TITAN Oil Tanker Trailer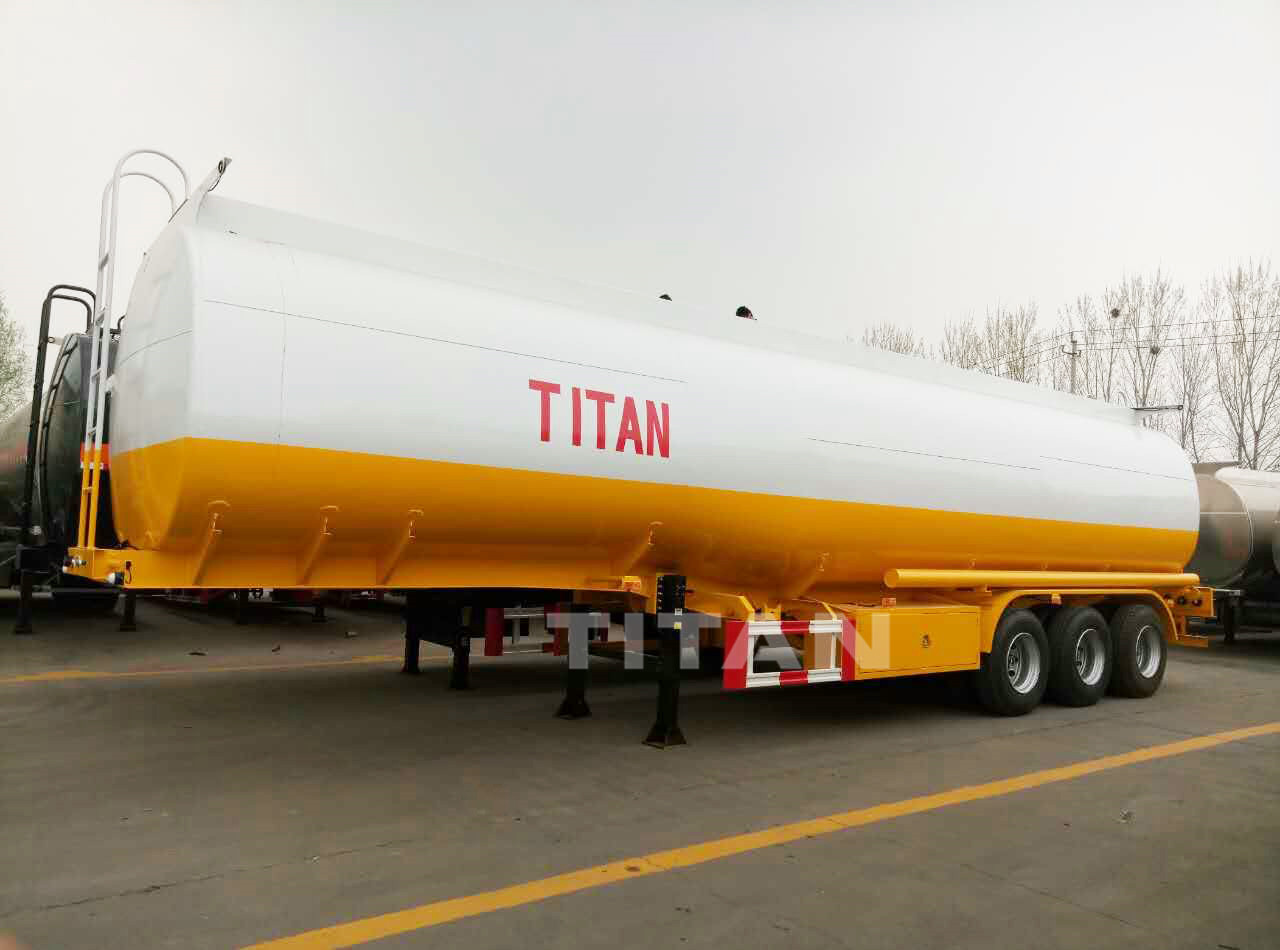 Specification- TITAN Crude Oil Fuel Tank Semi Trailer
Brand

TITAN Oil Tanker Trailer

Dimensions

11500mm(Length) x 2500 mm(Length) x3700mm(Height)

Tank Body

Tank Capacity

33,000 liters

Tank Material

Q235B carbon steel

Compartments

1 to 7 compartments, based on customer needs

Discharge

3" or 4" ball valves

Discharge Pipes

4" rubber hose, 2 units, 6 metre/each

Ladder

The tank is equipped with a front or rear ladder to facilitate the arrival to manholes.

Chassis

Main Beams

Q345B steel fabricated I beams.

Landing Gears

JOST C200

Axles

3 axles, 13T

Suspensions

Merchanical suspension

Brake System

WABCO


TITAN 33000 liters Fuel Tanker Trailer