15 units drop side truck trailer will be sent to Ethiopia on Oct 15th.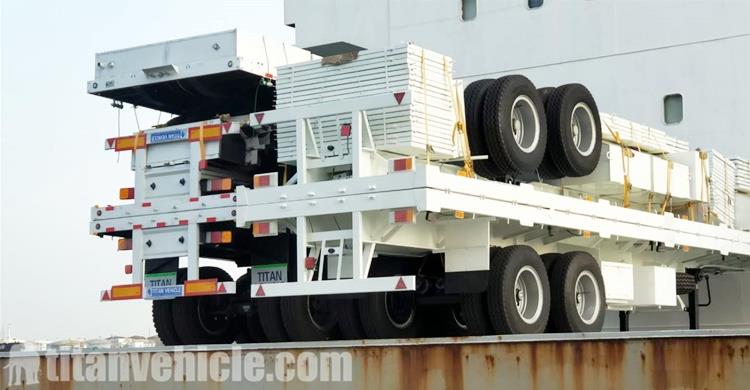 Truck Trailer For Sale In Ethiopia
Before dawn, we received feedback from the port that 15 units drop side truck trailer has been loaded on the ship and are ready to be sent to Ethiopia.
The Ethiopian customer is our agent and orders 80 truck trailers from TITAN every year. This time the customer chose a single point suspension. And based on our experience and clients' clear requirement, 15 sets 15 units drop side truck trailer order confirmed.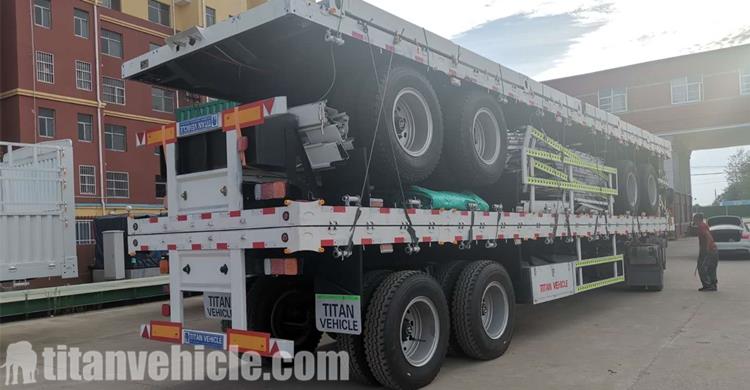 2 Axle 40Ton Drop Side Truck Trailer For Sale In Ethiopia
The following are the knowledge points about suspension:
Suspension is an important component connecting the chassis and the frame. The supporting force, braking force, driving force, etc. of the vehicle is transmitted through the suspension system, and it can also reduce the impact of harsh roads on the vehicle and ensure the stability of the vehicle, Its importance is self-evident. Suspensions are generally divided into independent and non-independent suspensions. For side wall truck trailer, due to the need for strong load-bearing capacity, all non-independent suspensions are used.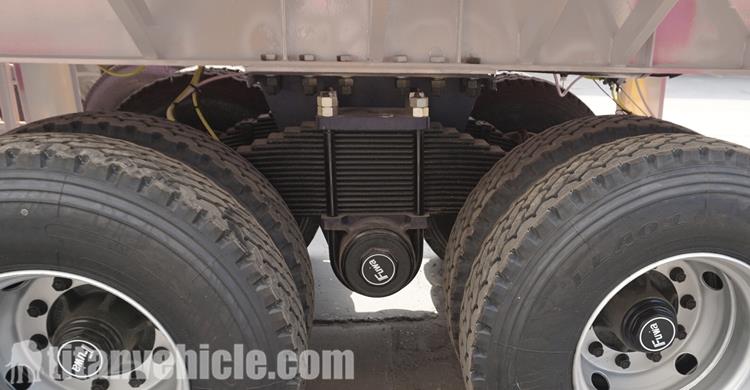 Bogie Suspension of 2 Axle Dropside Trailer
Bogie suspension of 2 axle drop side truck trailer is to reduce the common leaf spring front and rear brackets into a single bracket to connect to the car body. Its stress points are shared on the front and rear axles. Compared with ordinary leaf spring suspensions, bogie suspension has more bearing capacity.
Of course there are other suspensions to choose from.
1. Mechanical suspension of cargo truck trailer is our common leaf spring, its full name is series-connected leaf spring balance suspension. It is mainly composed of leaf springs, suspension bearings (commonly known as lifting lugs), connecting rods, U-bolts and other parts. The longitudinal force of the car body falls directly on an axle.
The biggest advantage of this kind of suspension is low price, good reliability and easy maintenance.

Details of Sidewall Truck Trailer
2. The most obvious feature of the air suspension is its airbag-type air spring. The air spring itself is lighter, the friction of the air medium in the airbag is small, there is almost no noise when working, and its life is 2-3 of that of a leaf spring. Times. However, when an air spring is used, a rod system that can transmit various forces and moments other than the vertical force must be provided, so the suspension structure is complicated; in addition, the air spring has strict requirements for sealing, and its cost is also high.

Package of 40Ton High Side Semi Trailer
You can download video, you can learn about different types of side wall semi trailers(like 3 axle sidewall trailers, 4 axles high side trailer, grain hopper trailer, aluminum alloy side board trailer, 2 axle side wall semi trailer with bogie suspension, dropside drawbar trailer). And the process, testing, packaging and customer feedback, etc.
This kind of semi trailer was designed with lots of advantages and features. If you want to get more information, please don't hesitate to make contact with us.