Tri Axle Removable Detachable Gooseneck Semi Trailer will be sent to Nigeria on September 16th.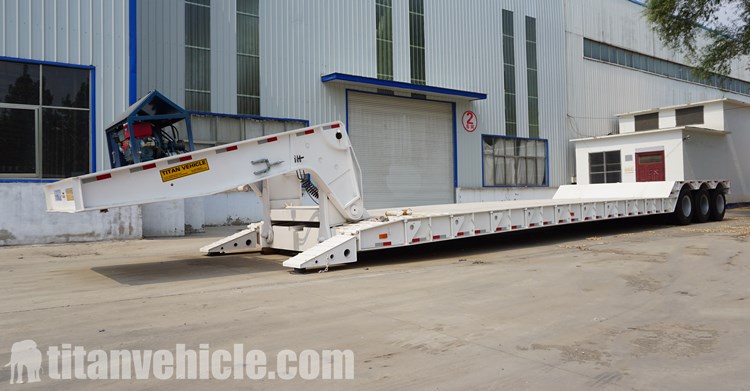 Detachable Gooseneck Semi Trailer For Sale In Nigeria
Nigeria customer runs a large transportation company. The customer found us through Alibaba and is very optimistic about our detachable gooseneck semi trailer.The heavy duty lowboy trailer can transport ultra-high and medium sized equipment and machine.This is what the customer needs.
In Nigeria, Tanzania, Zambia, Zimbabwe, Burkina Faso,detachable gooseneck trailer are very popular. Lowboy trailer for sale has many different names in different countries around the world, such as RGN trailer, detachable gooseneck trailer, folding gooseneck lowboy trailers, removable gooseneck trailer, and military lowboy trailer, etc.

Package of 3 Line 6 Axle Rgn Lowboy
Features of removable gooseneck lowboy trailer:
1.Strong carrying capacity
TITAN lowboy trailer main beam of TITAN is made of HG60 high-strength structural steel. The yield strength of HG60 steel is ≥ 620MPa, which is more durable and stronger than ordinary steel. Its bearing capacity is 5 times of that of Q345 steel trailer. TITAN gooseneck trailer adopts reinforced the gooseneck and upper and lower plate by double layer.
2.Easy maintenance
Because the bearing surface can be raised and lowered, the tires on a bridge can be grounded, and other tires can be safely and conveniently replaced or other maintenance work without detaching.

Lowboy Gooseneck Trailer For Sale Price
3.Easy operation
The lifting operation handle of the bearing surface mostly adopts the centralized electric control device, rather than the traditional handle to control the operation, so that the operation interface is more convenient.
4.Low center of gravity and good stability
Due to the low ground clearance and low longitudinal beam height of this kind of vehicle, the load-bearing surface is 300-400mm lower than that of the normal concave-center removable lowboy semi trailer, thereby effectively reducing the height of the center of gravity of the loaded goods and improving the stability during transportation.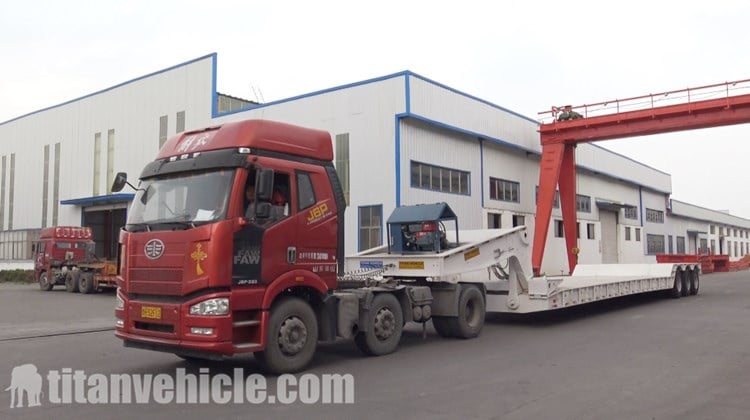 Tri Line 6 Axle Removable Detachable Gooseneck Semi Trailer For Sale In Nigeria
5.The effective length of the cargo bed is long
Because this type of model eliminates the rear ladder, the bearing surface can be lengthened, and because the construction machinery does not go from the rear, the slope angle in front of the bridge can be appropriately increased, so that the bearing surface can be lengthened. The length of the low flat cargo table with a ladder at the end is longer, which can effectively load more loads, indirectly improve the loading efficiency, and create greater benefits for users.
Details of Lowboy Semi trailer
6.Good performance
The cargo bed load-bearing surface of the trailer can be adjusted to the ground height by a hydraulic device as needed, and when it passes through culverts or bumpy roads, the cargo bed load-bearing surface can be lowered or raised to improve its passing performance.
You can download video,you can learn about different types of lowboy semi-trailers(like 3 axle detachable gooseneck lowboy trailers, 4 axle lowboy trailer, 3 line 6 axle heavy duty lowboy trailer, folding gooseneck trailer).And the process, testing, packaging and customer feedback, etc.
This kind of semi trailer was designed with lots of advantages and features. If you want to get more information, please don't hesitate to make contact with us.