2 Axle 20Ft Container Chassis Trailer is ready for shipment to Nigeria Abuja.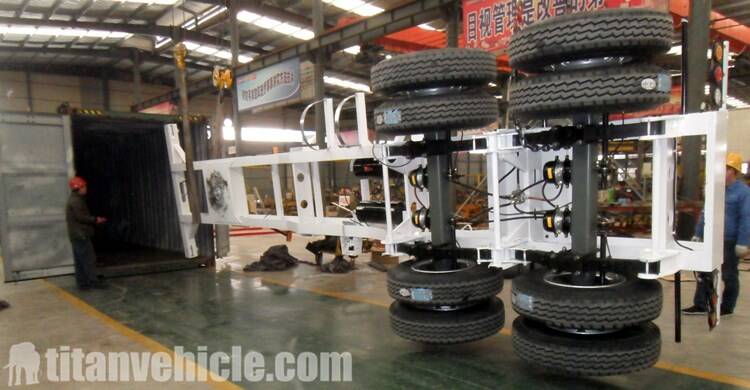 How Much is Truck in Nigeria
2 units 2 axle container semi trailers ordered by Nigerian customers have been packaged and shipped, and we hope that customers will put them into use as soon as possible.
2 axle 20ft container chassis are designed for marine container and sea freight transport tasks and combine both safe and rapid container handling. This is what the customer needs. The welded container trailer possesses a long service life even under the tough conditions which a semi-trailer container skeletal trailer has to face on a daily basis.Main beam structure desgin resonable,light weight and large design load capacity.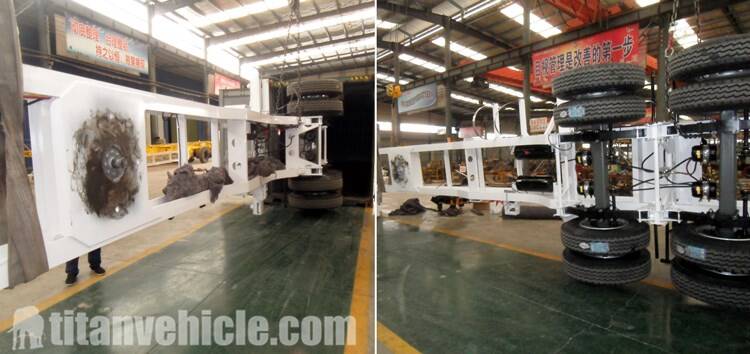 2 Axle 20Ft Container Chassis Trailer for Sale in Nigeria Abuja
This is normally a simple fixed structure without much sophistication used to carry and transport containers from one point to another.
The framework is usually made of steel. This is where the containers get loaded and offloaded through the use of overhead cranes. 2 Axle container chassis can be used for the transportation of containers of various lengths: 20ft.
The common container trailer chassis is easy to use and affordable. However, you will need auxiliary equipment such as the overhead cranes for loading and offloading the containers from the chassis. Container chassia trailer is a kind of container transport semi-trailer frame, and the other is flatbed.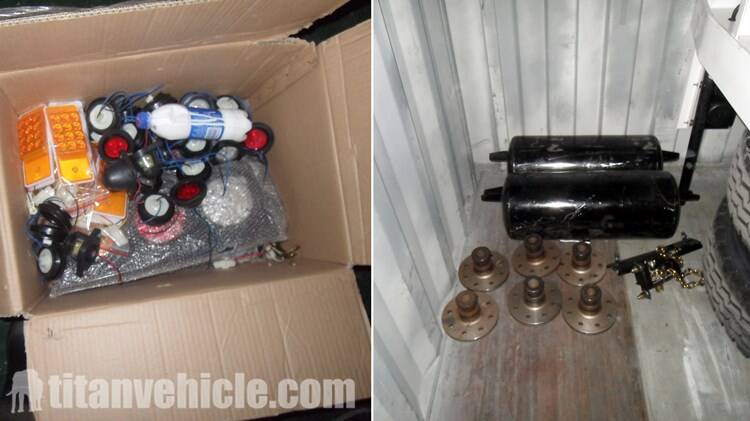 Details of Container Semi Trailer Price Manufacturer
The skeletal semi trailer frame is welded by longitudinal beams, cross beams, front and rear beams. The longitudinal beams are made of high-quality steel plate 16Mn submerged arc welding into an I-shape (the main dimensions are 450, 500), and the cross beams are stamped into grooves with high-quality steel plates. The front and rear beams are welded rectangular sections.
An integral long beam is installed at the middle container locking device to improve the carrying capacity of the container locking device.
The frame of the wooden container transport semi-trailer is all shot blasted, and the entire frame is assembled and welded on a dedicated positioning table, with reasonable structure, high strength and beautiful appearance. The difference between the flat type and the skeleton type is that the flat type adds a frame and a patterned floor. The four container shrinking devices at the front and rear ends are of a fixed structure, and the middle container shrinking device is a concealable structure.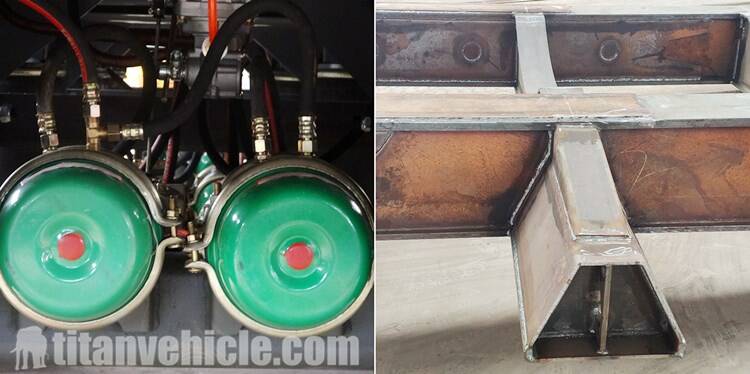 Factory show of skeleton trailer
A container compaction device is installed on the frame, which can load two standard containers of 40 feet and 20 feet. When loading containers, the intermediate container locking device can be lowered below the level of the cargo platform as required. Its function is to support the ground and bear the front load of the semi-trailer when the traction device is disengaged from the trailer.
There are two types of supporting devices, single-acting type and linkage type, which are mainly composed of a supporting plate, a screw drive mechanism, a reduction box and a joystick. There are three types of suspension devices: single-axle suspension and double-axle suspension and three-axle suspension. The container chassis semi-trailer is equipped with two spare tire frames, which are installed on the left and right sides of the trailer frame respectively, and are equipped with spare tire lifters.
Main parts of 2 axle 20ft skeletal trailer
You can download video, you can learn about different types of container chassis trailers, like 2/3/4 axle skeleton chassis for sale, 20/40ft skeleton container, interlink container trailer, terminal trailer, and the process, testing, packaging and customer feedback, etc.
This kind of semi trailer was designed with lots of advantages and features. If you want to get more information, please don't hesitate to make contact with us.