3 Line 6 Axle Wind Turbine Blade Transport Trailer Feedback From Vietnam. At the beginning of October, we received feedback from Vietnamese customers.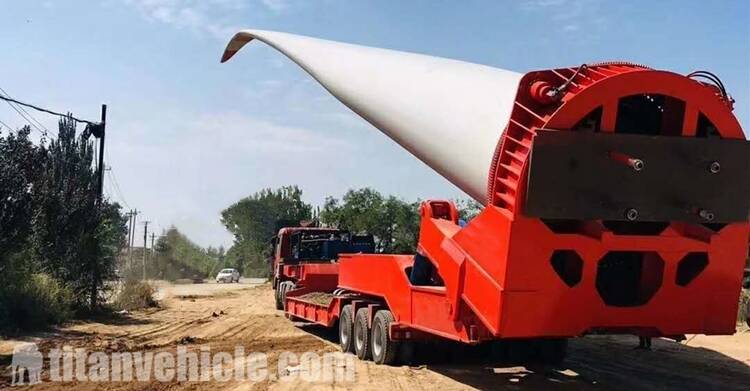 3 Line 6 Axle Wind Turbine Blade Transport Trailer For Sale In Vietnam
In July, the customer found us on Google. He said that he was looking for a suitable supplier. The customer found a number of Chinese manufacturers, but they all told him that they could not do wind turbine transport trailer. By chance, the customer saw TITAN's 3 line 6 axle wind turbine transport locally and finally found TITAN. TITAN semi-trailer will customize a special windmill blade transport according to customer needs. Our wind turbine transport trailer is also very popular in Vietnam. Many customers will choose to cooperate with us again.
The following is feedback from customers in Vietnam. The customers told us that their project was completed safely. Thanks TITAN for help to complete this project.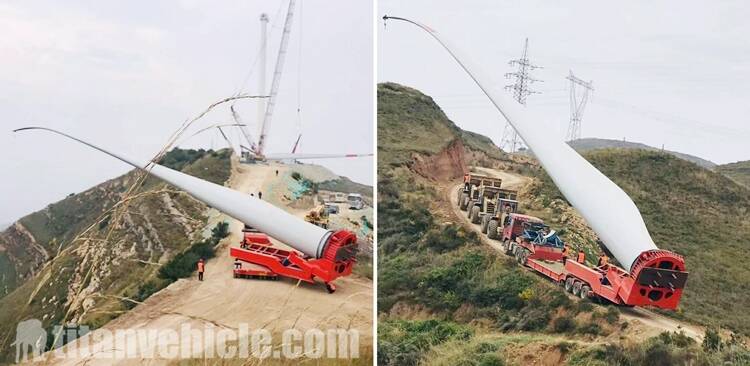 Customers feedback of Wind Blade Adapter Trailer
Here are some knowledge points about wind turbine blade trailer for reference:
In this design structure, the turbine blade is fixed on the adapter. What makes this trailer special is that the adaptor is customized for the blade.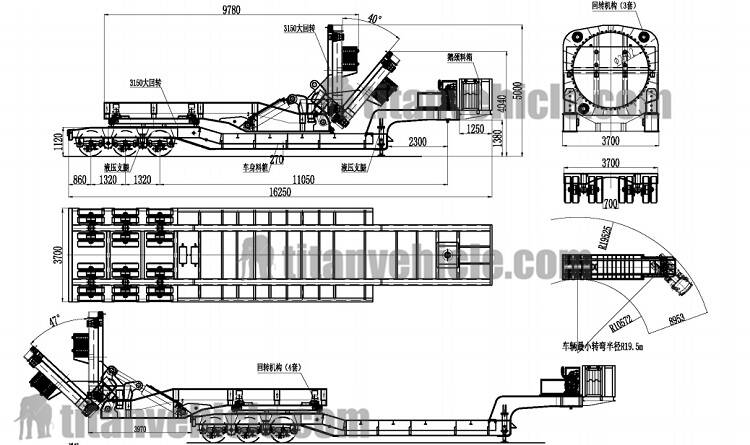 Drawing of Transportation of Wind Turbine Blades
Although usually made from the best materials with sufficient yield strength, their custom design for taking blades may not make it a fit choice for other types of loads.
That means it will unlikely be used for another function. It is the kind of trailer you need if all you want to do is transport wind turbine blades only.

Details of 80m Wind Turbine Blade Transportation
Advantage:
1.The design is made in such a way that the blade adaptor can lift up and down making it easier for the trailer to steer easily.
2.Because of the fact that extendable trailers are too long, when it comes to a mountain road, it is hard to steer hence the need for the 80m wind turbine blade transportation.
3.These type of trailers are used to transport turbine blades on mountain roads and curved roads as well.

Turbine Blade Transport Price
Wind turbine blades and windmill towers trailers, just like for any other type of trailer must be thoroughly scrutinized before making the final buy decision. After identifying your needs, you should be able to know the kind of trailer you are looking for. However, that is not all that you will always need.
There are some other aspects to look into including the trailer quality, delivery times, ability to customize and its reliability among others.
Here is the Adapter Trailer for 80m wind turbine blade transportation details display video.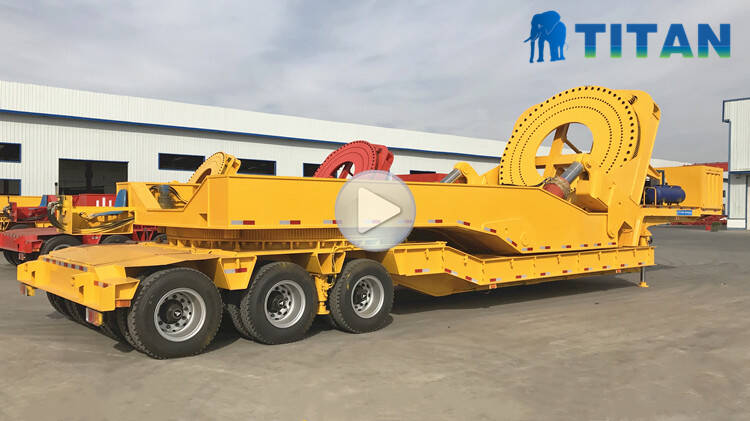 This kind of semi trailer was designed with lots of advantages and features. If you want to get more information, please don't hesitate to make contact with us.