3 Axle Fuel Tanker Semi Trailer will be completed and will be send to Rwanda.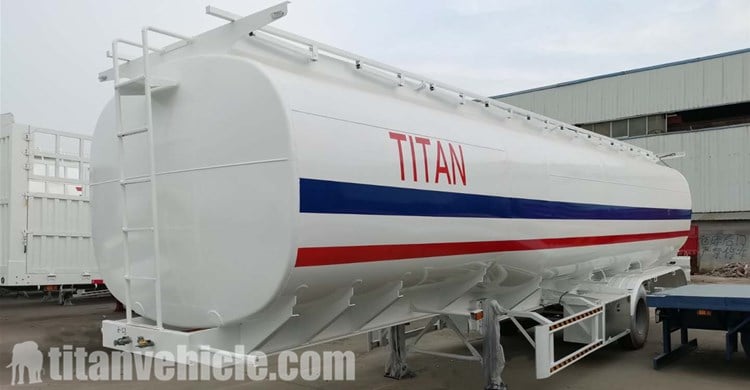 3 Axle Fuel Tanker Semi Trailer
Our Rwanda customers mainly transport liquid and oil.And he busniess a small oil company.This is his second purchase of 3 Axle Fuel Tanker Semi Trailer. This time, unlike before, it uses 5 compartments, and customers can transport 5 different liquids at once to improve work efficiency.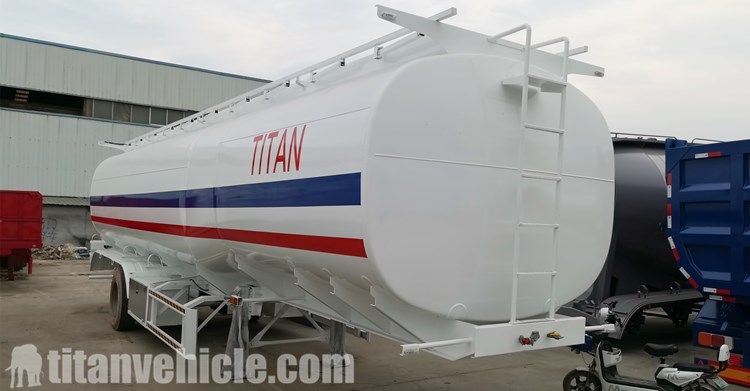 42000L Oil Tanker For Sale
Advantage of fuel tanker trailer for sale in Rwanda:
1. TITAN tank cover uses the European standard explosion-proof cover with a built-in breathing valve.
2.The tank body has sufficient strength. There are anti-shock plates inside the diesel tank trailer. There are manholes and liquid discharge valves in the tank accessories. One of TITAN fuel tanker trailer can transport two kind of oil, it can be divided into tanks.
3.Fuel tanker trailer tank body uses the most advanced welding technology. Through single-sided welding and double-sided forming welding, the welding seam is stronger and smoother, there is no welding defect. The tank can be used for more than ten years . The tank body uses longitudinal welding technology to reduce the number of tank body welds and increase the overall strength of the tank body by more than 20%.
Tri Axle Gasoline Tanker Price
4. The tires used by fuel tanker trailer have been in cooperation with the company for more than 12 years. The quality is stable, 200,000 kilometers can be used in China, and there is no problem after two years of use.
5.Common tank material is carbon steel Q345, thickness is 4mm-6mm national standard steel plate.Before painting, the whole vehicle is sprayed with sand for many times to remove rust, spray anti-rust paint, spray primer, spray top paint, and spray three layers of paint. The paint can be used for five years.
Why do fuel tankers have several compartments?
To ensure stability: A liquid fluctuates to all directions in the tank when the trailer is running on a slope. If the tanker trailer has a large capacity, the fluctuations will cause major changes in the center of mass.
This, in turn, will cause major changes of the axle load, which affect the stability of the truck and trailer. The instability may cause the trailer to jackknife or rollover. Using a multi-compartment model reduces the changes of the axle load and hence keeps the trailer stable.

Details of Semi Tanker For Sale
The efficiency principle: A trailer with different compartment can transport different kinds of liquid at the same time. This reduces the transportation cost and saves fuel because the trips are reduced to one.
Transporting each liquid in a different tanker is more expensive and inefficient. Trailers with multiple compartments can transport different grades of gasoline in one trip. A service station can receive all the products needed in just one trip.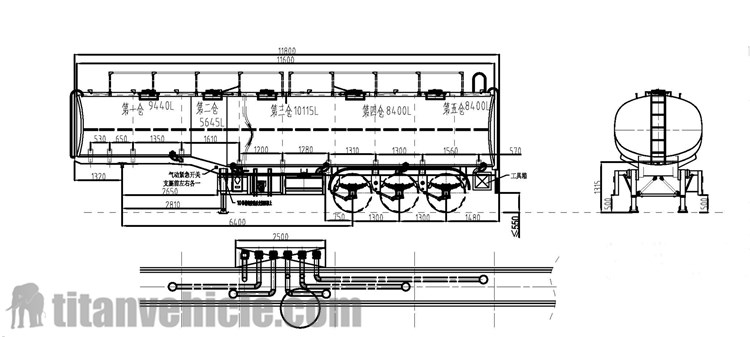 Drawing of Fuel Tanker Semi Trailer
You can download video, you can learn about different types of fuel tanker semi trailers (like 3 axle fuel tanker, 4 axle storage tanker trailer, stainless steel tanker trailer, acid tanker trailer, fuel tanker with flatbed trailer, fuel tank Full trailer).And the process, testing, packaging and customer feedback, etc.
This kind of semi trailer was designed with lots of advantages and features. If you want to get more information, please don't hesitate to make contact with us.