TITAN Side wall trailer is your ideal partner for multipurpose solution catering to vast range of applications including Cement Bags, Agri bags, Tiles, Jumbo bags, steel coils, pet coke, etc.
Our manufacturing facility is fully furnished with advanced machines and equipment that assist us in manufacturing superior quality range of products and cater to bulk requirement of clients in an efficient manner. We follow stringent quality control measures to ensure our customers that our product range is excellent in terms of durability, performance and quality.
Its higher payload carrying capacity, better mileage and availability of different product variants catering to varying customer's needs gives the side wall trailer an extra edge over local solutions. The vehicle provides you with longer tyre life, high fuel efficiency and less maintenance cost which gives you higher revenue and lower operating cost, substantially increasing your overall profit.
Many customers use container shipment, which has low transportation cost and short transportation time. But the bad thing is that the rear of the side wall semi trailer for container or cargo needs to be composed.
Some customers are bulk freighter or ro-ro ships. TITAN side wall trailer will spray wax and cover the tarpaulin when the side wall trailer use bulk freighter.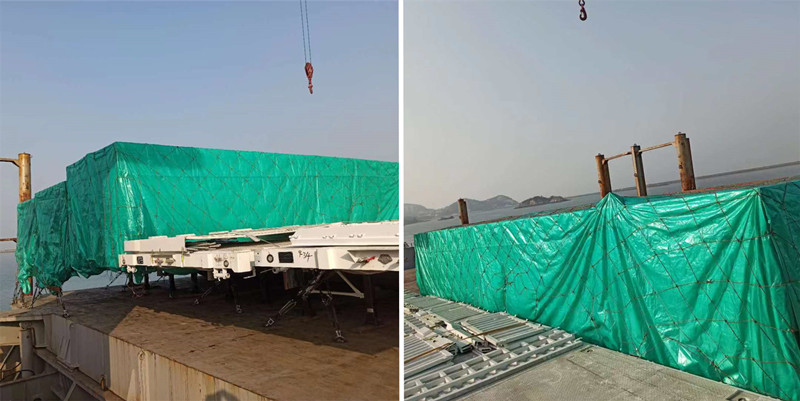 Features of TITAN side wall trailer:
1. Modular design, intelligent manufacturing
TITAN side wall semi trailer adopts advanced intelligent manufacturing equipment such as finite element analysis, modular design, laser cutting machine, robot welding, etc., from the design source to the product processing and manufacturing, the entire process is strictly required to ensure that every side wall trailer delivered to the customer. They are all high-quality and qualified products.
2. Pay more attention to safety and energy saving
The specific advantages are as follows:
1. The bracket adopts a high-strength material upper end closed design structure, which can meet the direct connection of the lower wing plate of a side wall trailer for container or cargo.
2. The side wall trailer with side wall suspension adopts an internationally renowned brand, which has a long life and is more reliable in durability.
3. The guide arm can choose double leaf spring and single leaf spring. The optimized single-leaf guide arm structure, lightweight design, three bridges reduce the weight of more than 200 kg, and has good guidance and super reliability and stability.

4. The guide arm bushing is made of inner and outer steel, and the middle vulcanized rubber design structure has stronger load resistance and more stable vehicles.
5. Reduce tire wear and fuel consumption. Under the same road conditions and load capacity, fuel consumption per 100 kilometers can be reduced by more than 1.2 liters.
6. Imported brake pads and implanted wear alarm device. Effectively guarantee the braking performance of the side wall trailer during operation.
7. Brake discs containing alloy elements, anti-cracking, anti-wear and high temperature resistance. Super long warranty of 200,000 kilometers, maintenance-free, brake life up to 10 years and 1.5 million kilometers.
8. High-precision load bearing, long life and low temperature.
3. Green and environmental protection, anti-rust and more durable
There are no dead corners in the overall coating, the coating is more uniform in automated production, the inner side of the box and the warehouse sideboard are covered with coating, rust-proof and durable, and fully respond to the country's requirements for winning the blue sky defense war, and achieve green environmental protection.
Through the video below, you can learn about different types of side wall semi trailers(like 3 axle sidewall trailers, 4 axle high side trailer, grain hopper trailer, aluminum alloy side board trailer, 2 alxe side wall semi trailer with bogie suspension, dropside drawbar trailer)
And the process, testing, packaging and customer feedback, etc.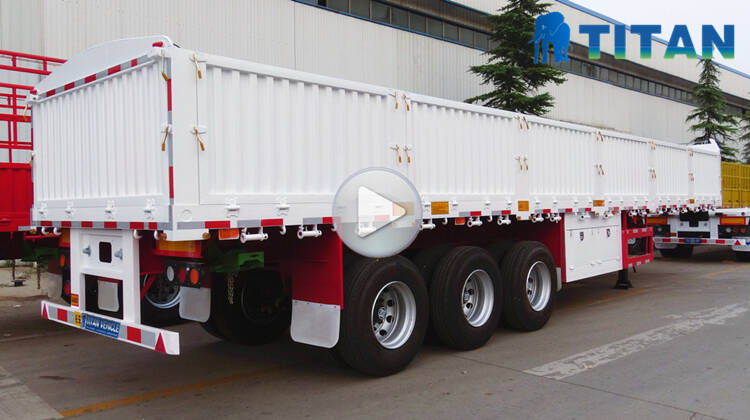 If you want more information about our semi-trailer, please click "Sidewall Semi Trailer".
And you can also look at other resources and products on our website.