TITAN Low bed truck trailer are widely used, mainly for medium and long-distance freight transportation. low deck trailers are commonly used to transport heavy vehicles, rail vehicles, mining machinery, forestry machinery, agricultural machinery, and other heavy-duty cargo.
As a professional manufacturer, TITAN VEHICLE has provided many low bed truck trailers for many country. We have much more advantages on the lowbed trailer's cost and quality control. TITAN Lowbed trailers have different capacities, such as 20 tons, 30 tons, 50 tons, 70 tons, 80 tons and 100 tons, 120 tons. Each type use different number of axles from 2, 3, 4 axles to 7, 8 axles.

Mechanical Ramp VS Hydraulic Ramp:
The ramp is used to move the cargo on a low bed truck trailer. The length of the ramp depends on the weight of the cargo. A longer ramp is required to move heavy cargo on the trailer.
Using a longer ramp reduces the slope, which makes it easier to move heavy cargo. You need to consider the maximum weight of your cargo when choosing a ramp.
There are two types of ramps, namely, a mechanical ramp and a hydraulic ramp.
Mechanical ramp: A manual mechanism or a spring is used to lift the ramp to the right height. A mechanical ramp is cheap and easy to maintain.
Hydraulic ramp: With this type of ramp, a hydraulic cylinder is used instead of a spring to lift the ramp. A hydraulic ramp is efficient and easy to use. You can move heavy cargo fast with a hydraulic ramp. However, the ramp is more expensive than a mechanical ramp.

Advantages of low bed truck trailer:
Safety
Low bed trailers are specifically designed to carry heavy loads. The trailers are made of high-strength materials that can withstand pressure of up to 700mpa.
In addition, the height of the main beams can be as high as 550mm. Hence, manufacturers are assured of the safety of their equipment and products during the transportation process.
Stability
The deck of the low bed truck trailer is extremely compared to other heavy haulers. A low-lying deck means that the center of gravity is low. Hence, low bed trailers are more stable when transporting heavy cargo than trailers.
One of the ways of increasing stability is widening the base of support. This is possible with low bed trailers because the cargo plane width can be widened. The trailers remain stable on the road irrespective of the height and weight of the cargo.
Complying with height restrictions
Some countries have laws that restrict the height of cargo that can be transported on the road.
Low bed trailers offer companies a solution to transport extra tall equipment safely without breaking the laws.
Loading tall equipment on a trailer is often a huge challenge to transport companies.
Through this video below, you can learn about different types of lowbed semi-trailers, like 2 axle, 3 axle, 4 axle lowbed semi trailer, hydraulic ladder lowbed semi trailer, etc.
As well as the process, testing, packaging and customer feedback, etc.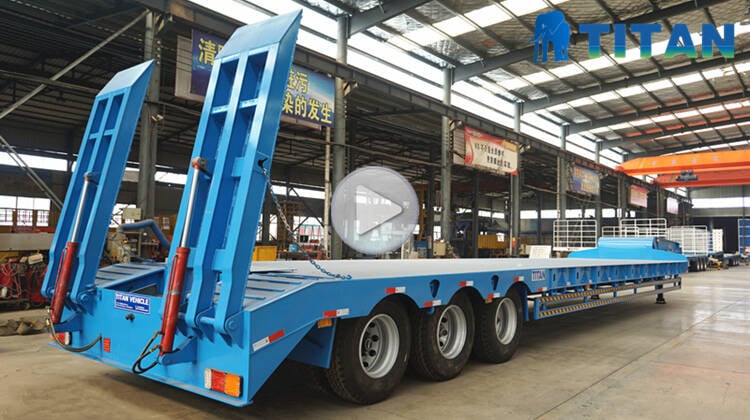 If you want more information about our semi-trailer, please click "Lowbed Semi Trailer".
And you can also look at other resources and products on our website.